How the Right Menopause Underwear Can Help You Beat Hot Flushes
Almost 80% of women would experience hot flushes ornight sweats, or both during menopause. This makes hot flushes one of the most common symptoms of menopause. Aside from being painfully challenging to deal with, hot flushes are also linked with other symptoms in women, such as stress and anxiety. Our goal in this post is to highlight how specially made menopause underwear can help with keeping menopause hot flushes under control.
1. Organic Pima Cotton and Silk as The Most Breathable Fabric to Wear
Synthetic fabrics like polyester, nylon, and similar ones could better manage heat and moisture. This is why your body may quickly get overheated when wearing underwear products made from synthetic fabrics like these. Heat sets up your skin for itching. And when you constantly scratch the affected skin area, it helps eczema spread to other places. Not just that, it also opens up the skin area to sweating and skin infection. An excellent example of breathable fabric is the JulieMay range of comfort bras made from certified organic Pima cotton, with silk inner linings to keep the skin cool. Along with cotton, silk is also one of the best fabrics for cooling down the skin, wicking away moisture, and regulating temperature. Products like this quickly help to reduce the heat trapped around the genital area and make women feel more comfortable.
JulieMay's Pima Cotton & Silk collections are free from harmful dyes and synthetic fibres: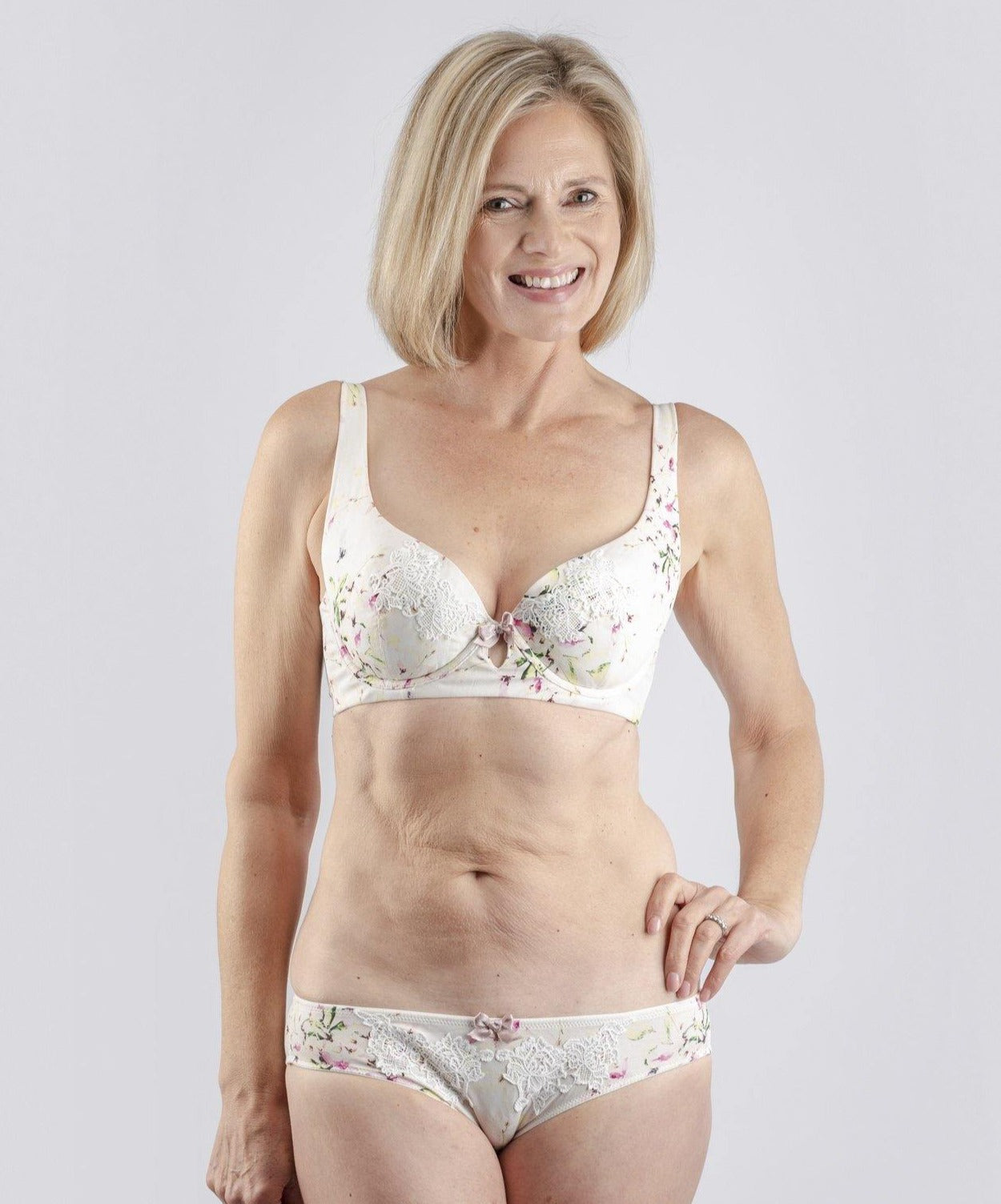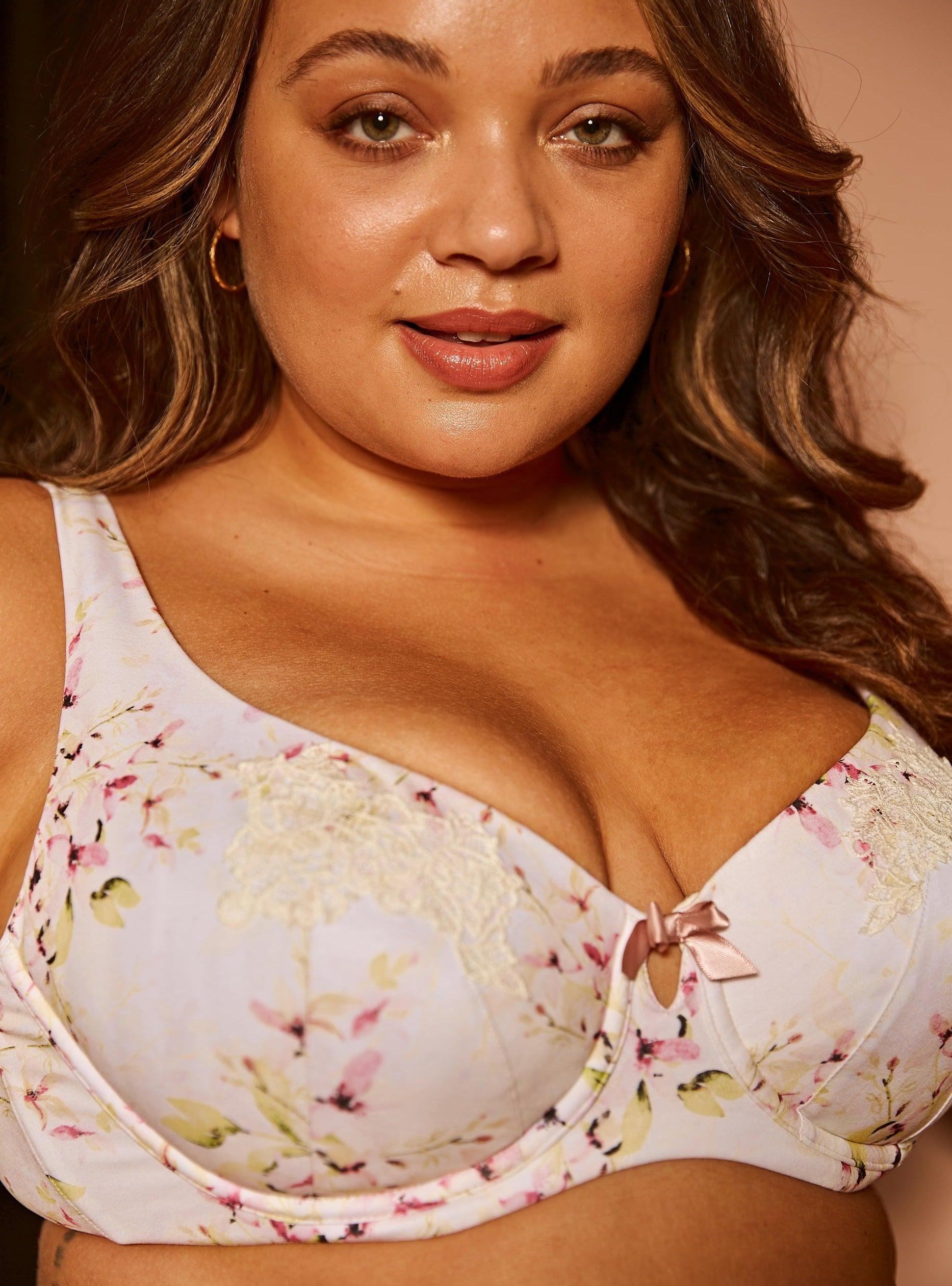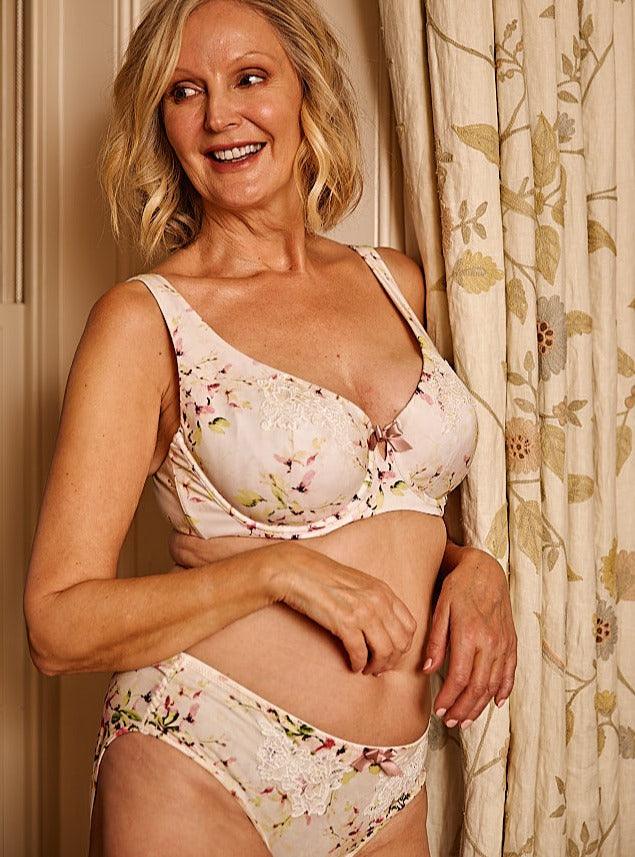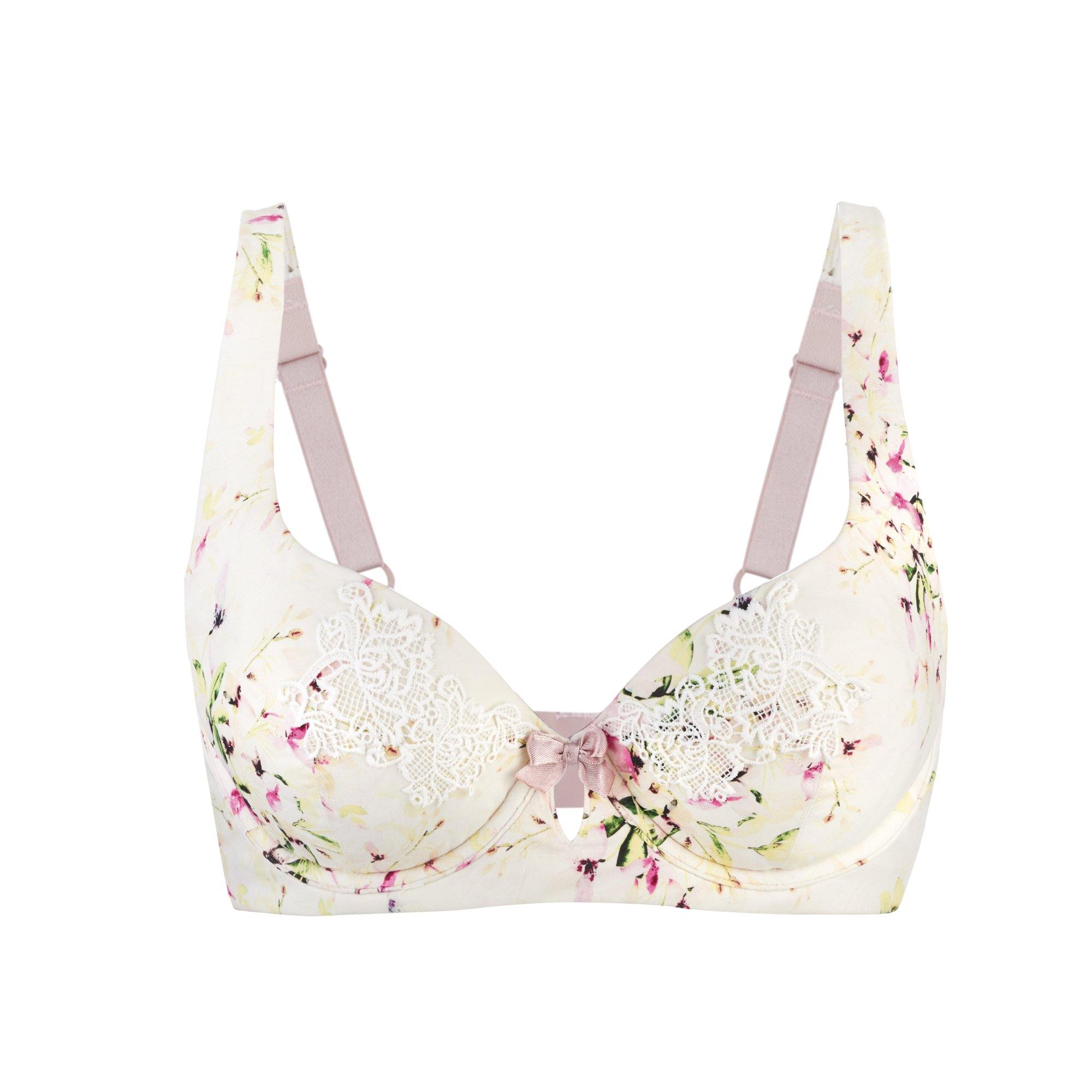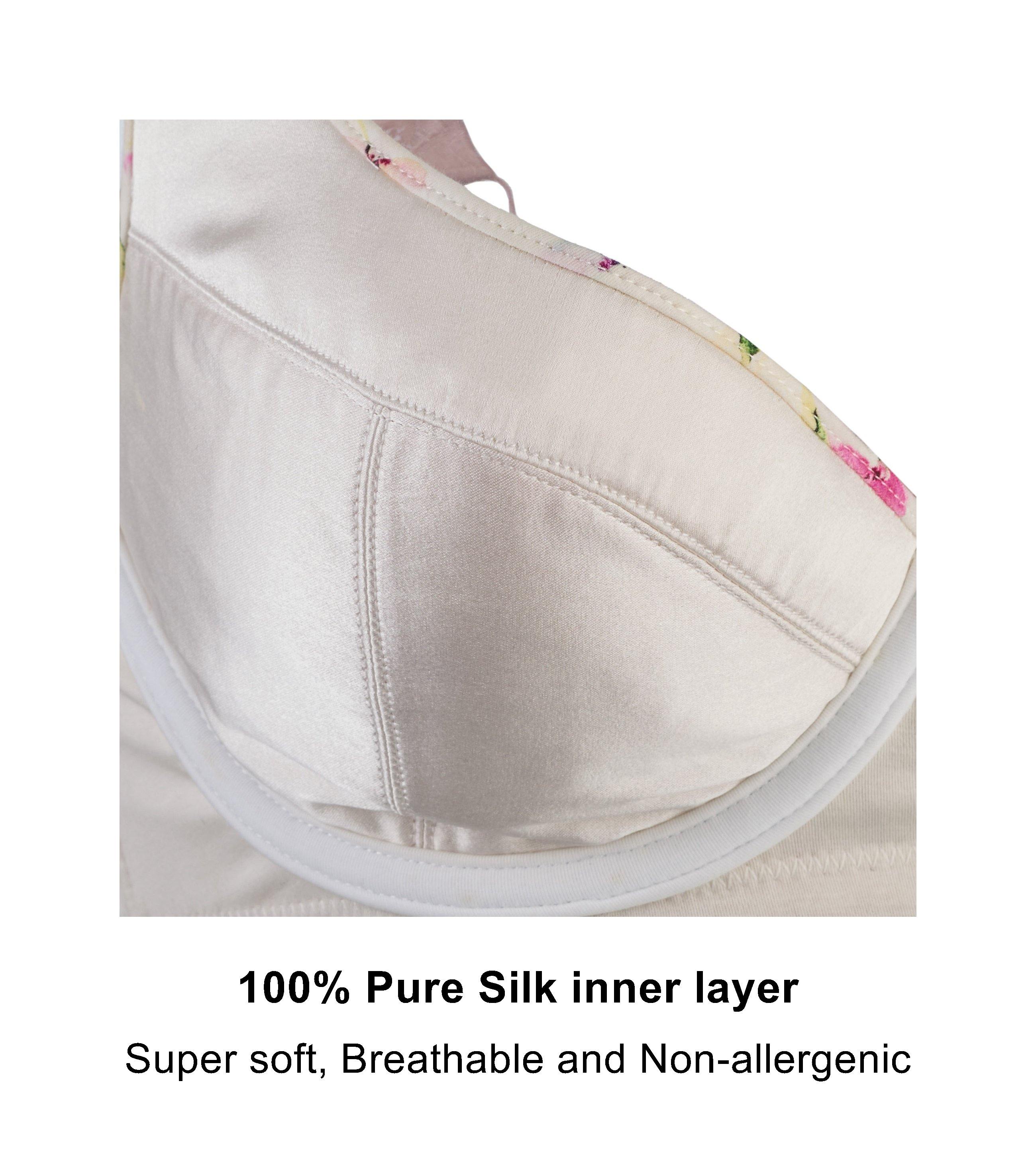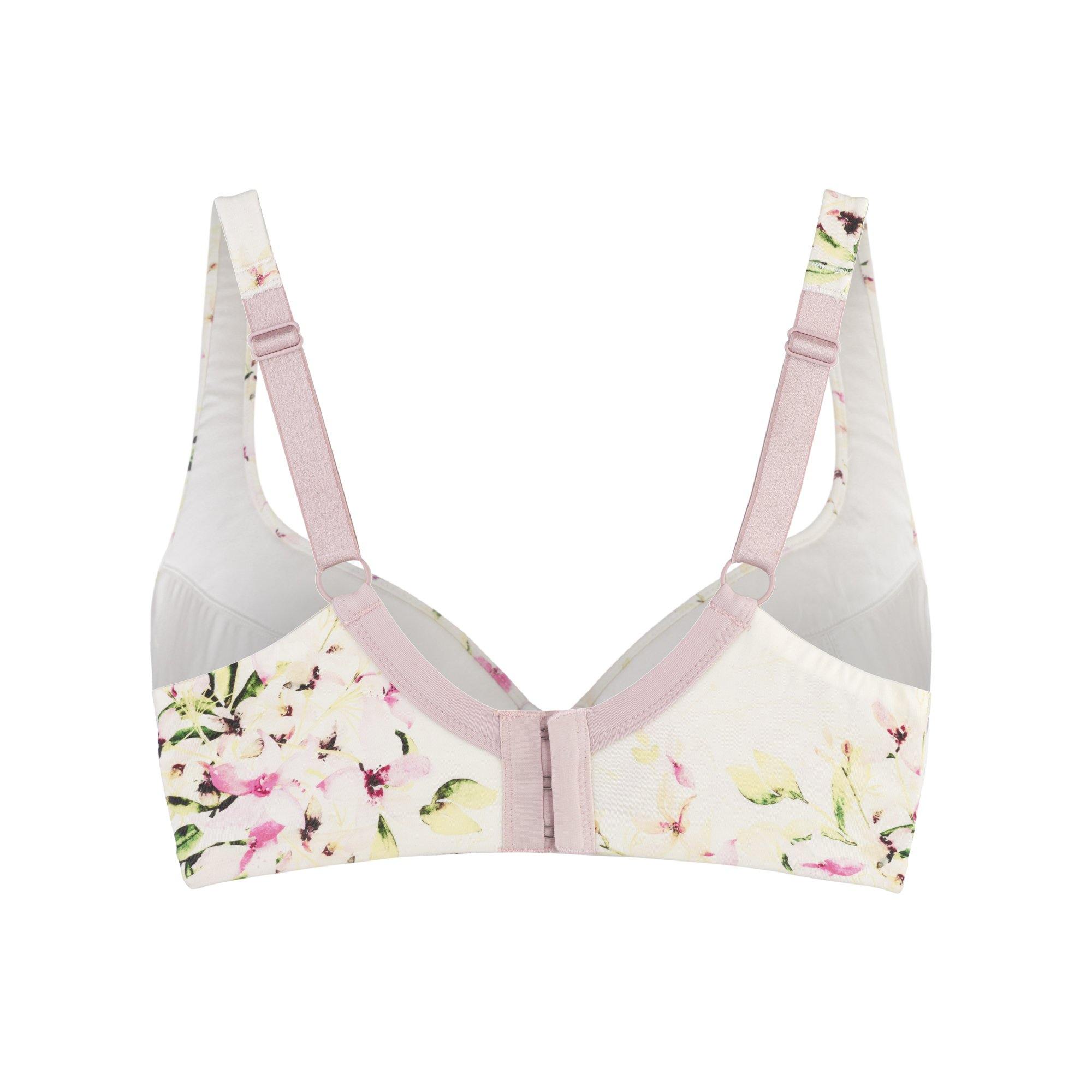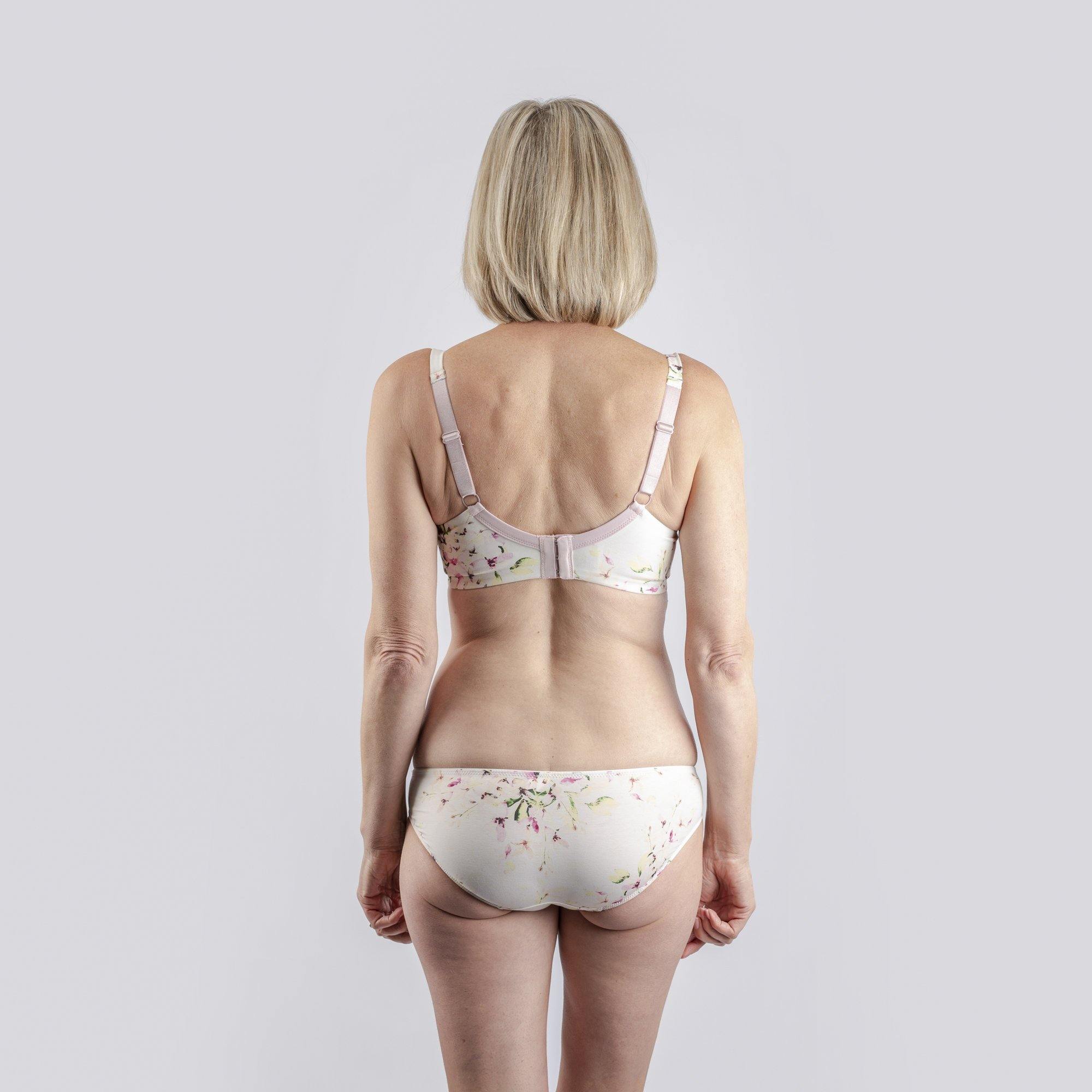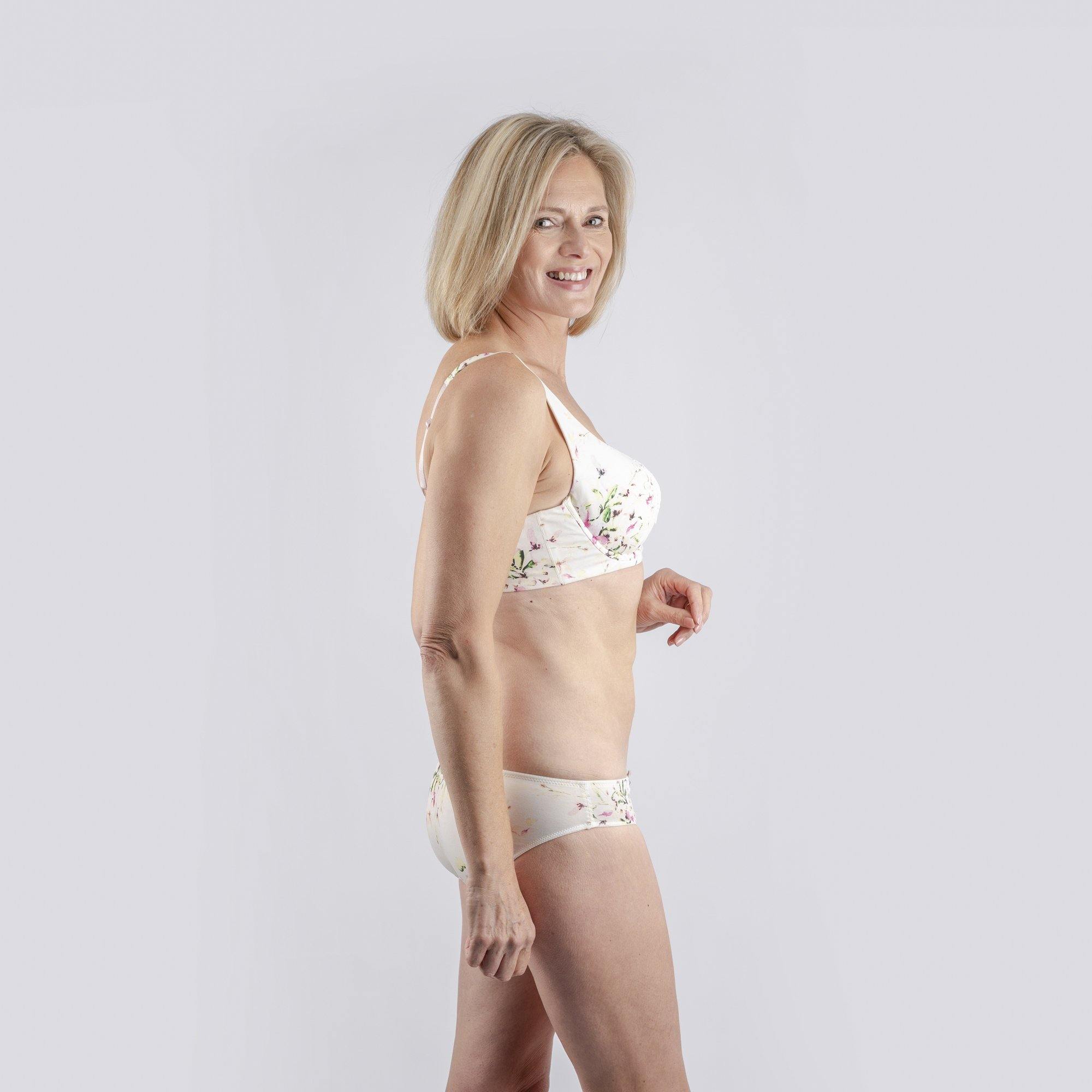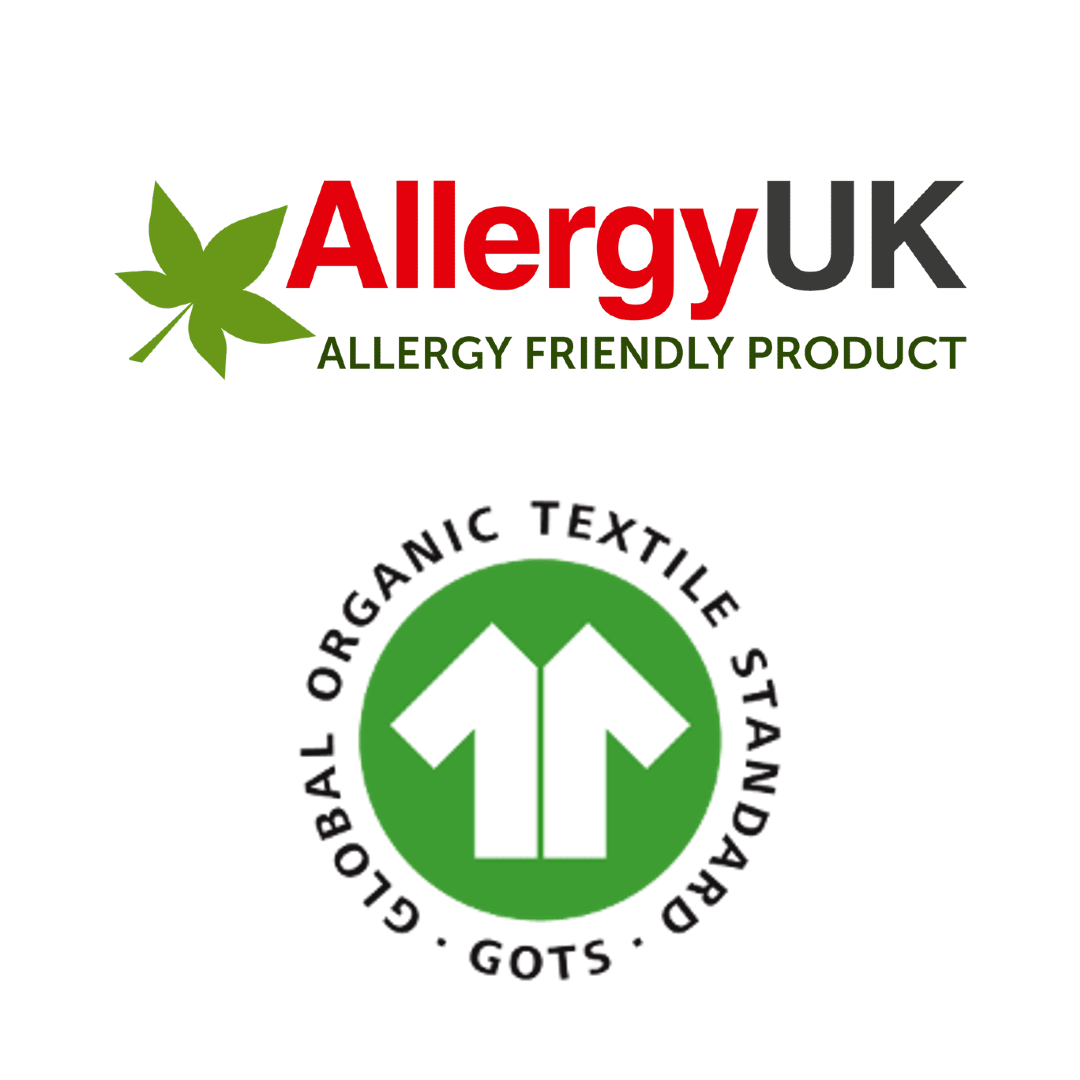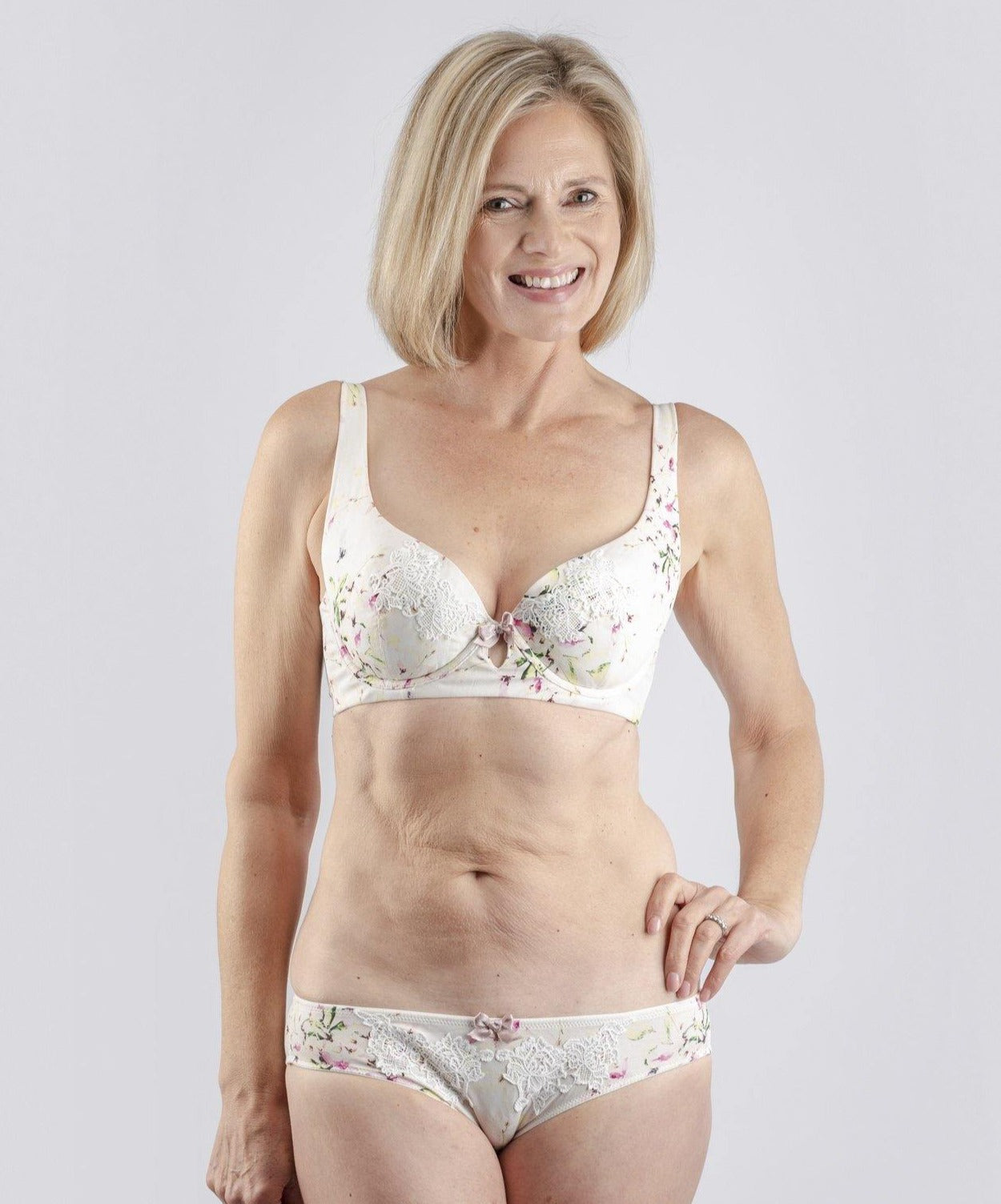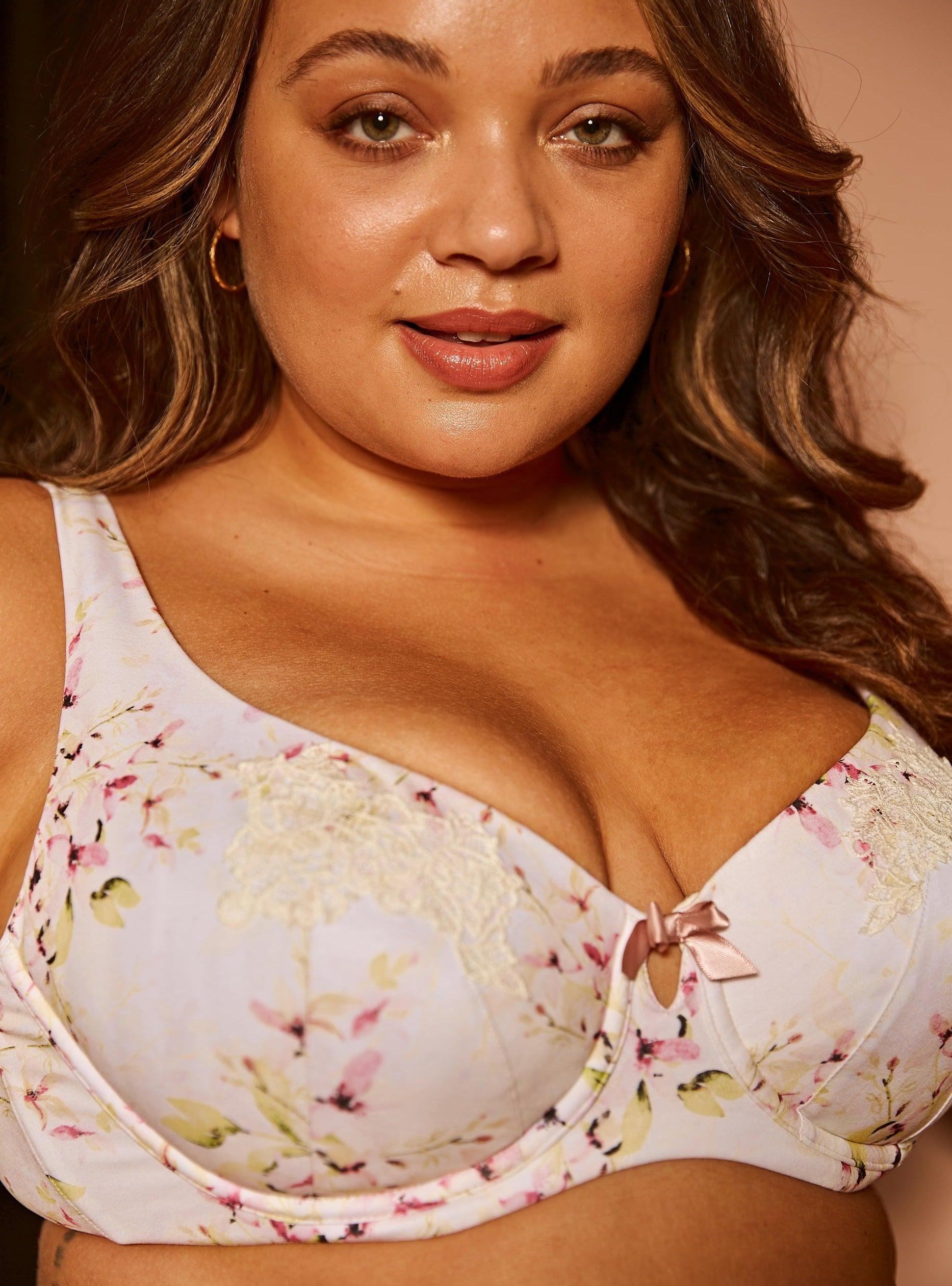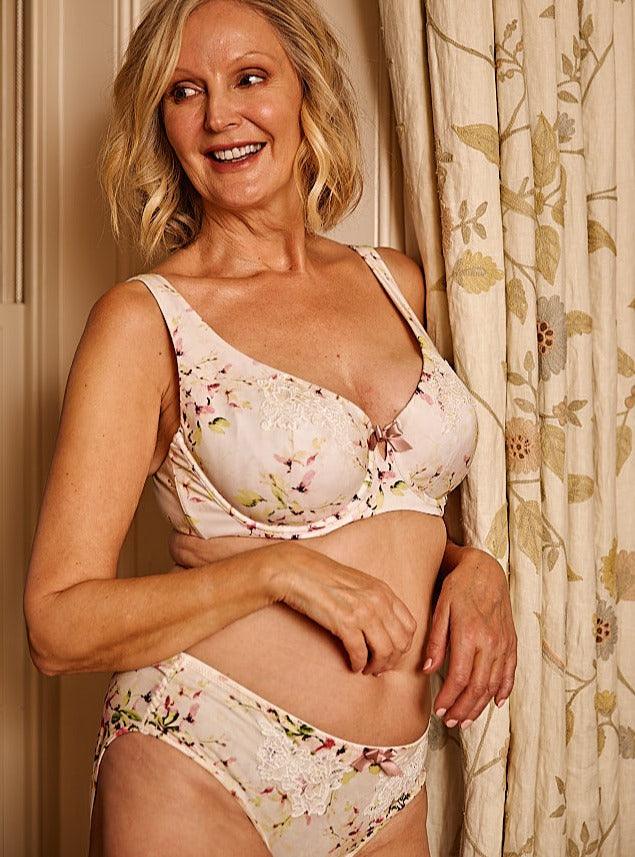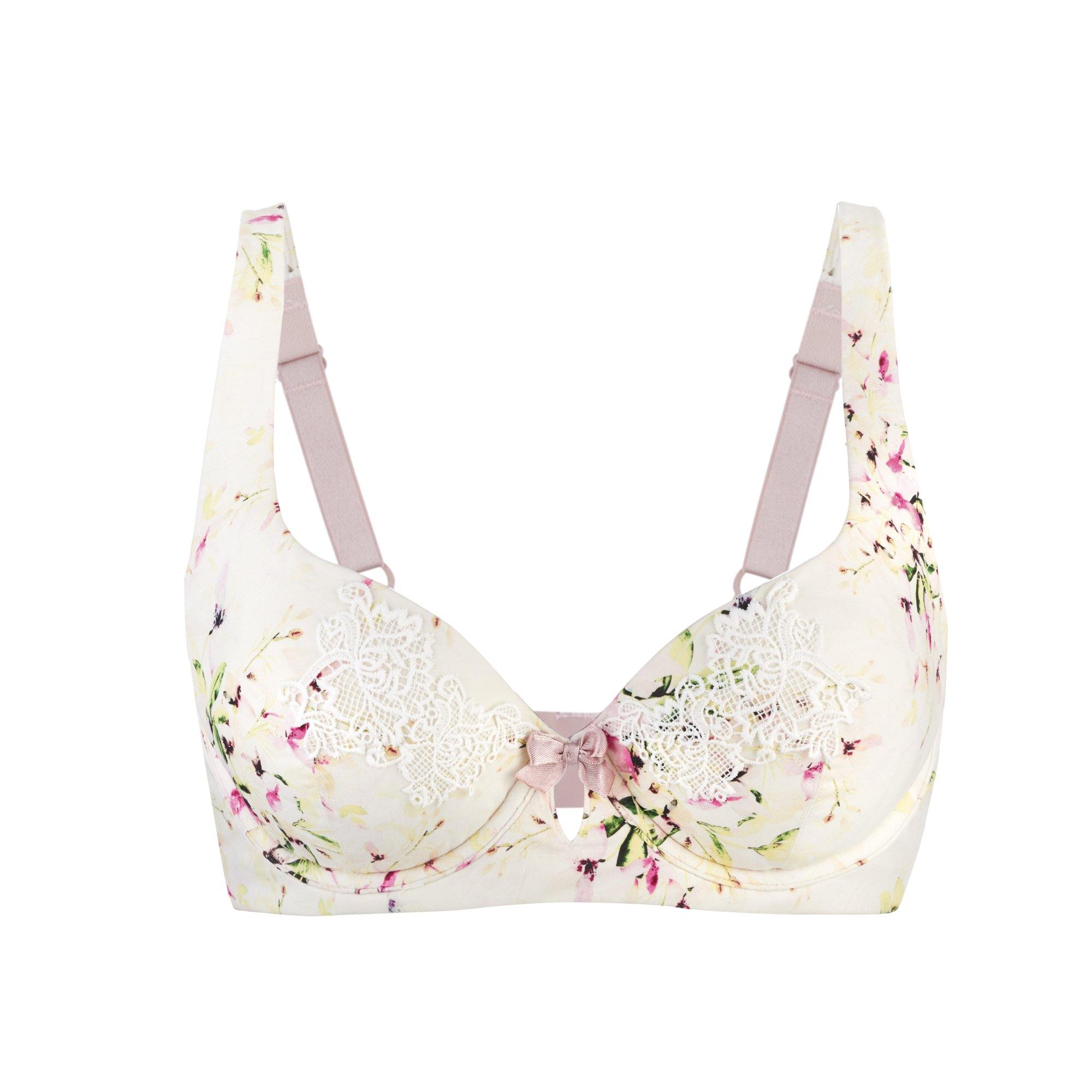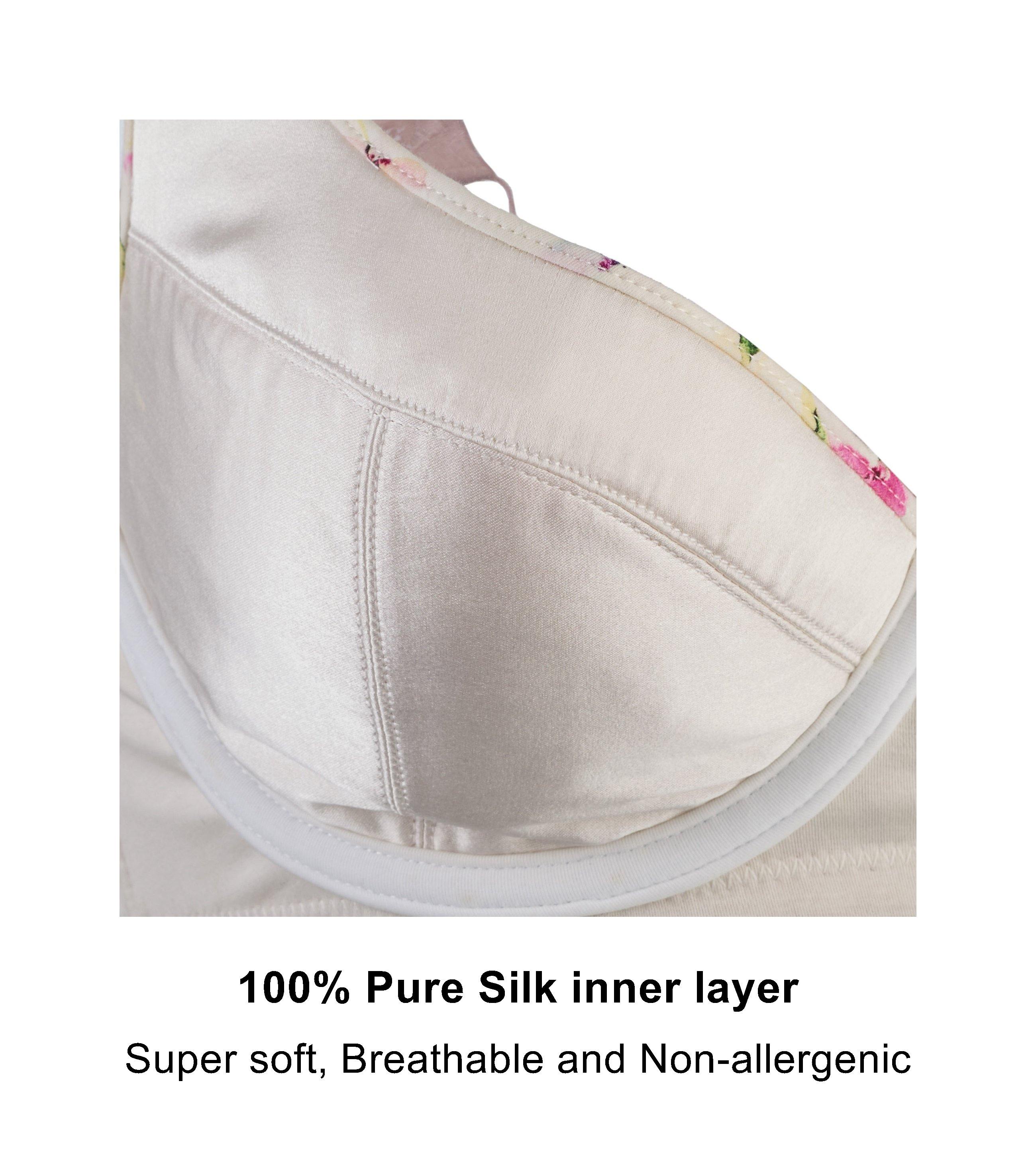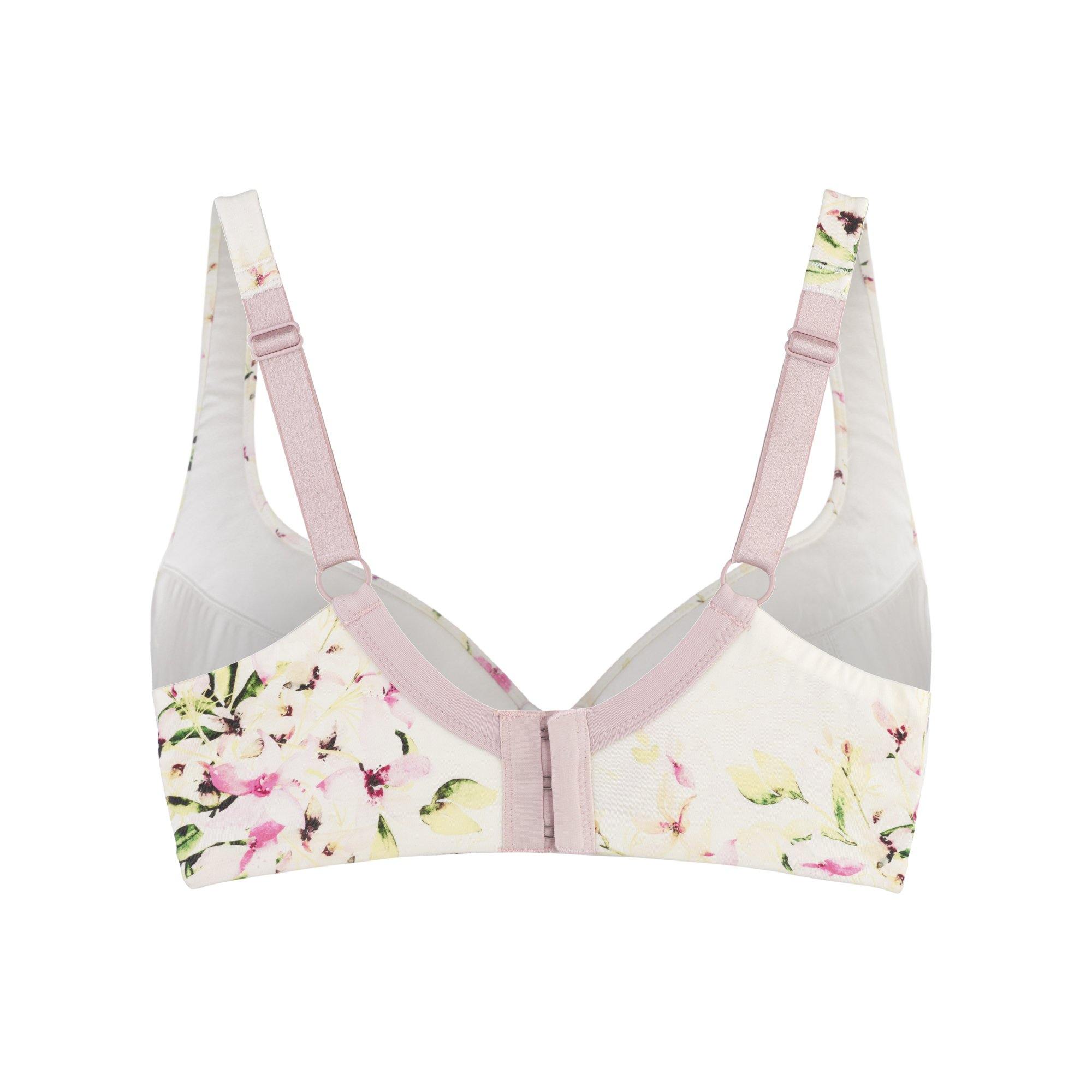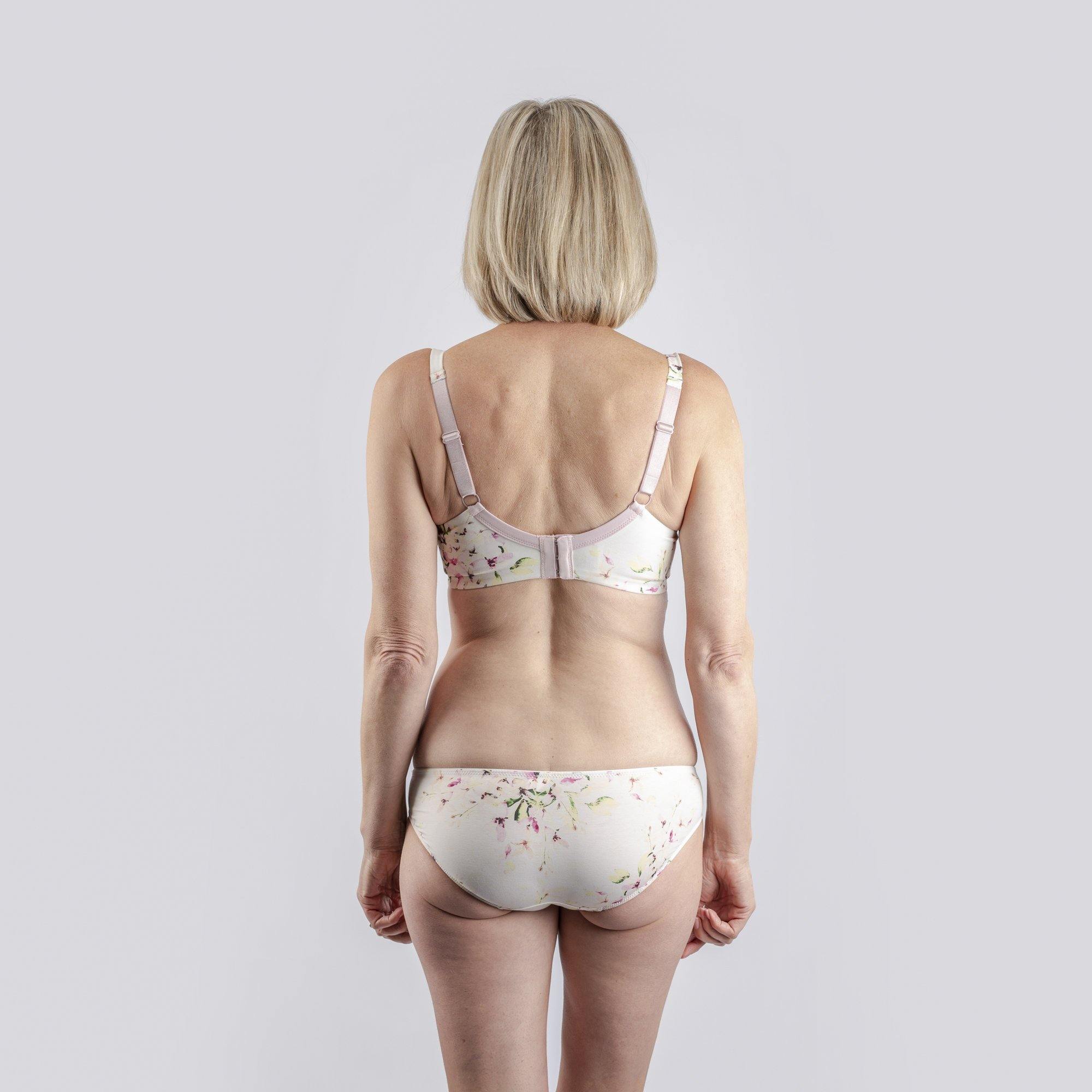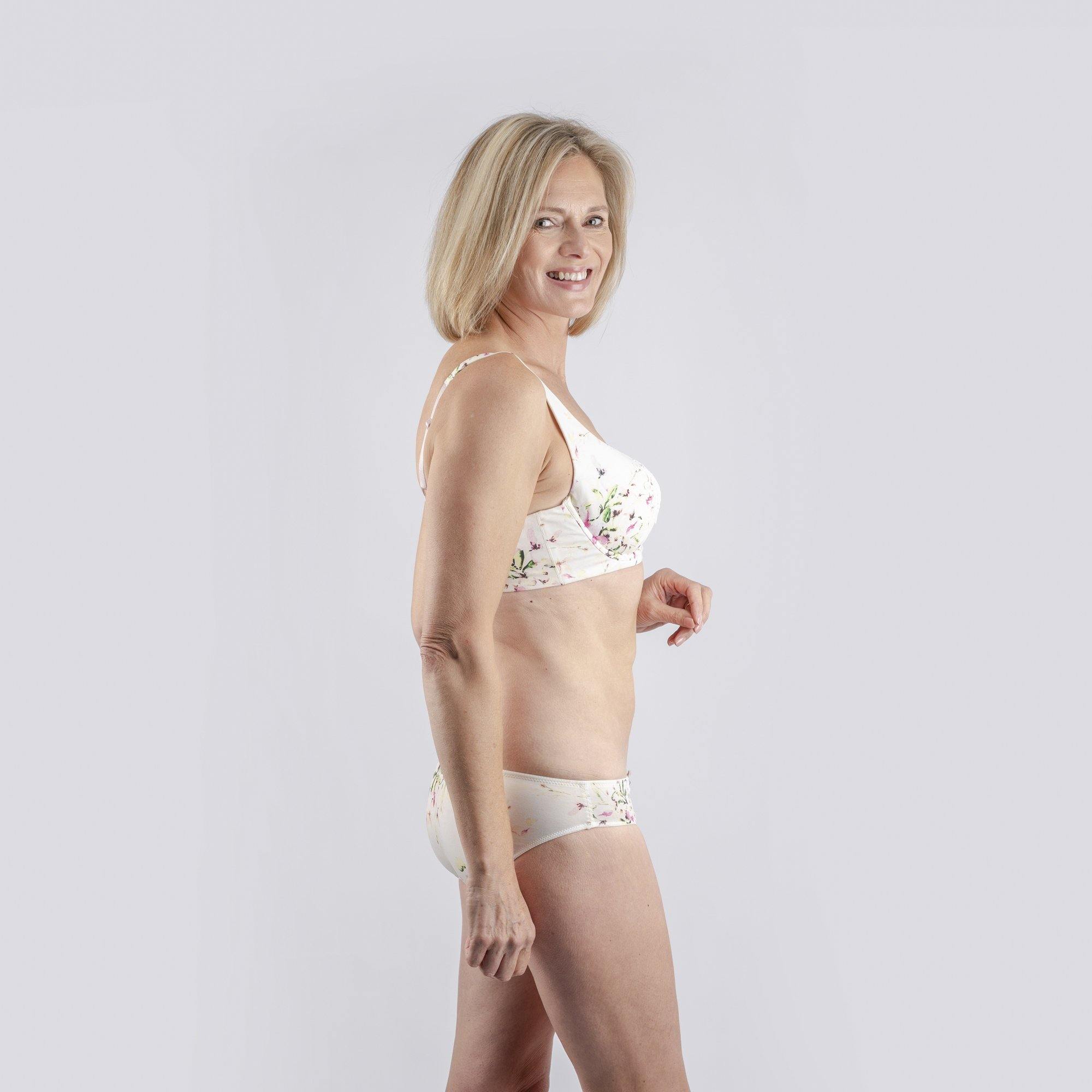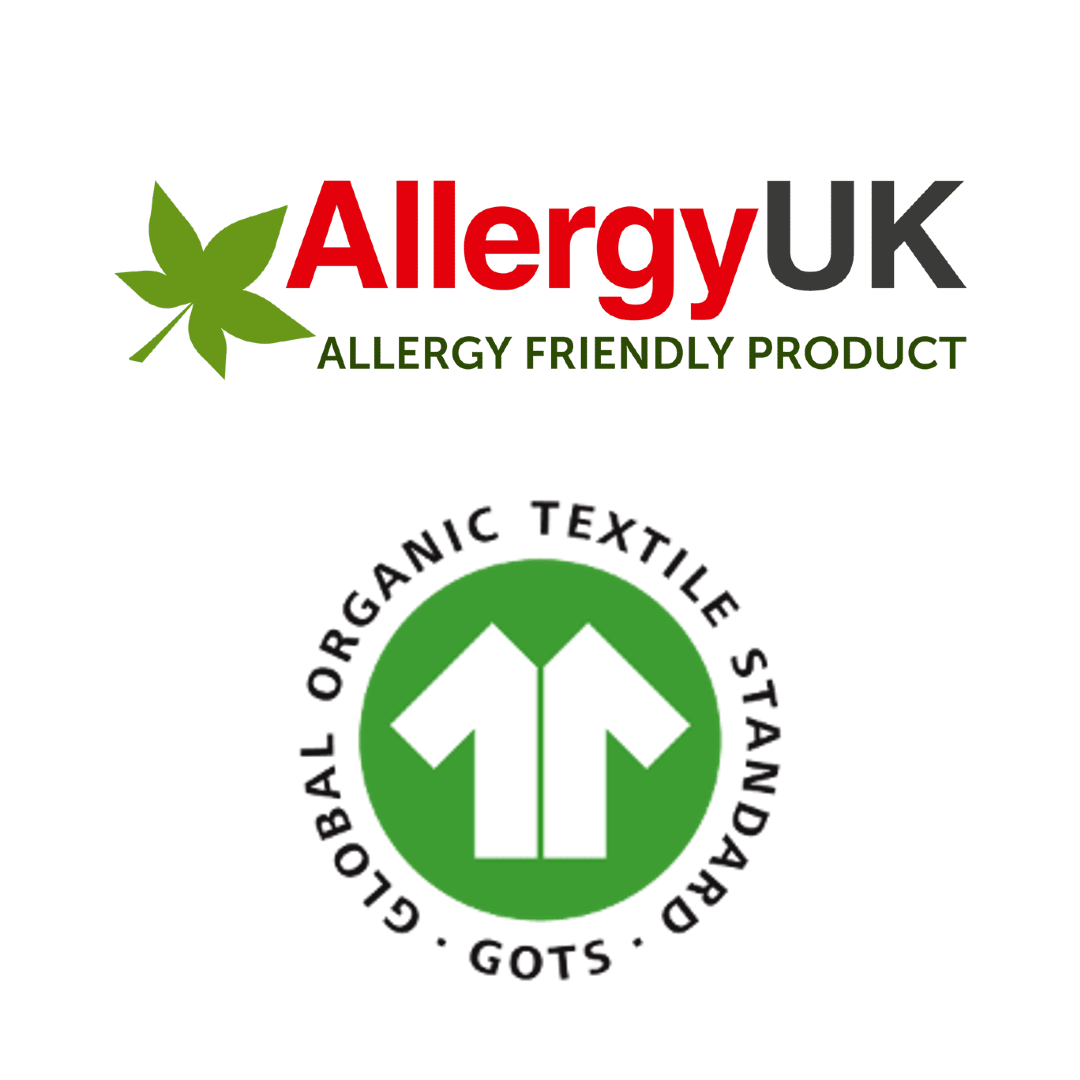 Sunbleached Floral Silk & Organic Cotton Supportive Bra
Material:
Cup / Crotch:

 

100% Pure Silk
Body Fabric:

 

Silk-Cotton Blend (78% Organic Pima Cotton, 22% Silk)
Features:
Luxuriously crafted in breathable Pima Cotton and lined in silk this sumptuously soft bra is shaped to give an exquisite fit and incredible comfort.
Adorned with a delicate embroidery motif at the bust, wear it under everything from form-fitting tees to elegant dresses.
Keyhole detail with a feminine bow
Romantic floral design printed with environment-friendly technology to keep its colour and free from harmful dyes
Underwired
Lightly-padded with organic cotton


''I'll BE A LIFETIME CUSTOMER

Tbh I've forgotten I'm wearing it, it's so comfortable & no itching- yay!!! It's also perfect for this hot weather (no sweating, great for this post-menopausal woman!) despite being a robust bra in terms of the quality of material, whilst providing good support. Will definitely buy more! Thank you Julie may! ''

----Alenka. Miles
2. Moisture-Wicking and Cooling Technologies
JulieMay Lingerie offers moisture-wicking and cooling technologies in their designs.These features help draw moisture away from the body and keep women cool and dry during hot flushes. This is why JulieMay offers menopause underwear products made from a combo of both organic cotton and pure silk linings. The 100% Pure Silk bra linings and underwear inner layers help menopausal women get the best of both worlds, whether keeping the body cool and dry or wicking moisture away during sweaty moments, especially at night.
JulieMay Lingerie uses 100% Pure Silk as the most natural cooling fabric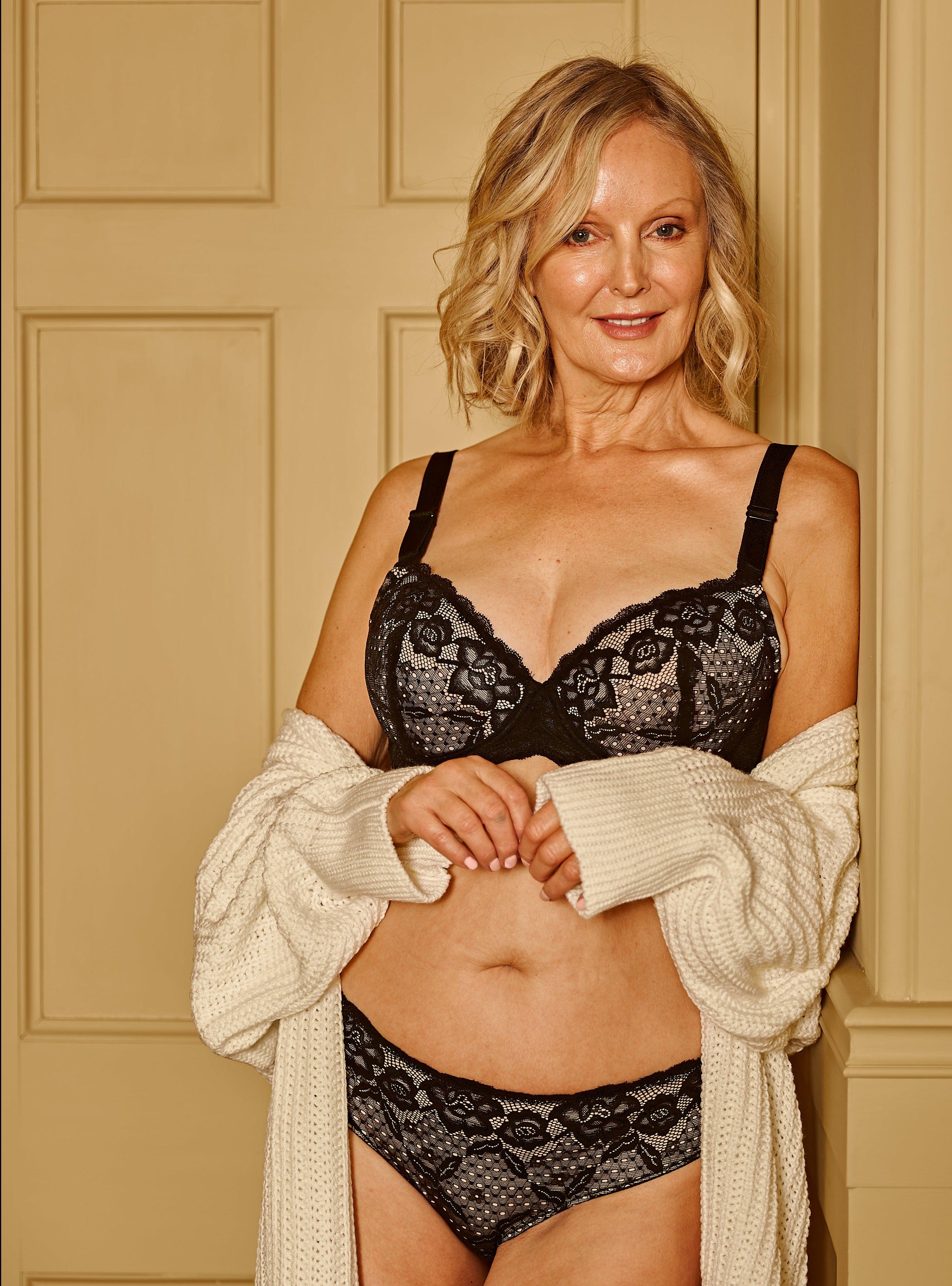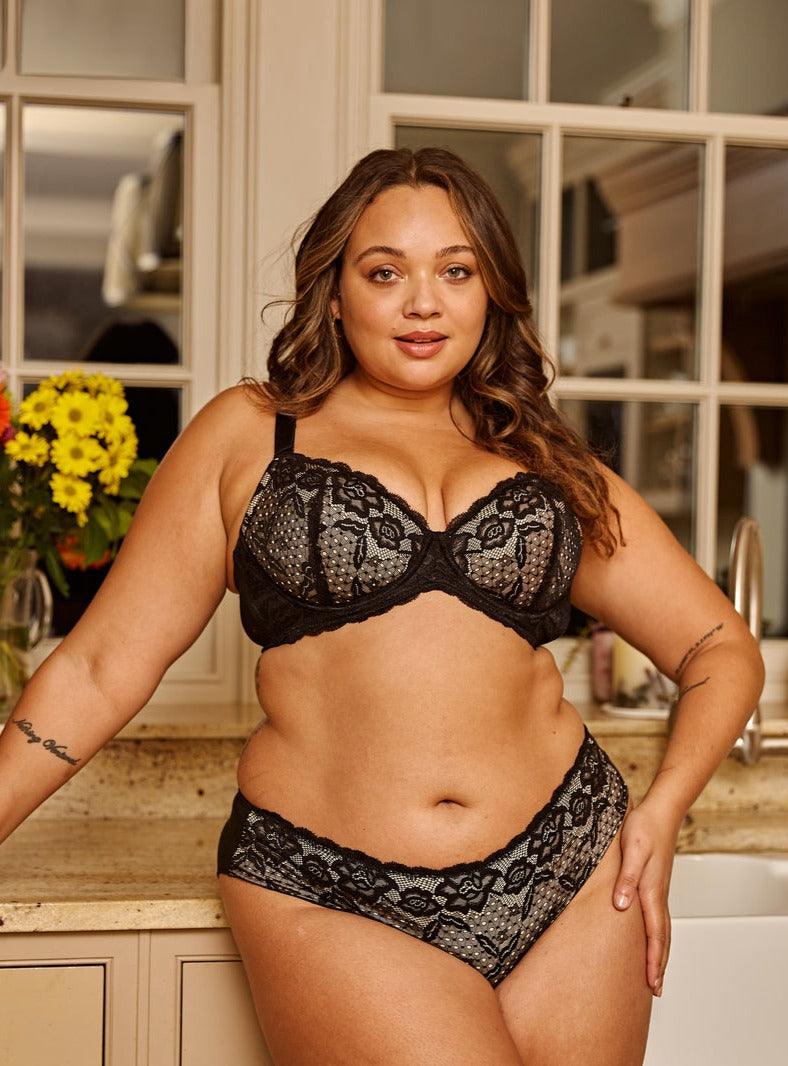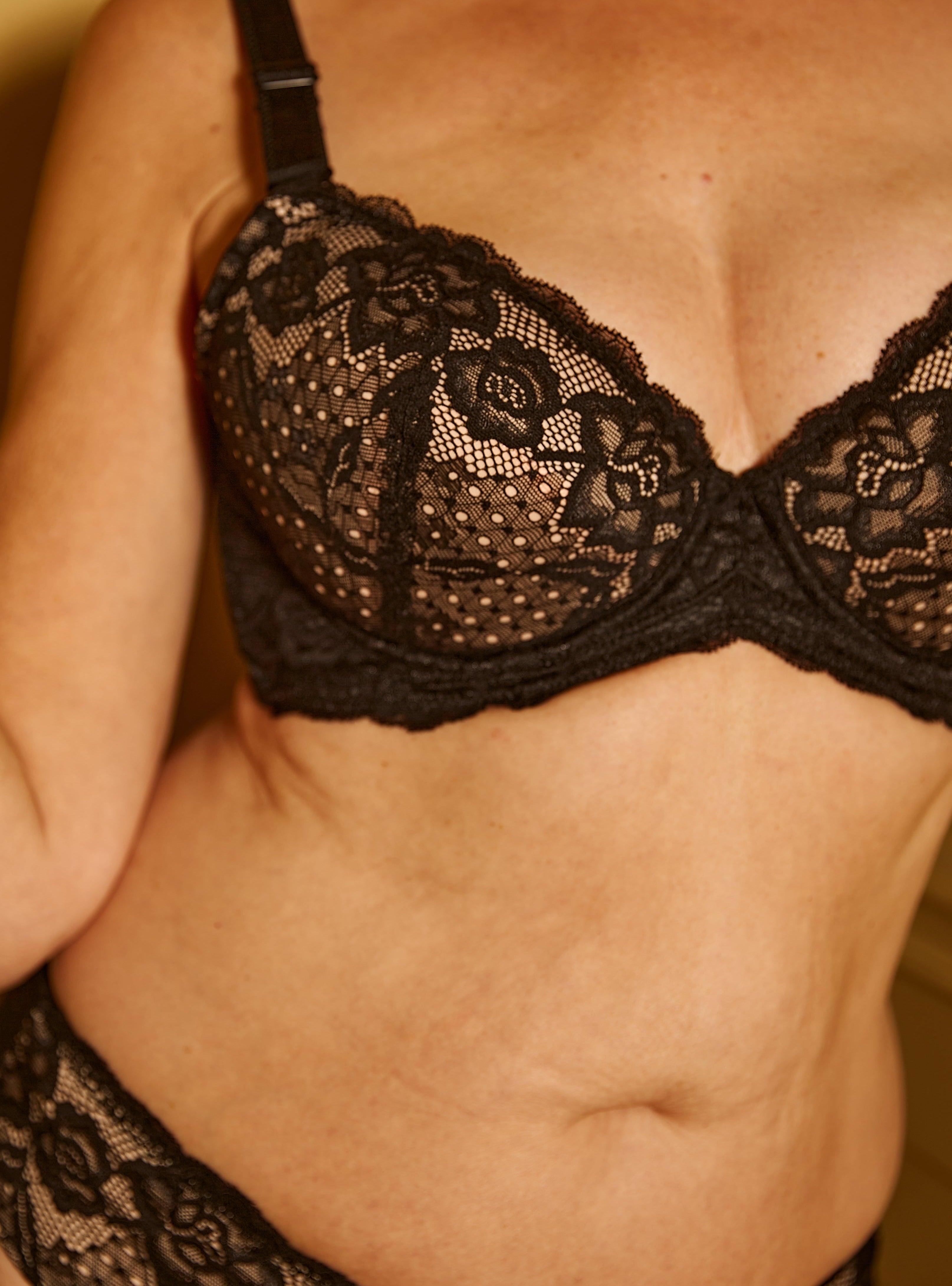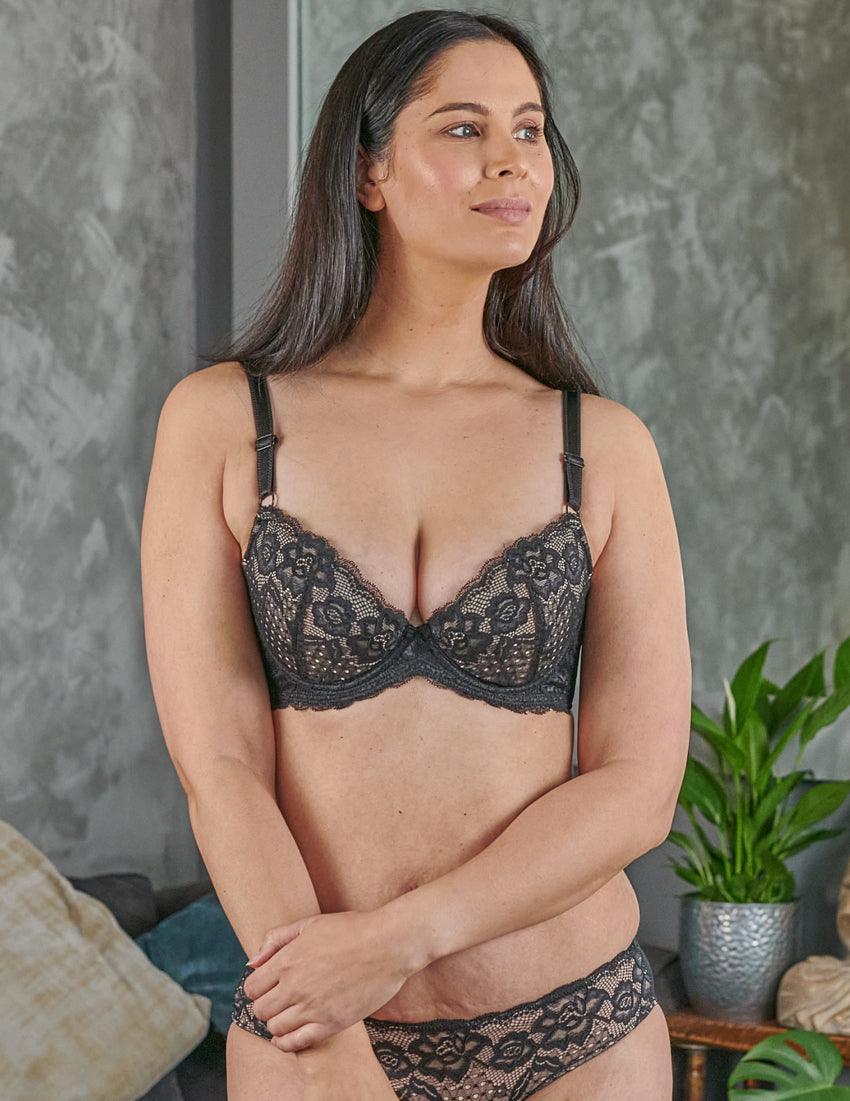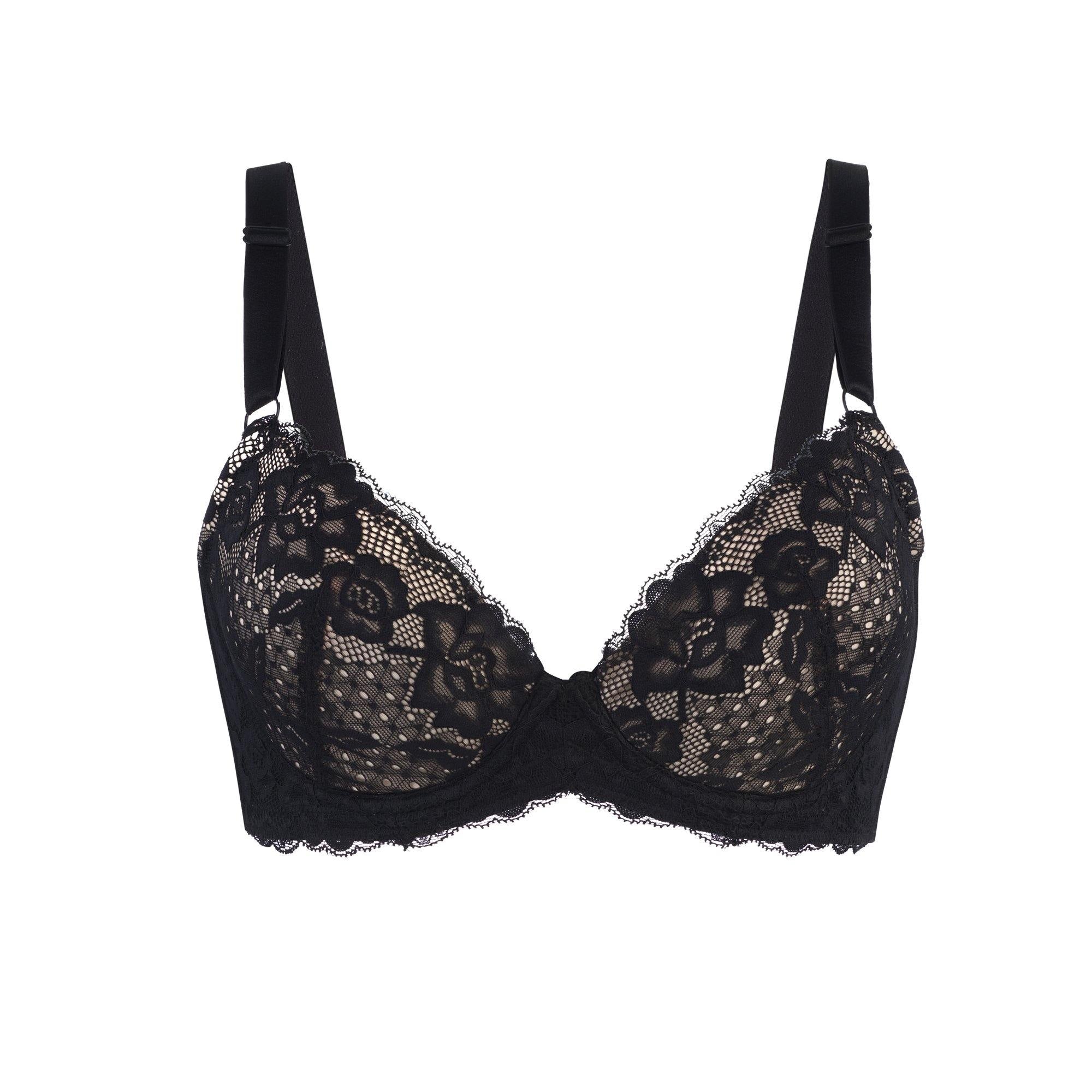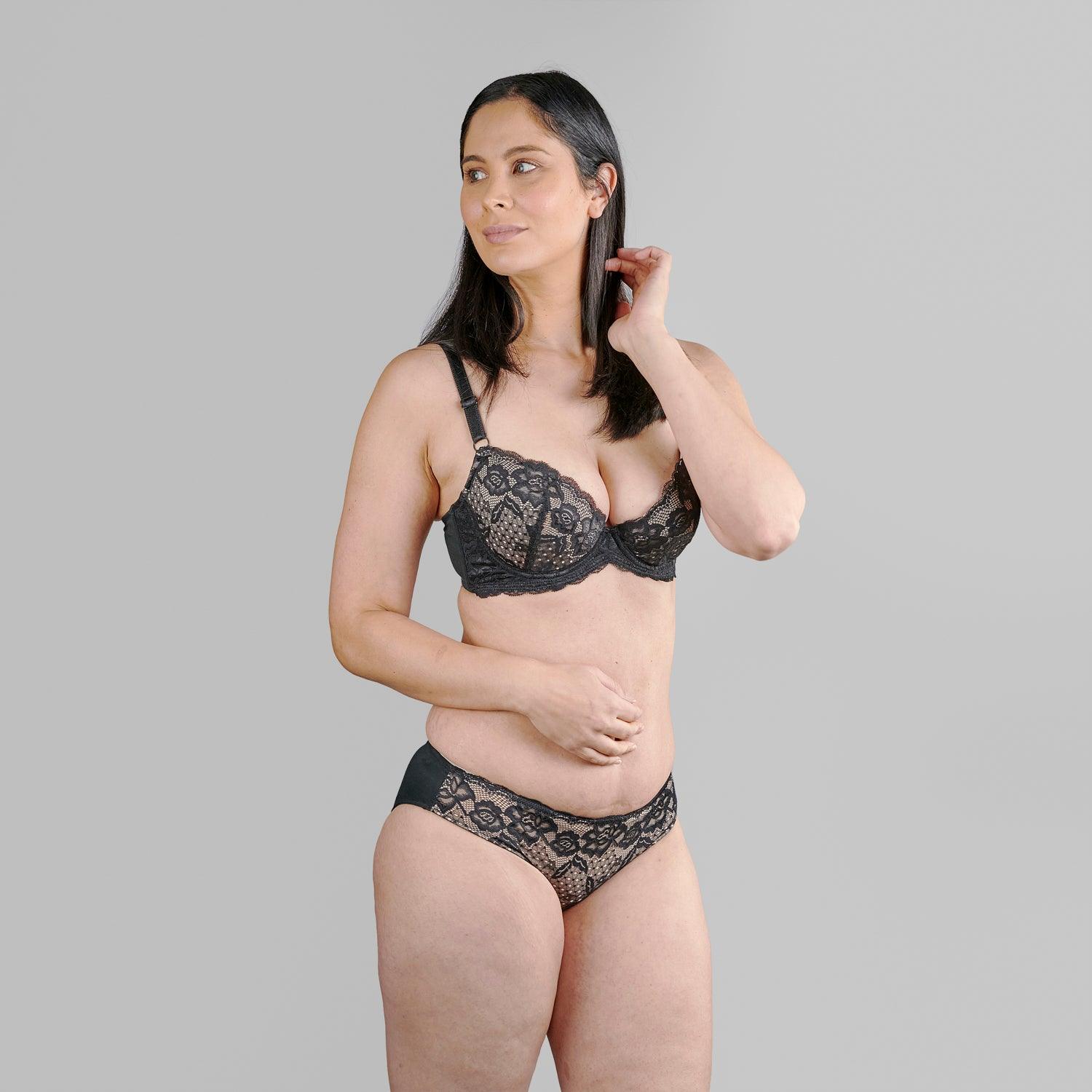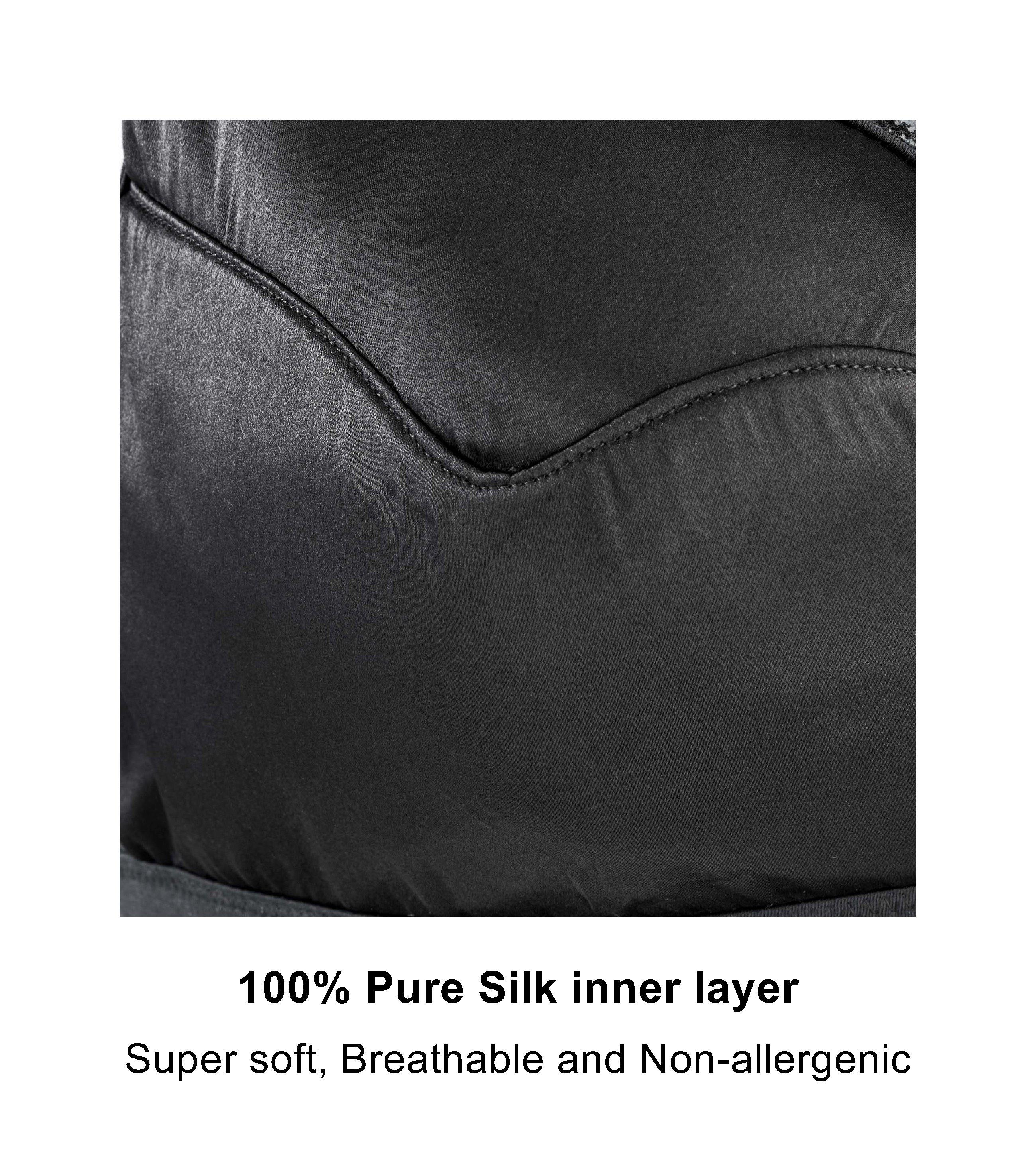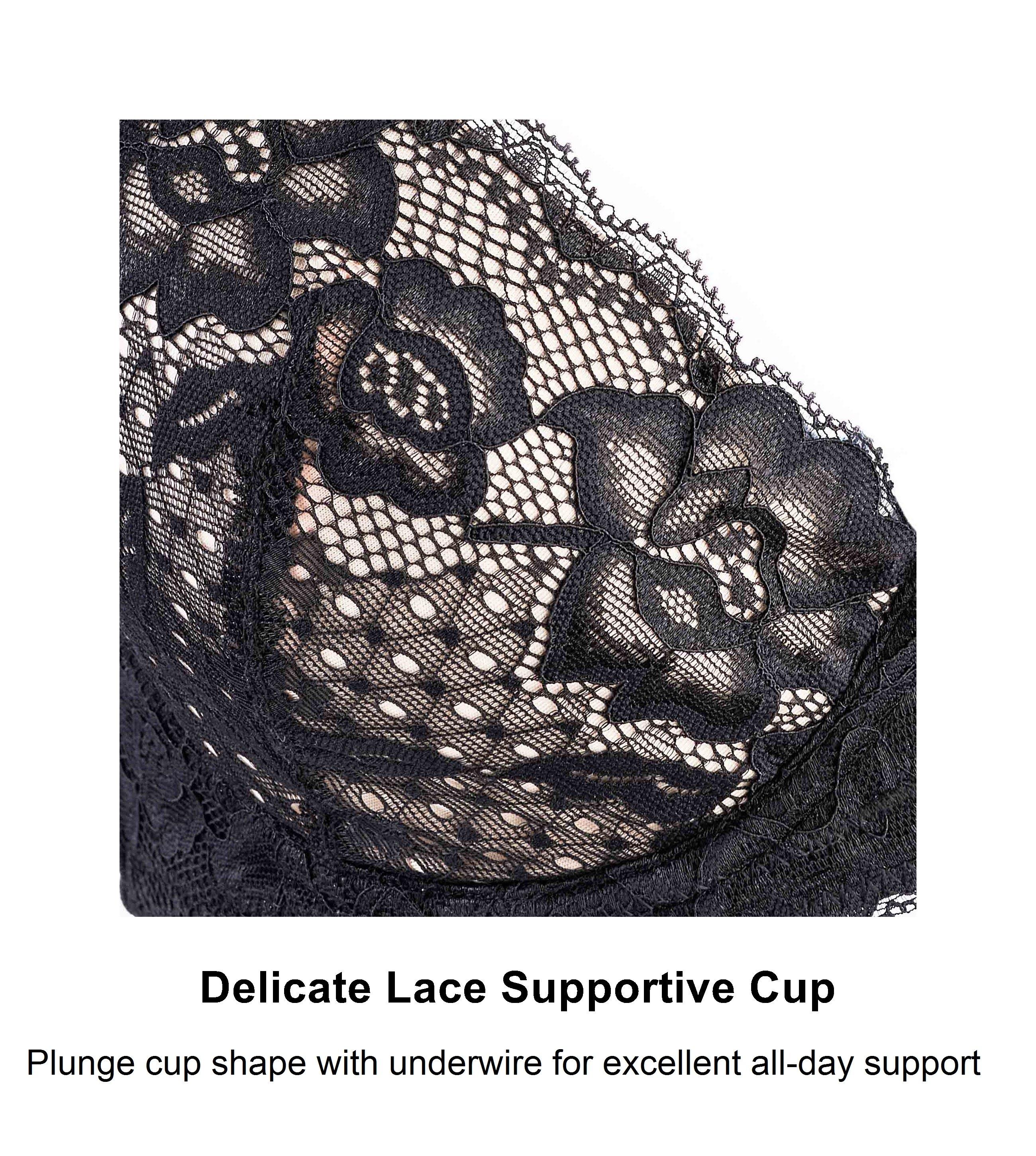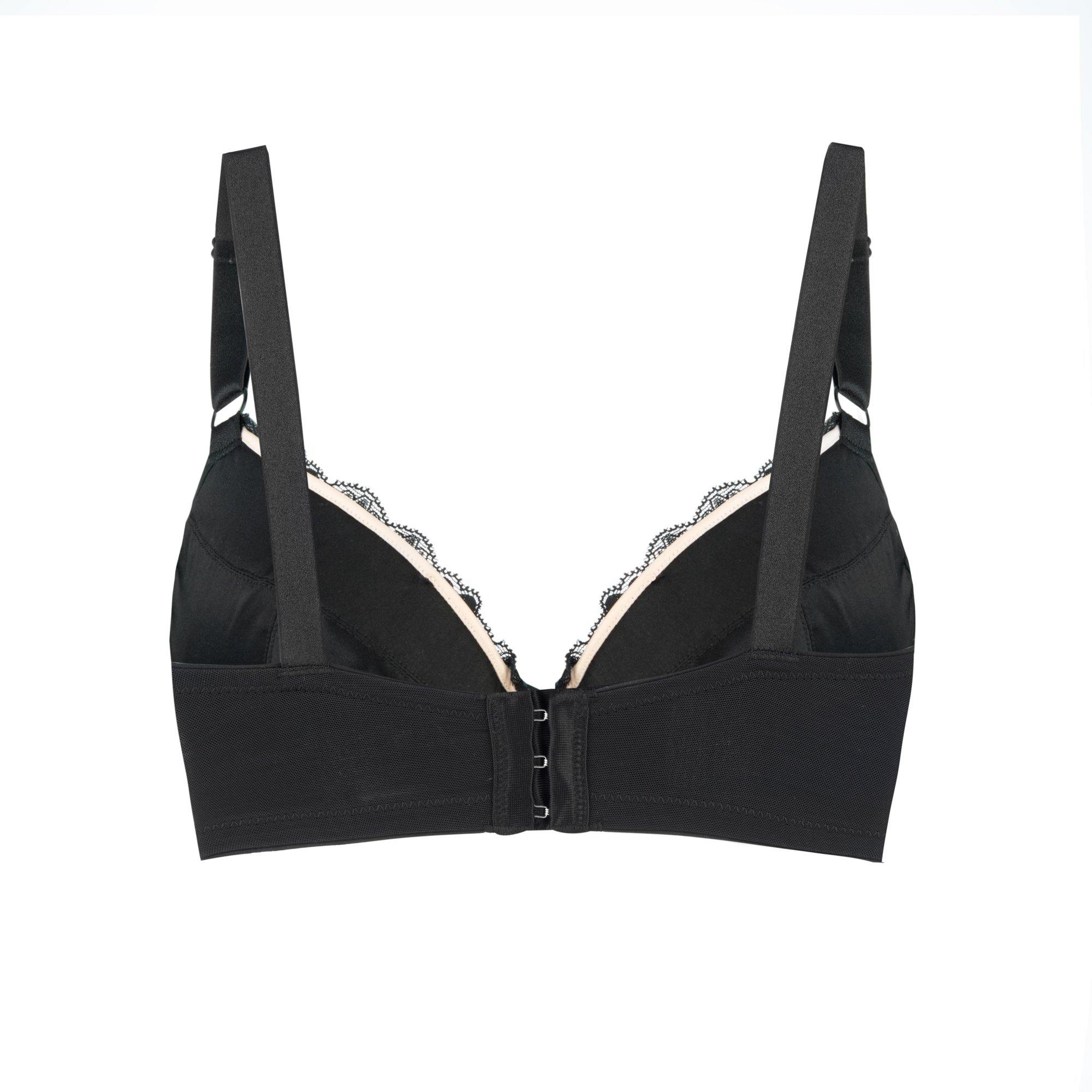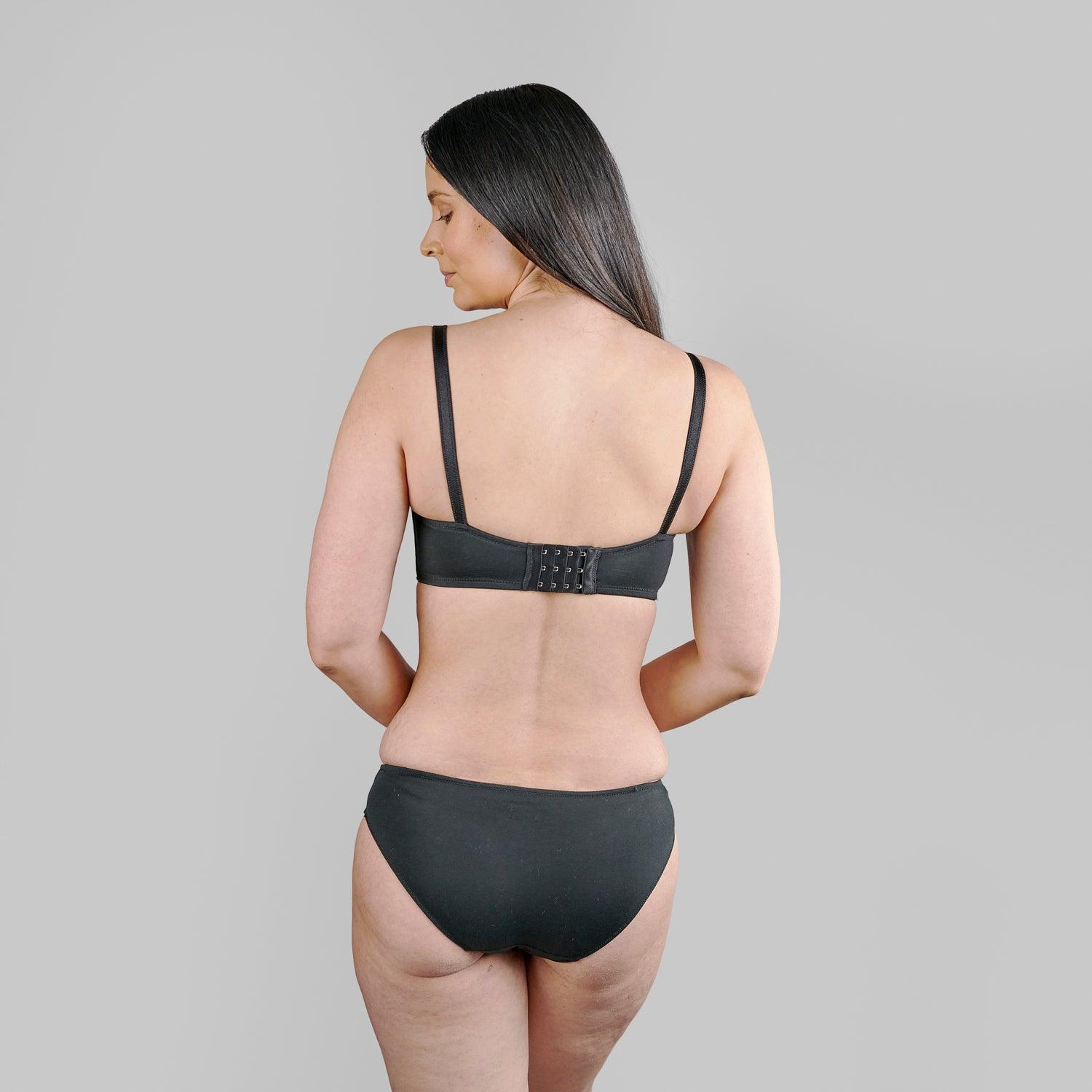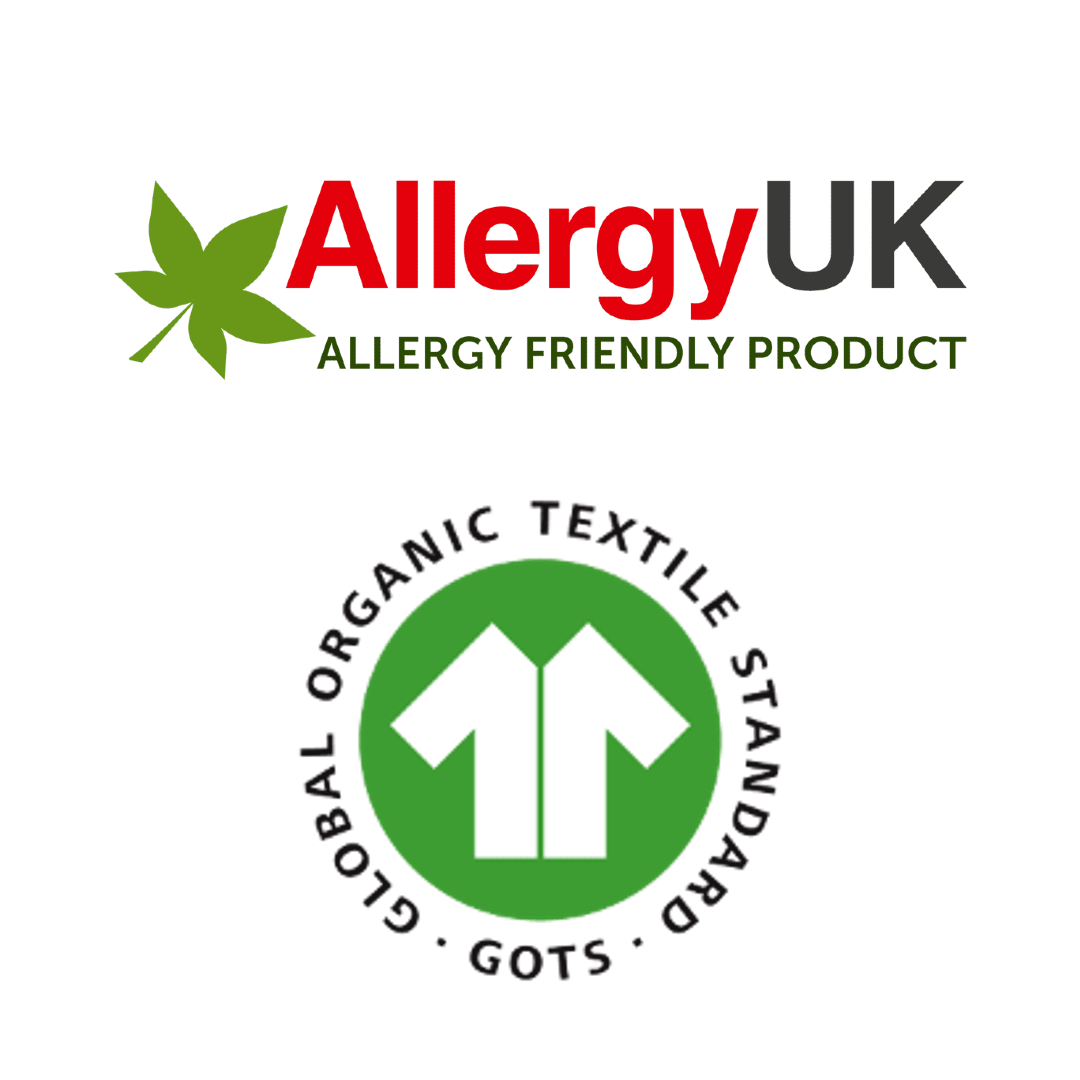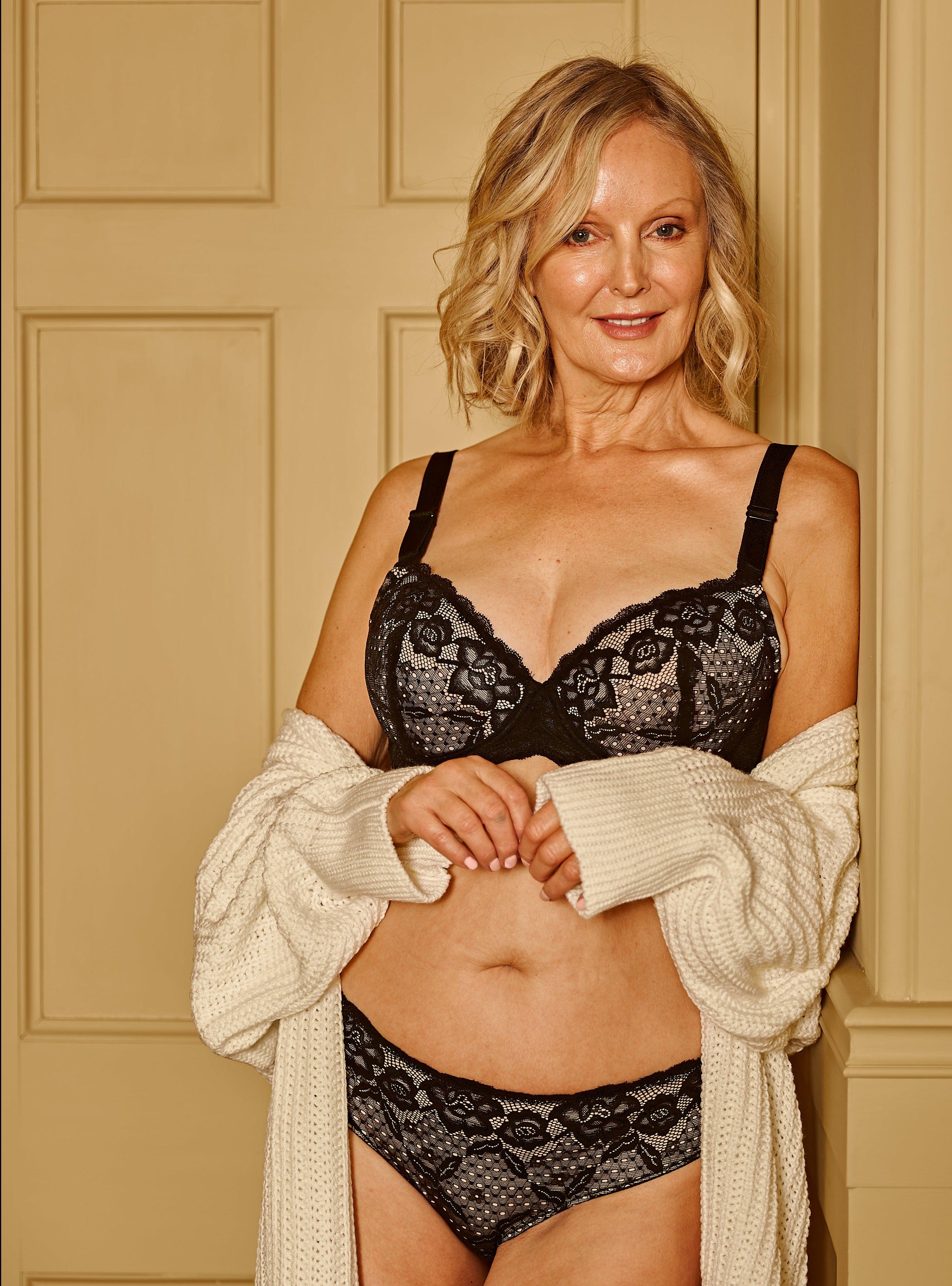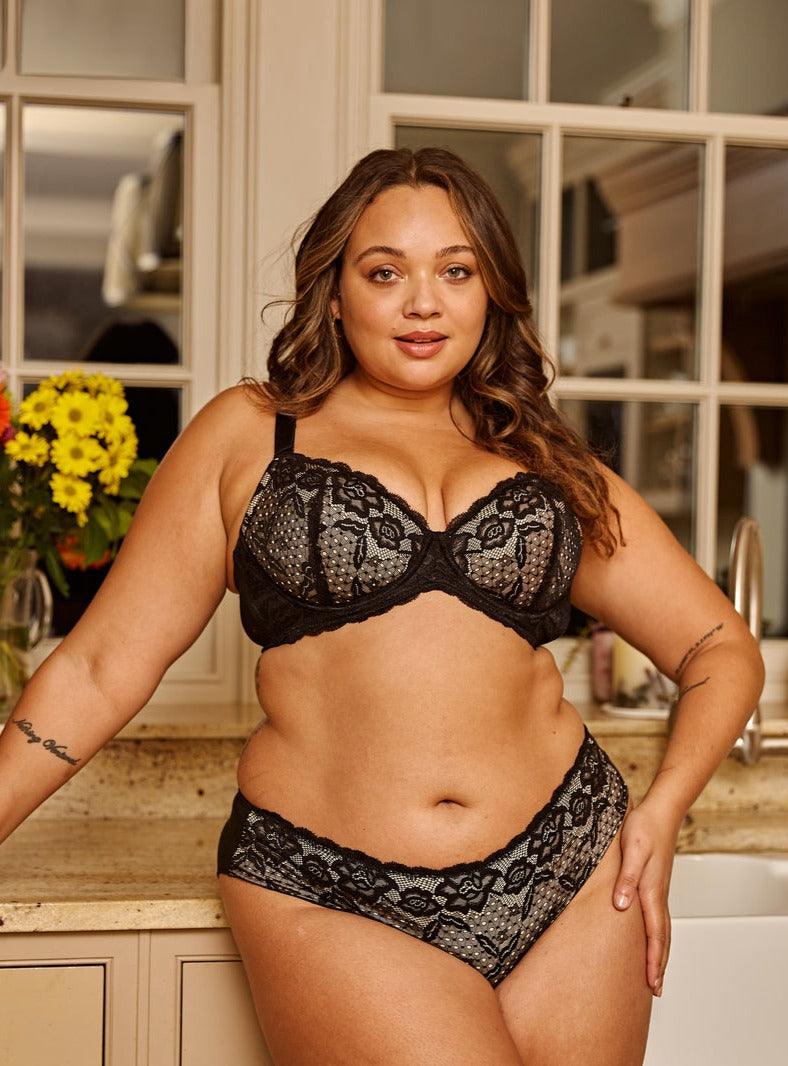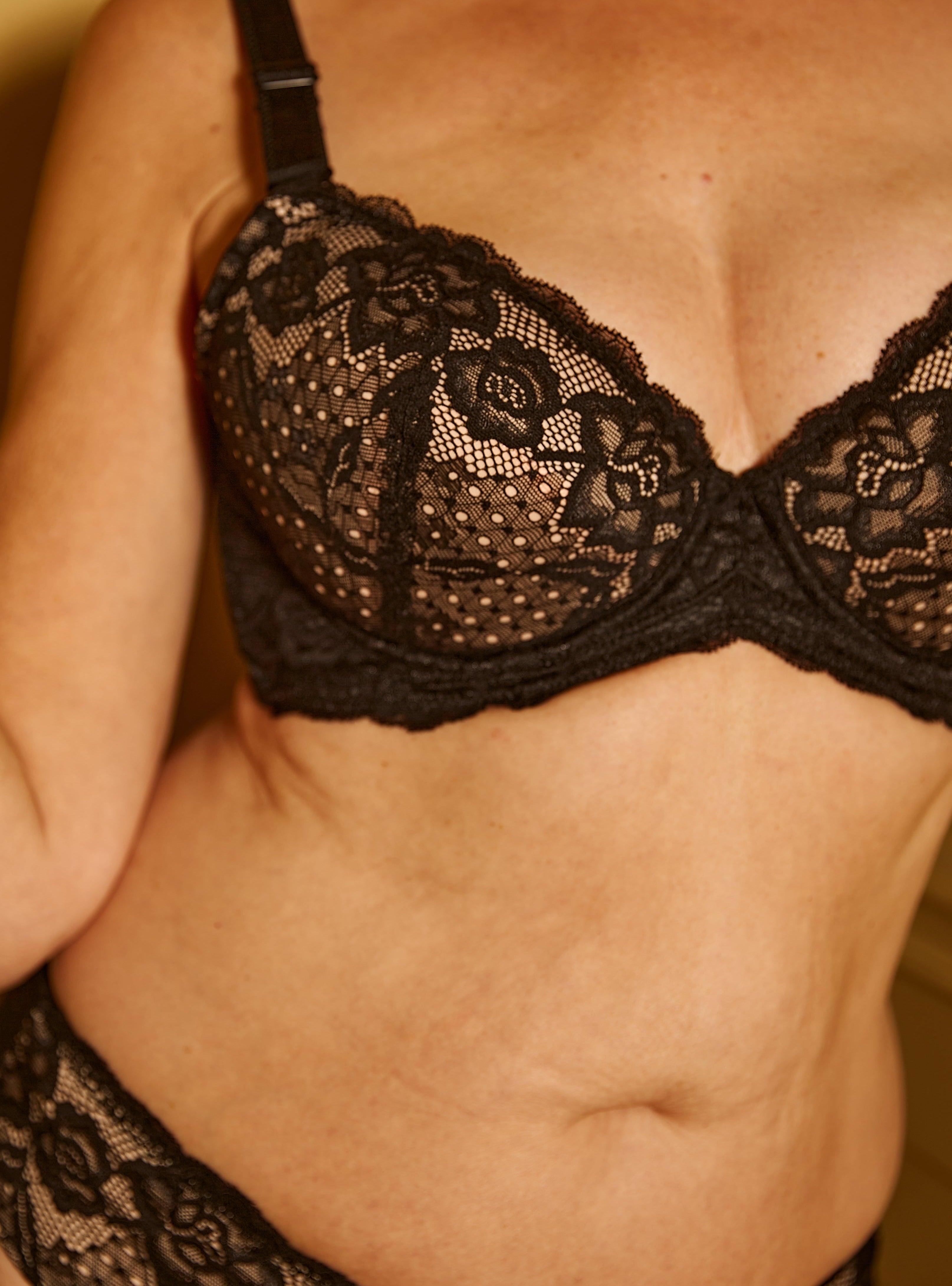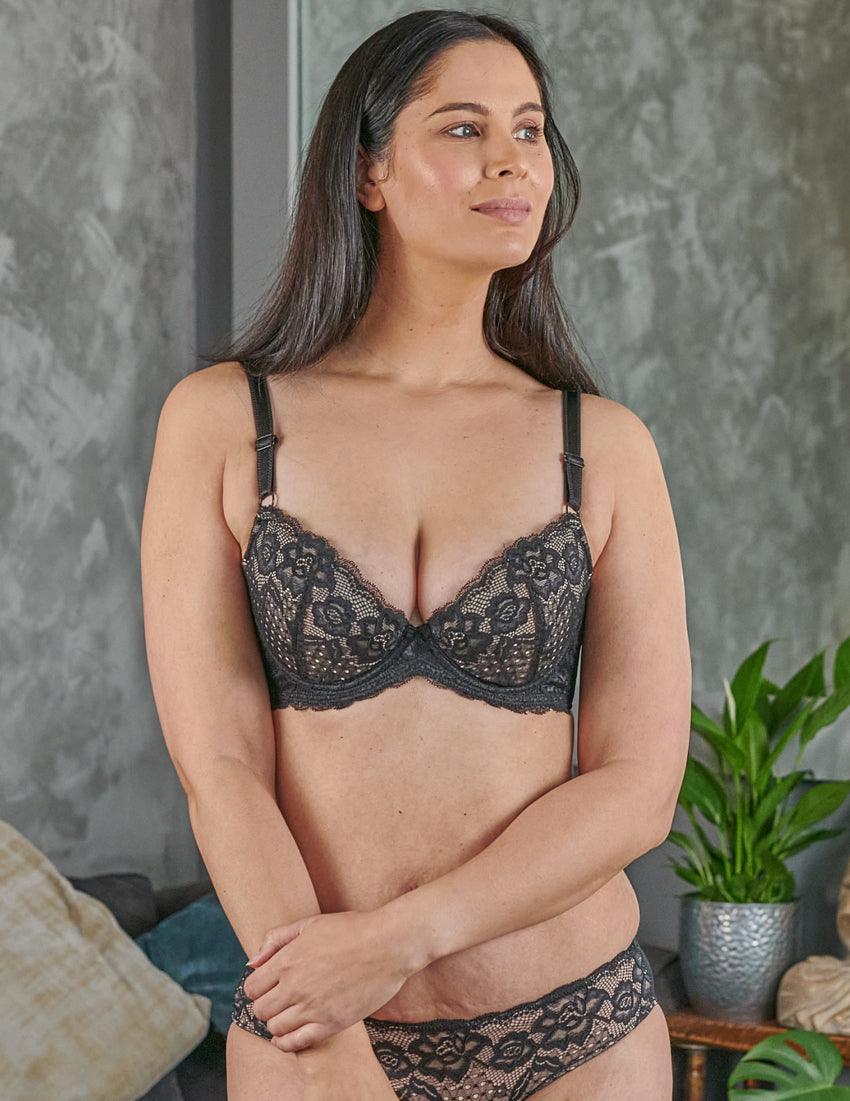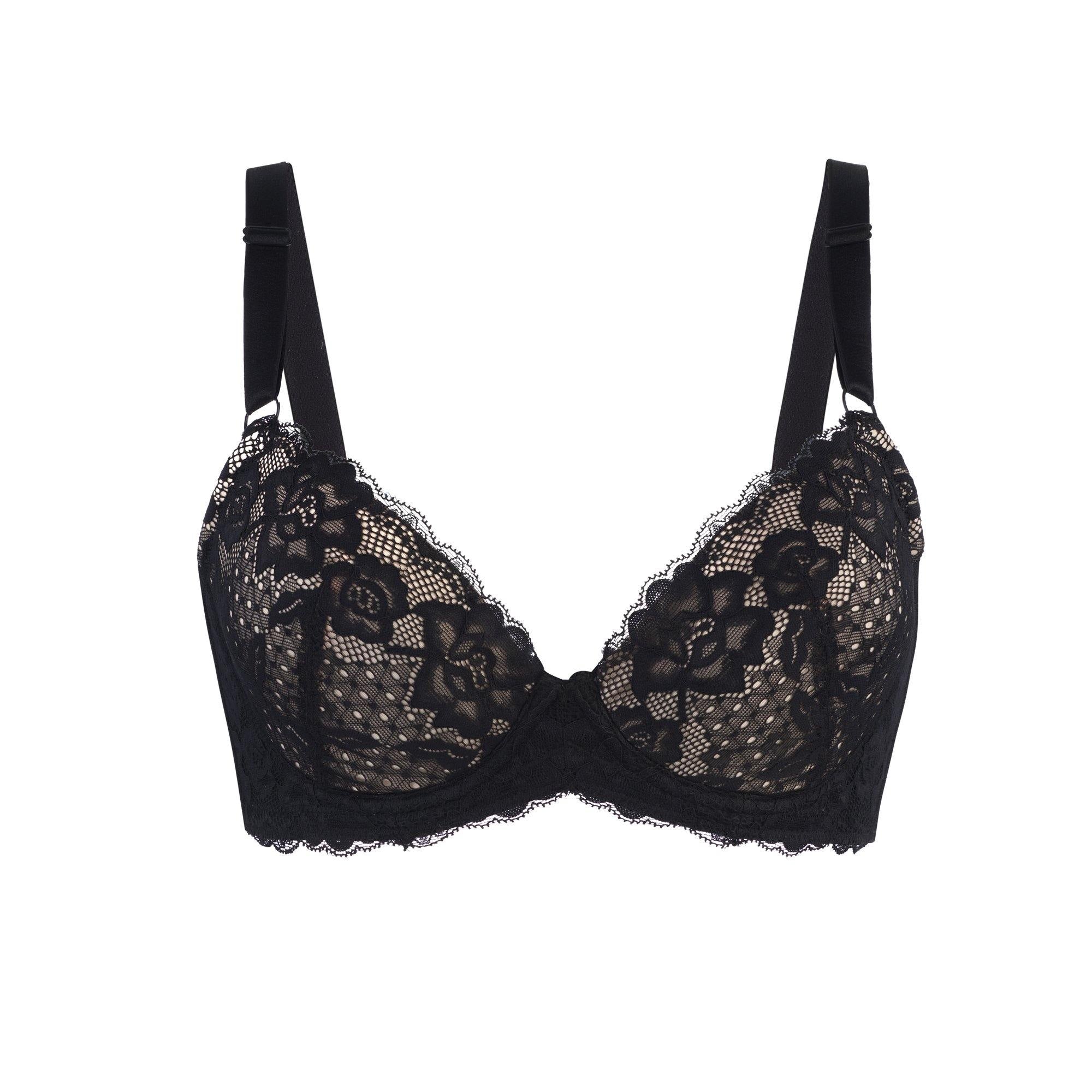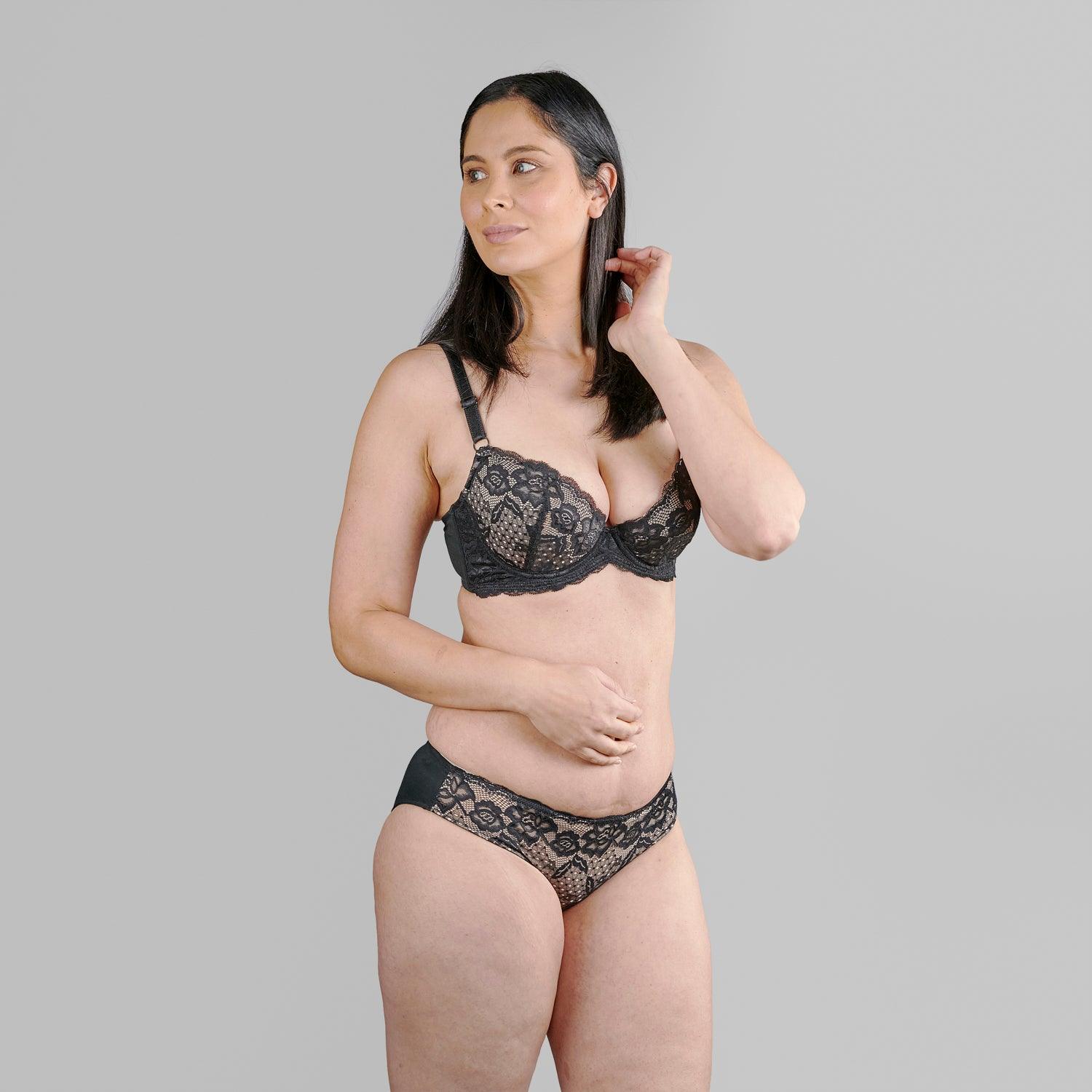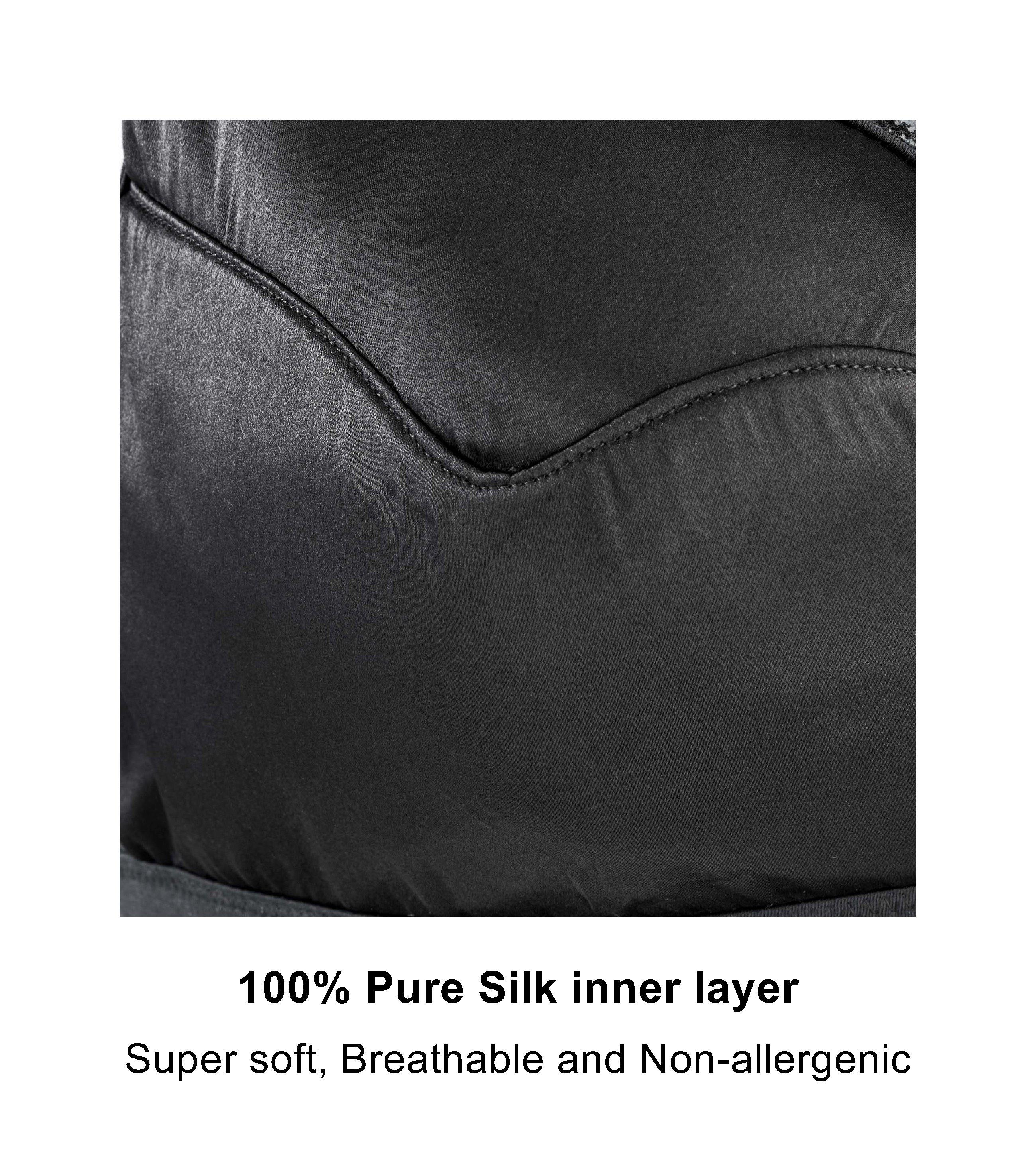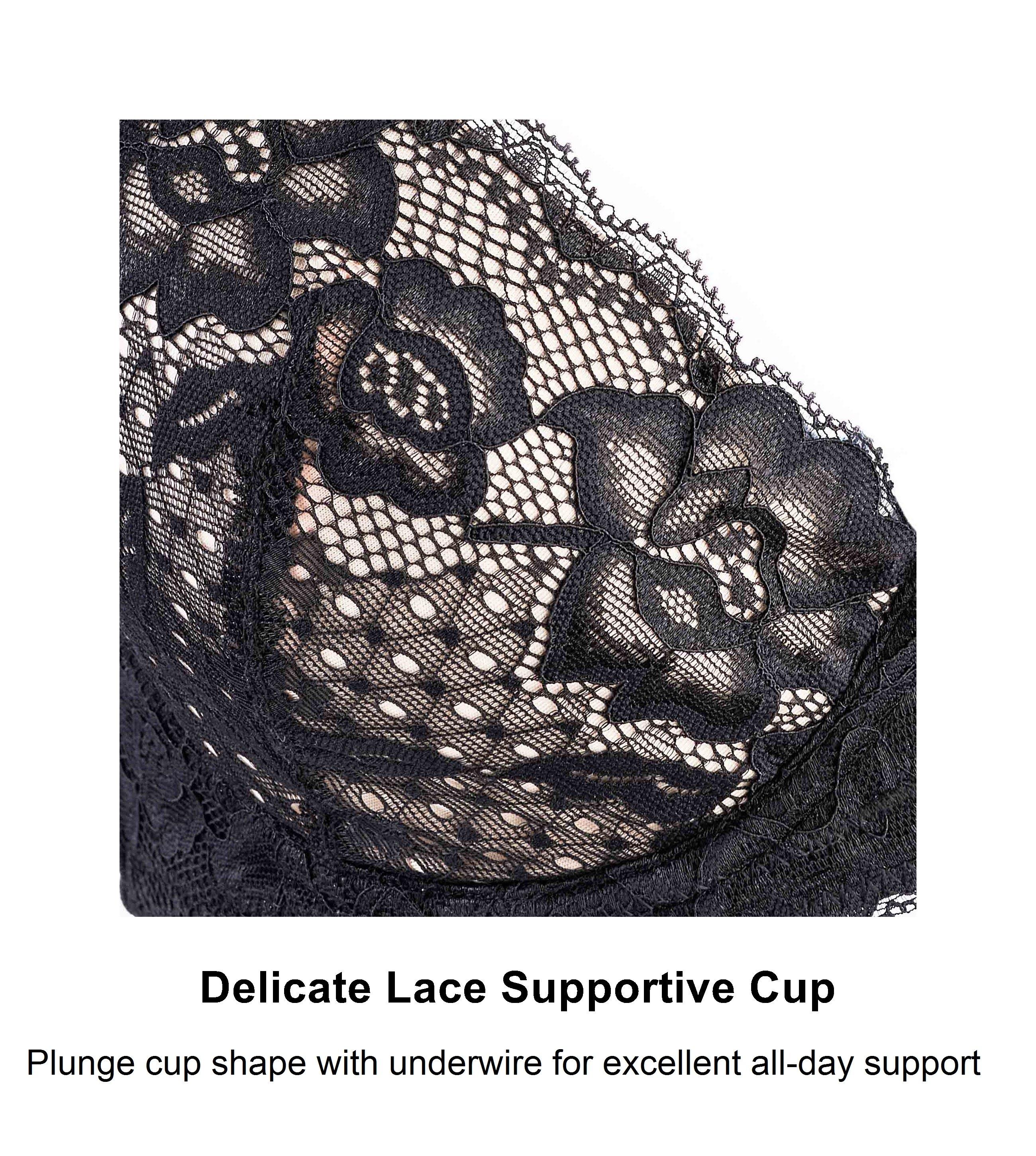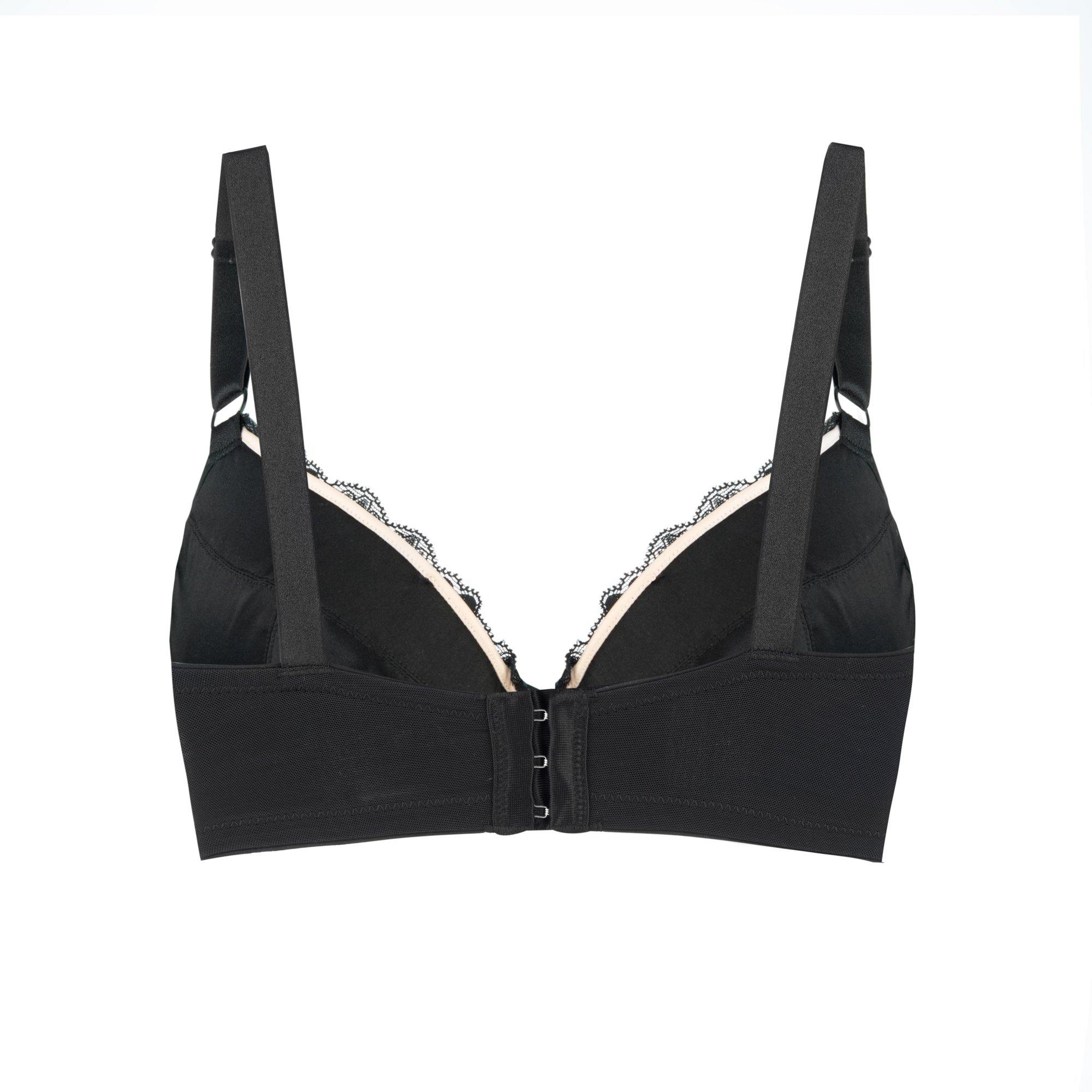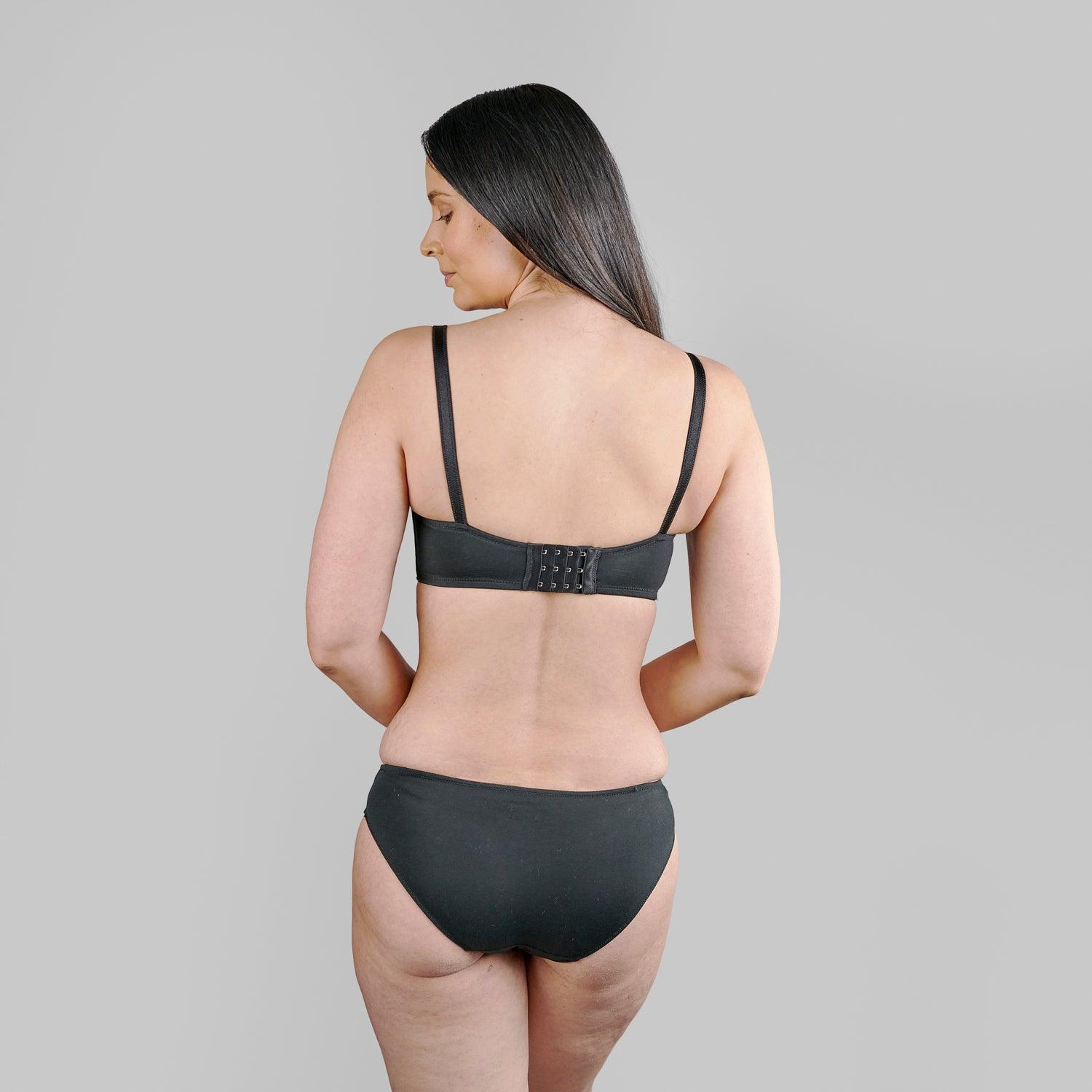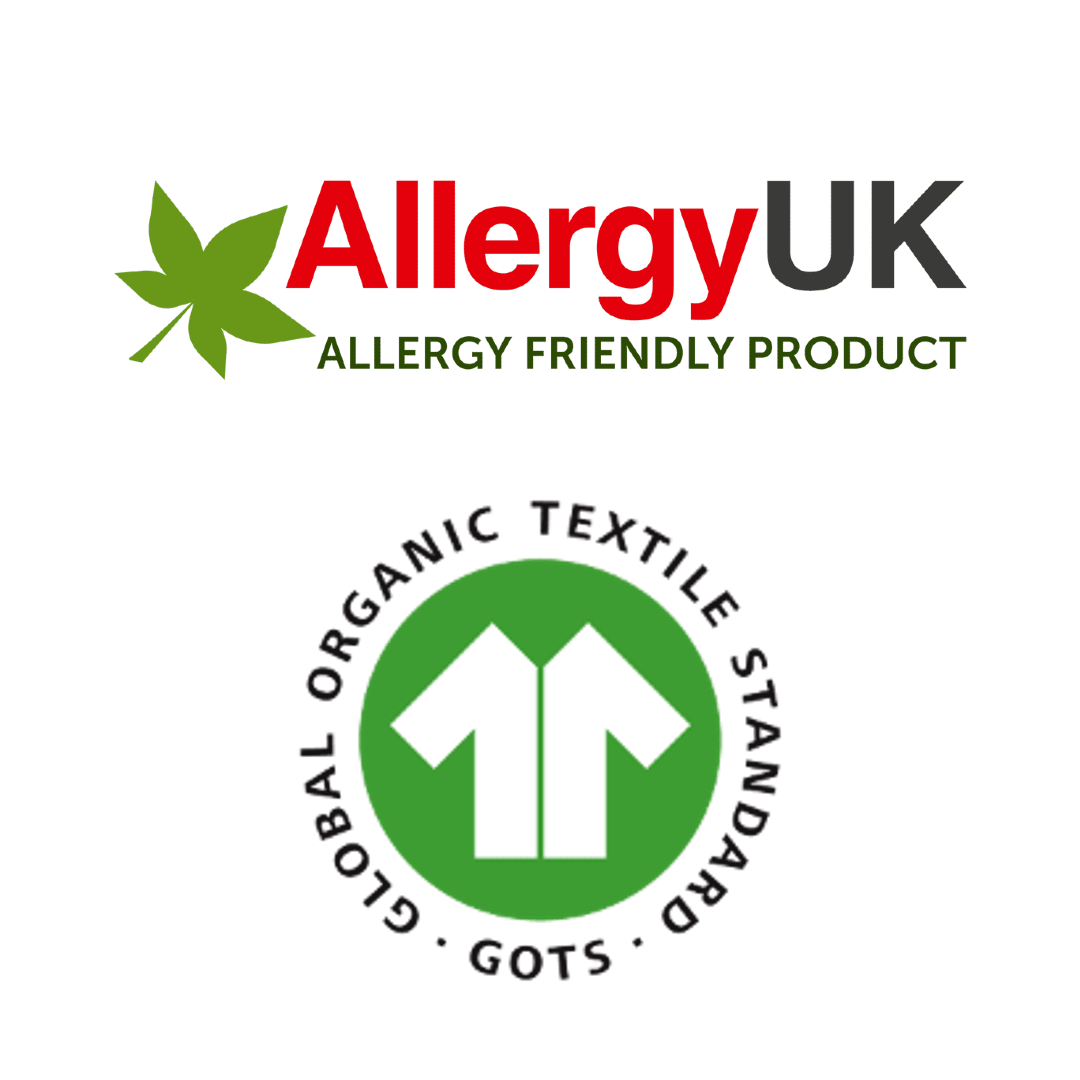 Debbie Lace Organic Cotton & Silk Plunge Bra
Material:
Cup / Crotch:

 

100% Pure Silk
Body Fabric:

 

Silk-Cotton Blend (78% Organic Pima Cotton, 22% Silk)
Features:
Highly breathable silk and Pima cotton, hypoallergenic and soft
Non-slip and wide shoulder strap
Cover in pima cotton to prevent irritation, no exposed rubber band
Elegant lace detail in front
Maximum support, working with your natural shape and adding a level of comfort to this half-cup bra
Wired
Lightly padded with organic cotton


''Since the menopause my skin has been very sensitive and buying attractive bras have been a big problem. The cooling bra I bought from JulieMay feels so lovely to wear and no more sweaty nights. It looks feminine too. ''

----Susan
3. Allergy-Free with Anti-Irritation Properties
Hot flushes can cause sweating, leading to unpleasant odours. Choosing underwear with anti-odour properties can help minimise this issue and keep women feeling fresh and comfortable.

Allergy-free underwear is also highly recommended to avoid heat rashes, hives, and other conditions that could be triggered when someone comes in contact with products containing substances they could be allergic to. Avoid synthetic fibres like nylon or polyester and underwear with metals like nickel and more if you are allergic to those.

Regarding allergic skin reactions, chemicals such as dyes, phthalates, flame retardants, and others used during the manufacturing process of most underwear products can induce allergic skin reactions in people with sensitive skin during menopause. Hypoallergenic underwear products like the dye-free organic cotton ones will ensure you don't experience any skin reactions and irritations that may worsen hot flushes during menopause.

JulieMay Lingerie is the only brand accredited by AllergyUK to be friendly for people with allergic reactions to synthetic fibres and sensitive skin after breast surgeries. Our collections have been approved by qualified dermatologists to be hypoallergenic.

JulieMay Lingerie is certified by Allergy Free UK and dermatologists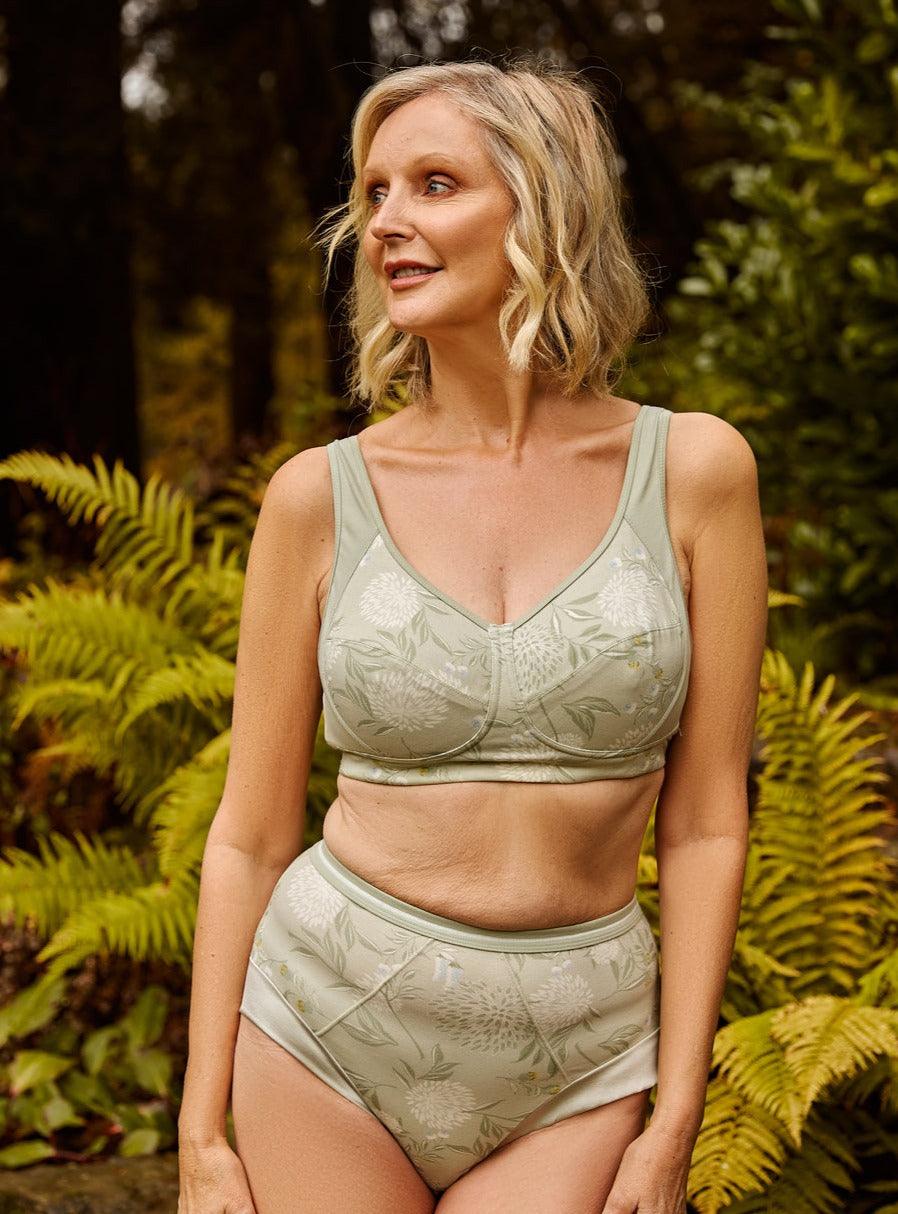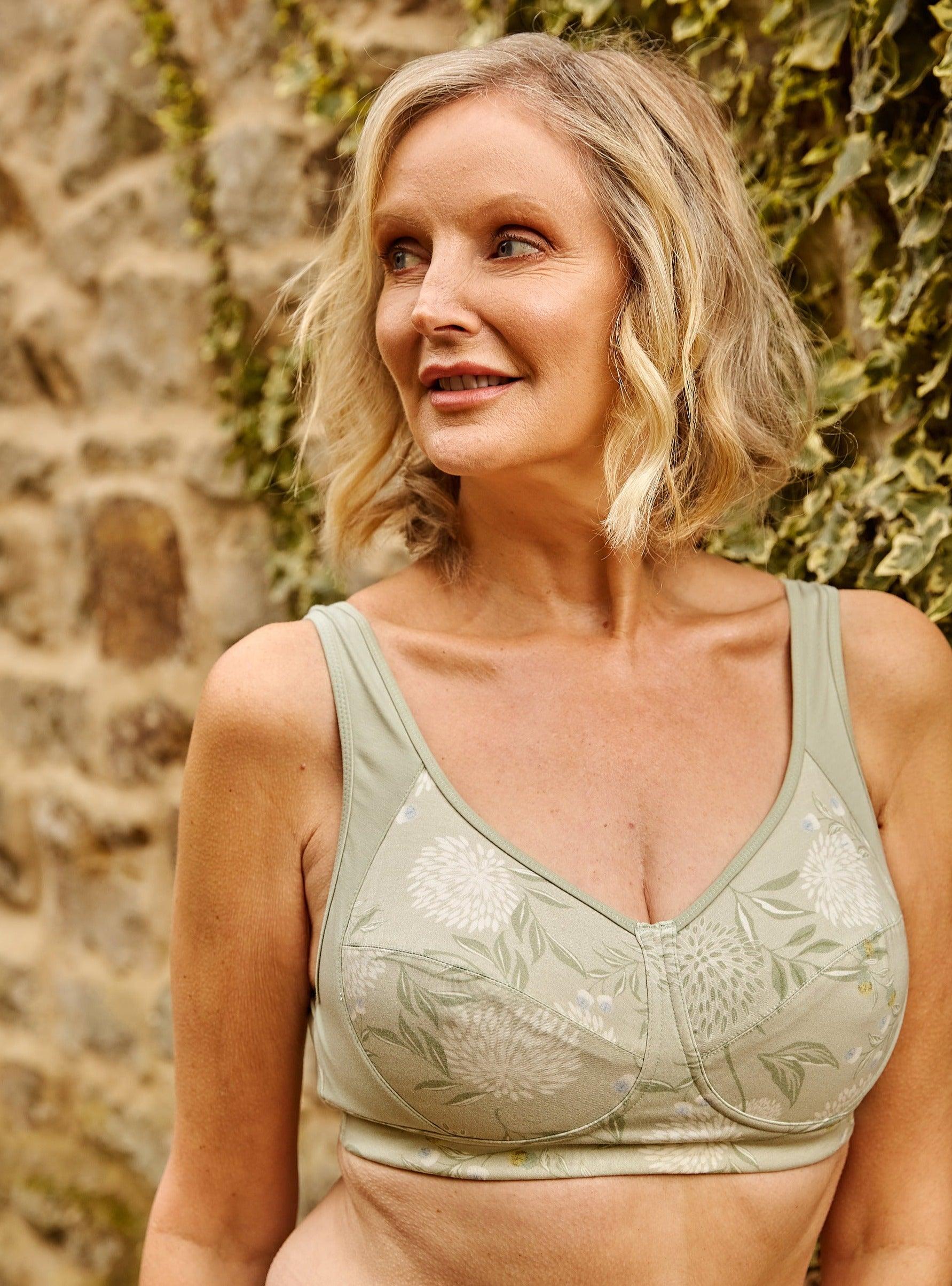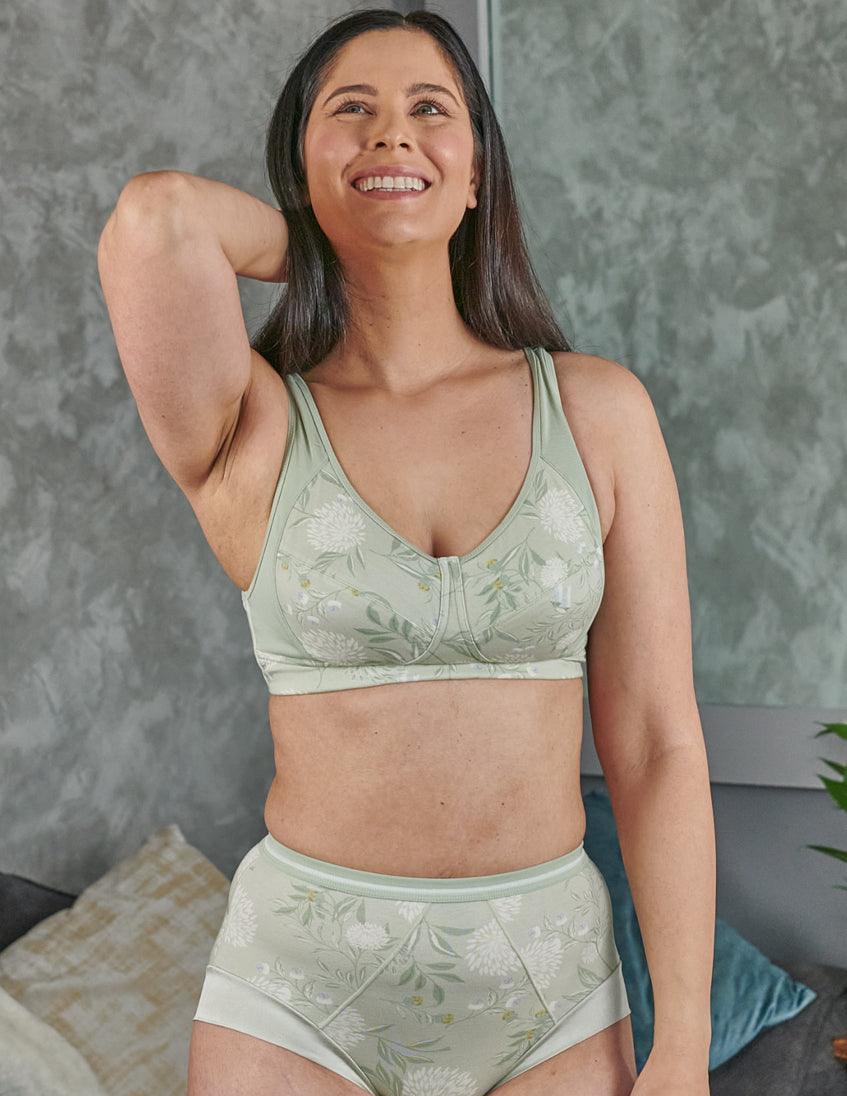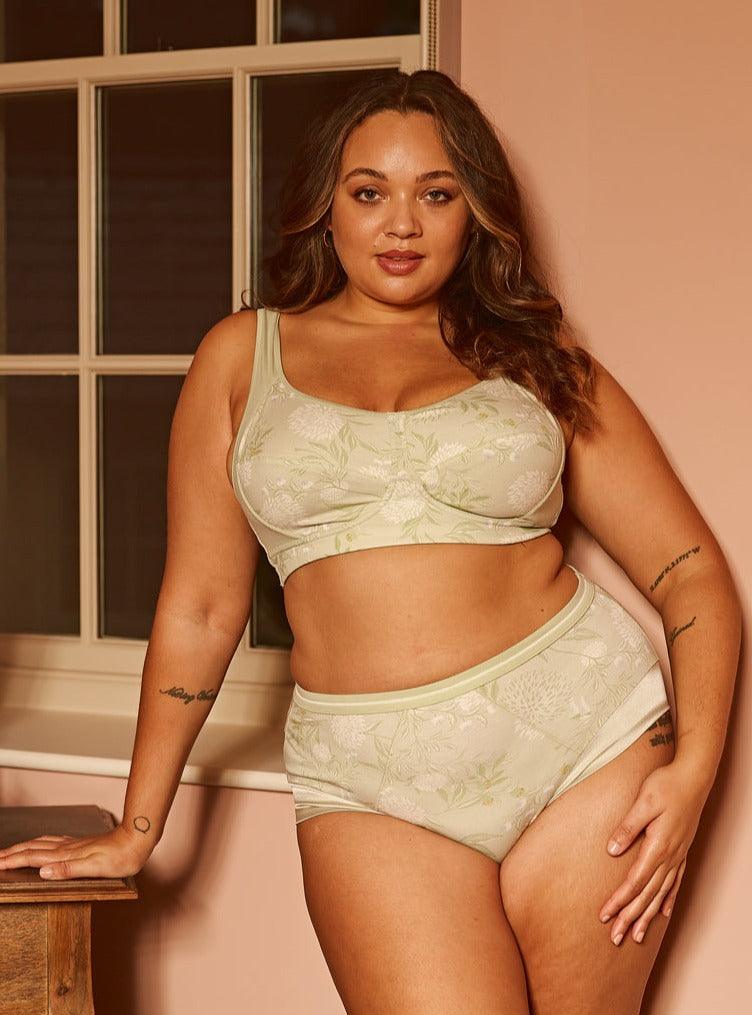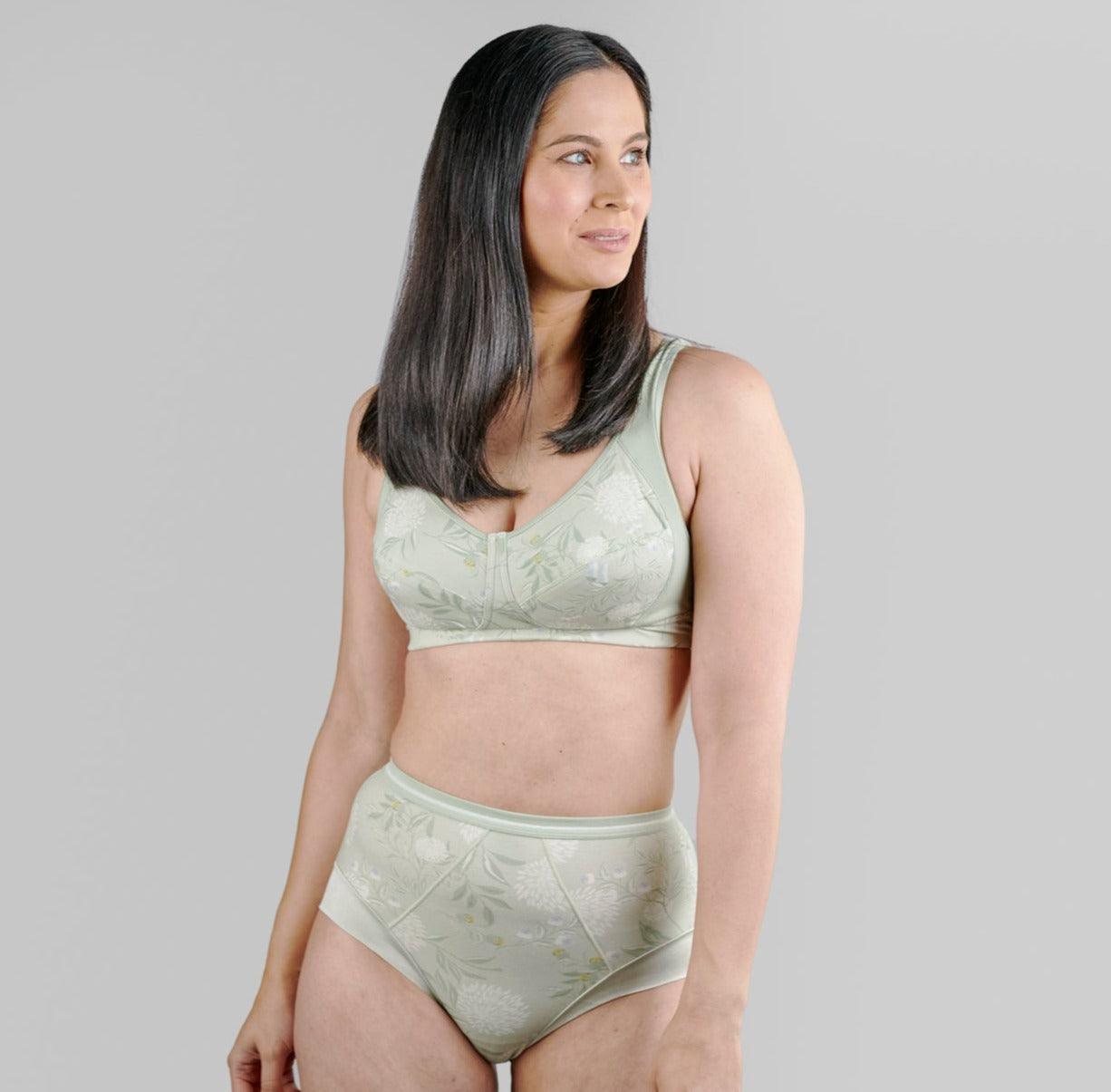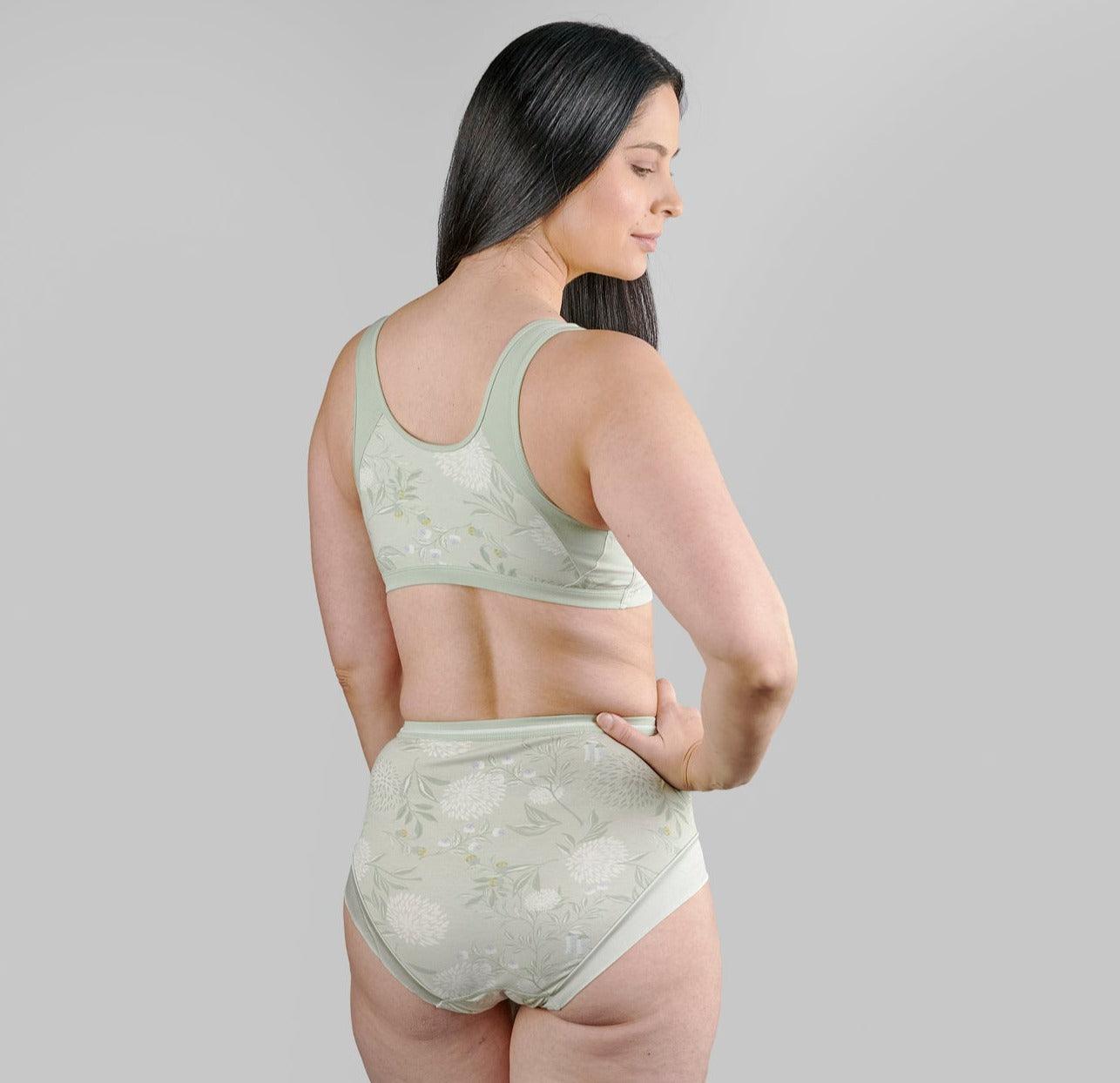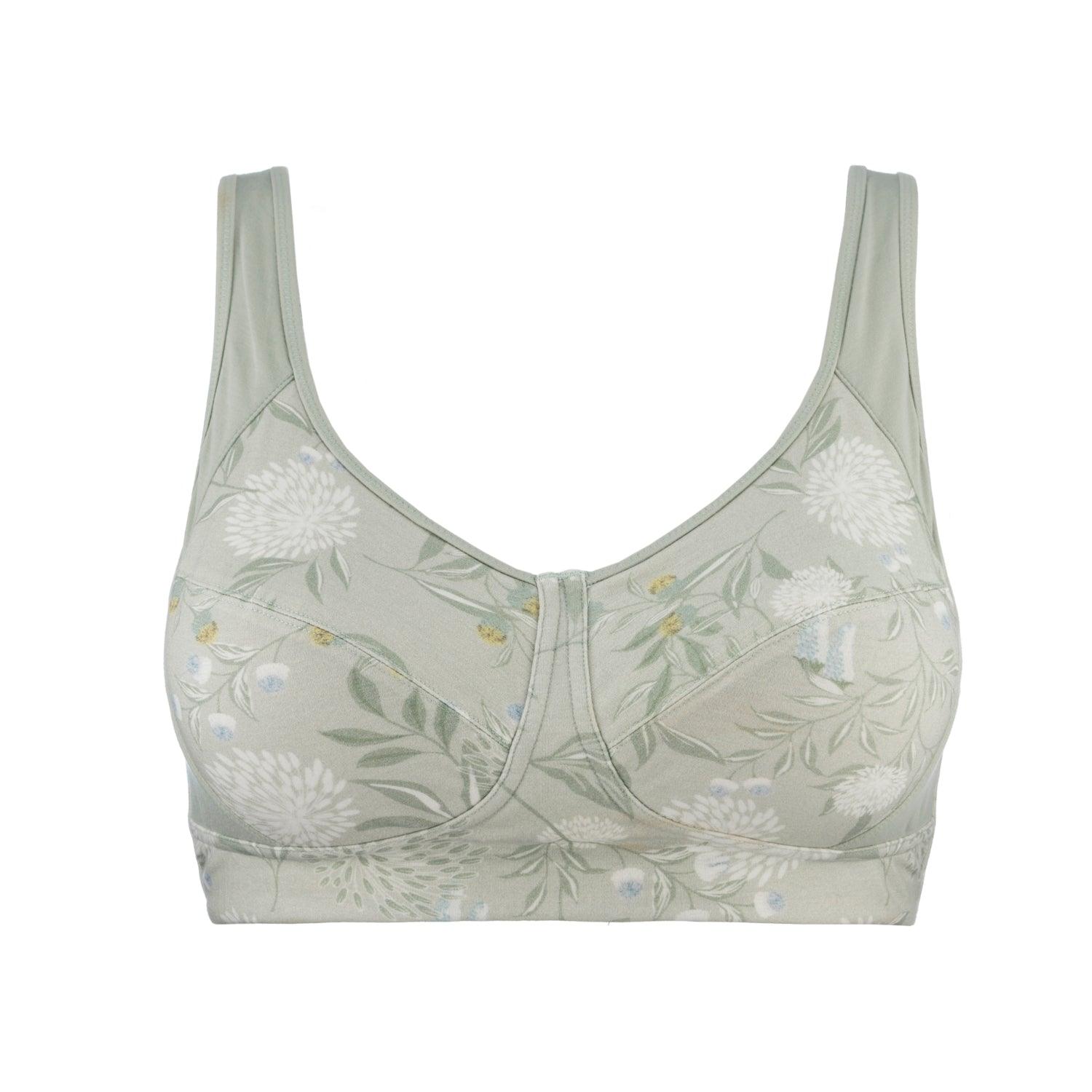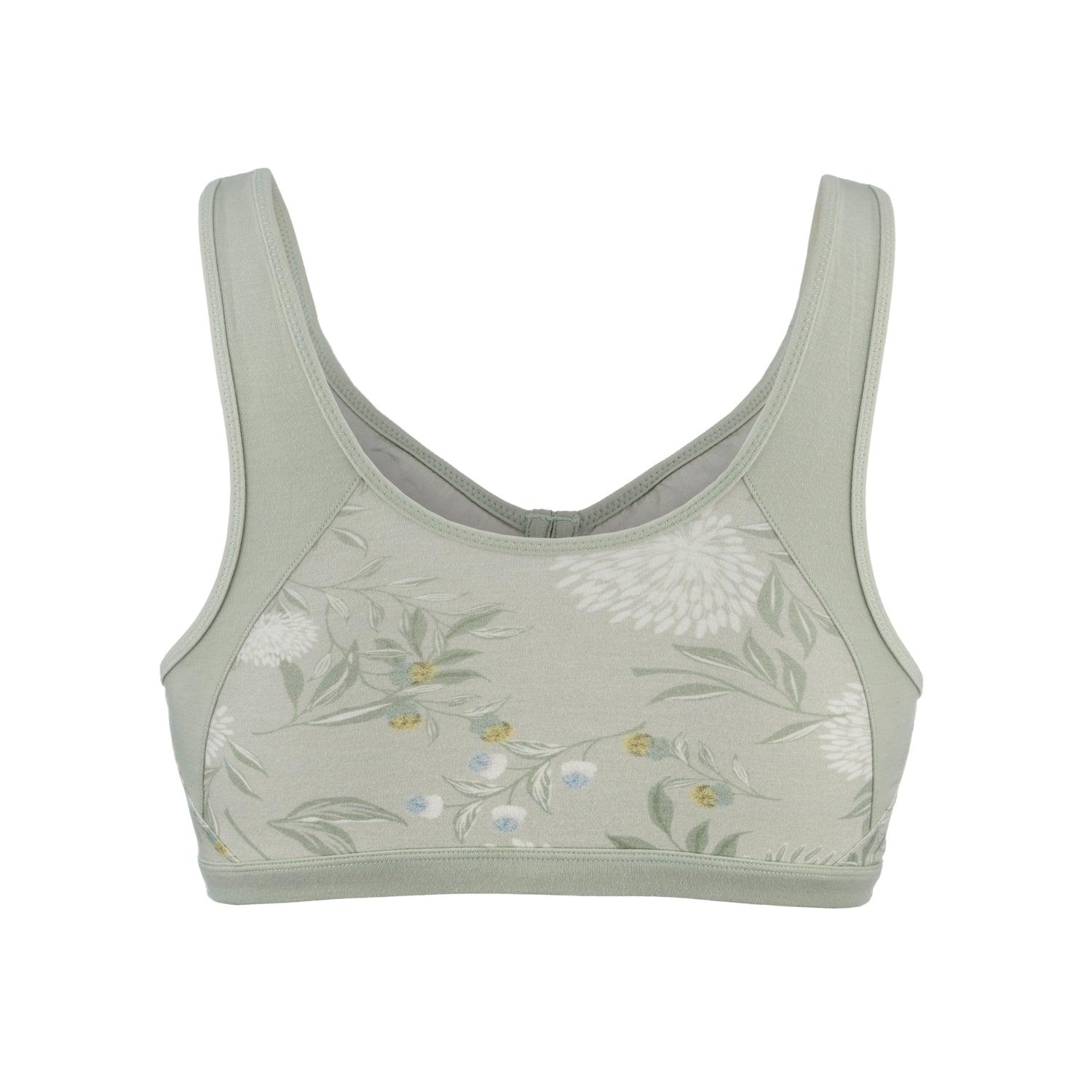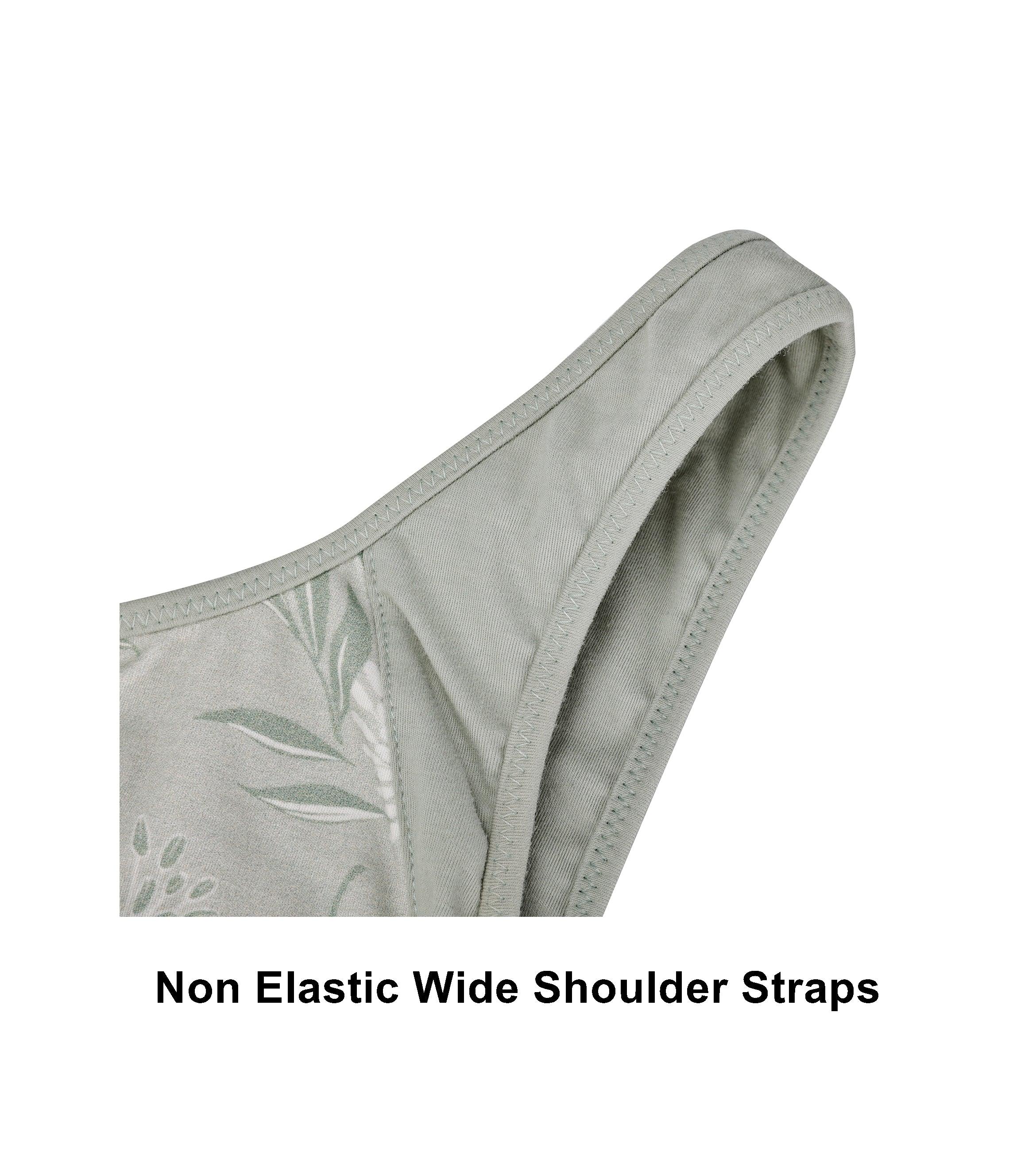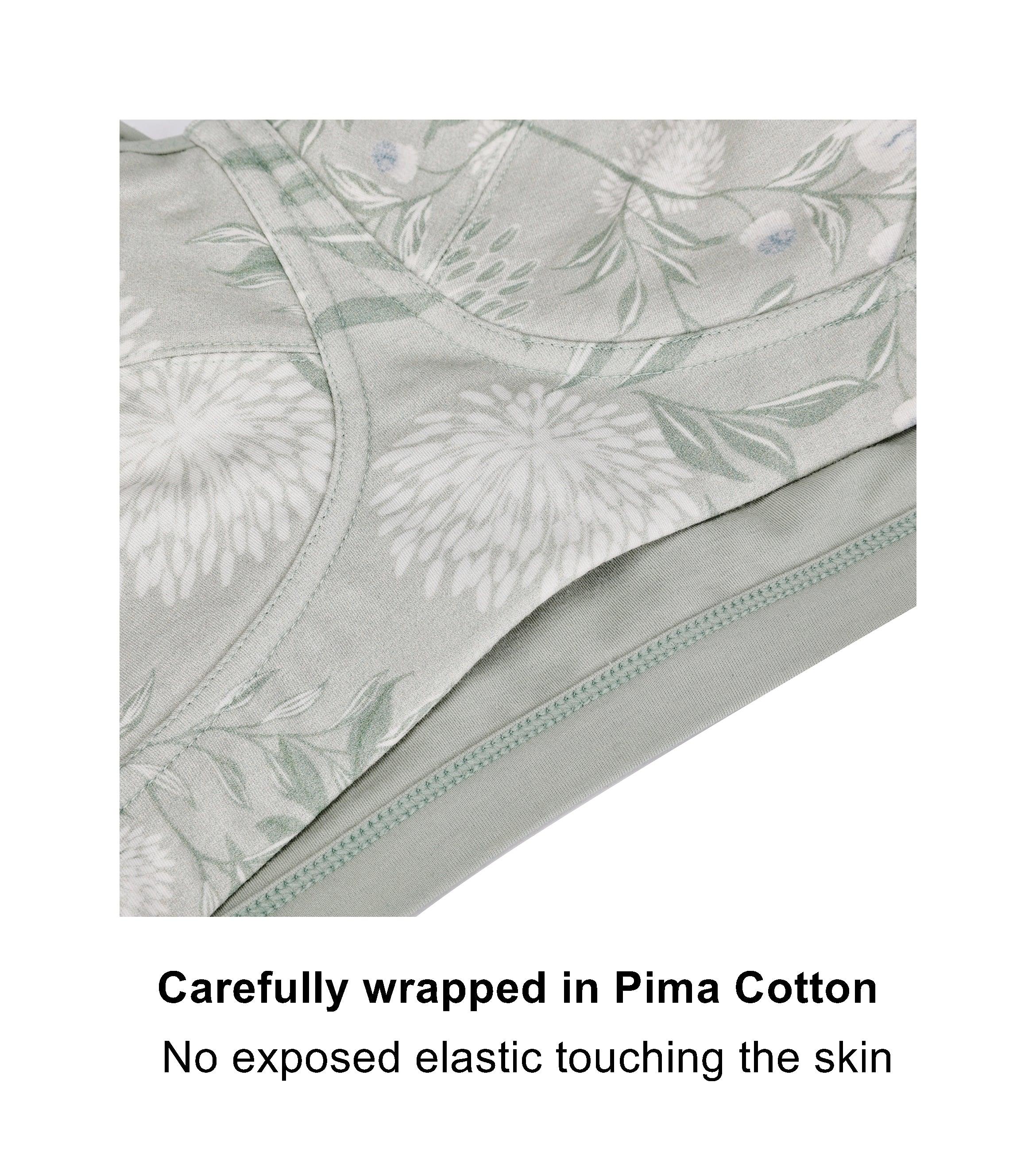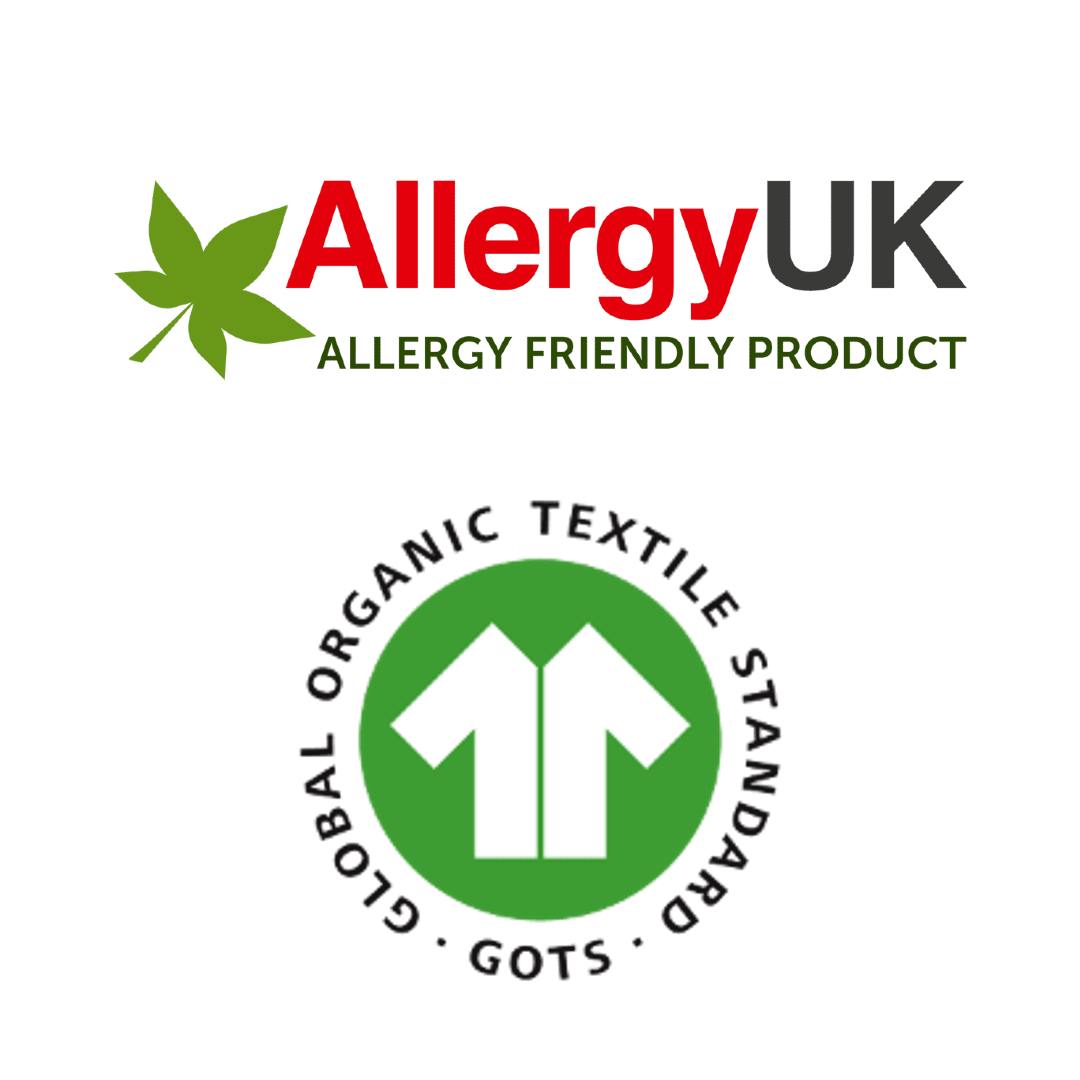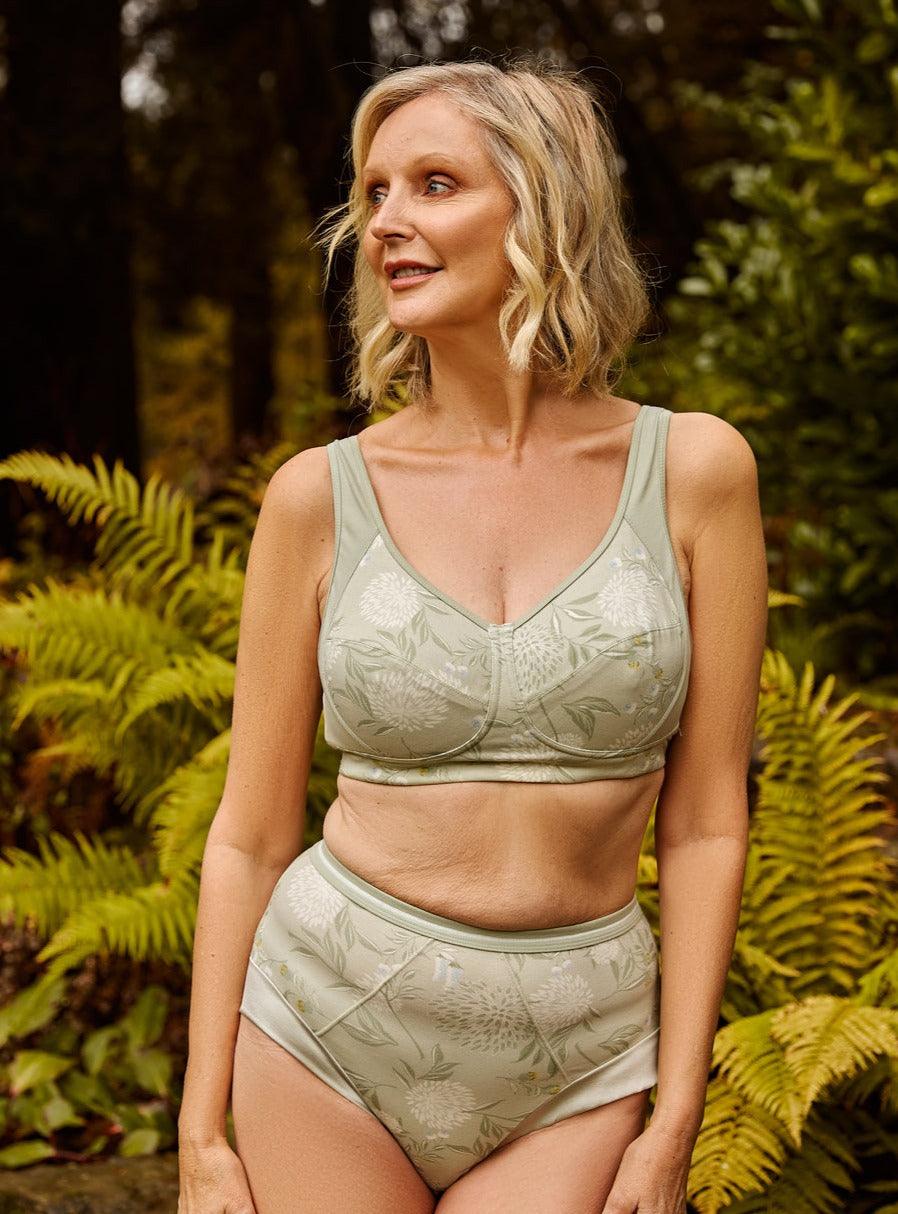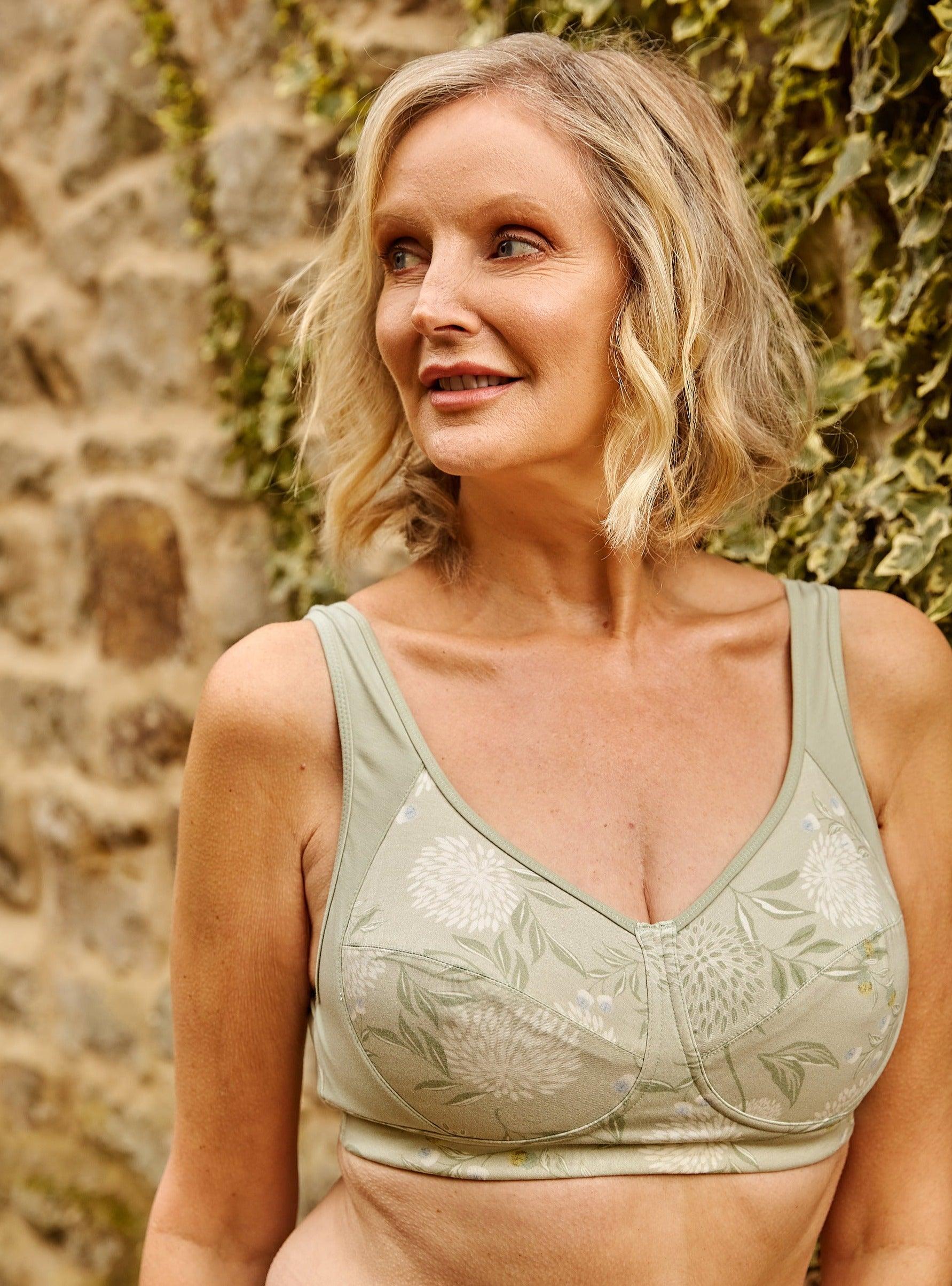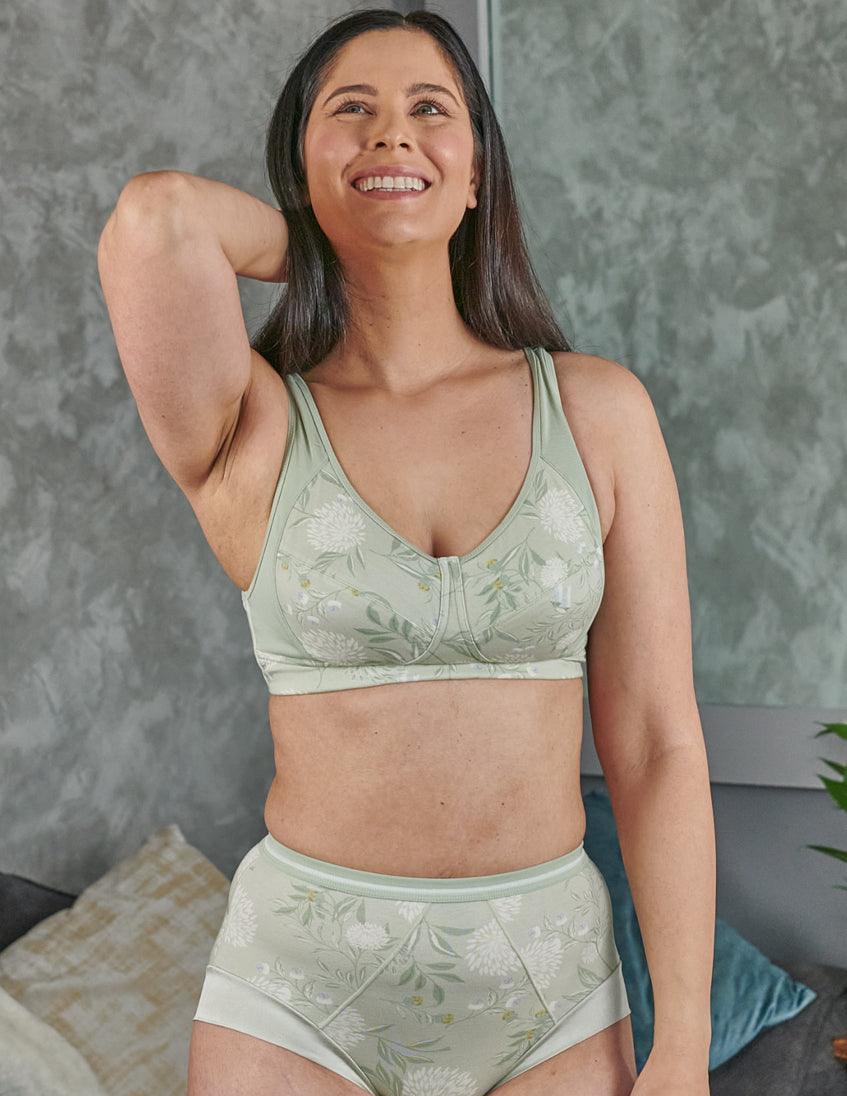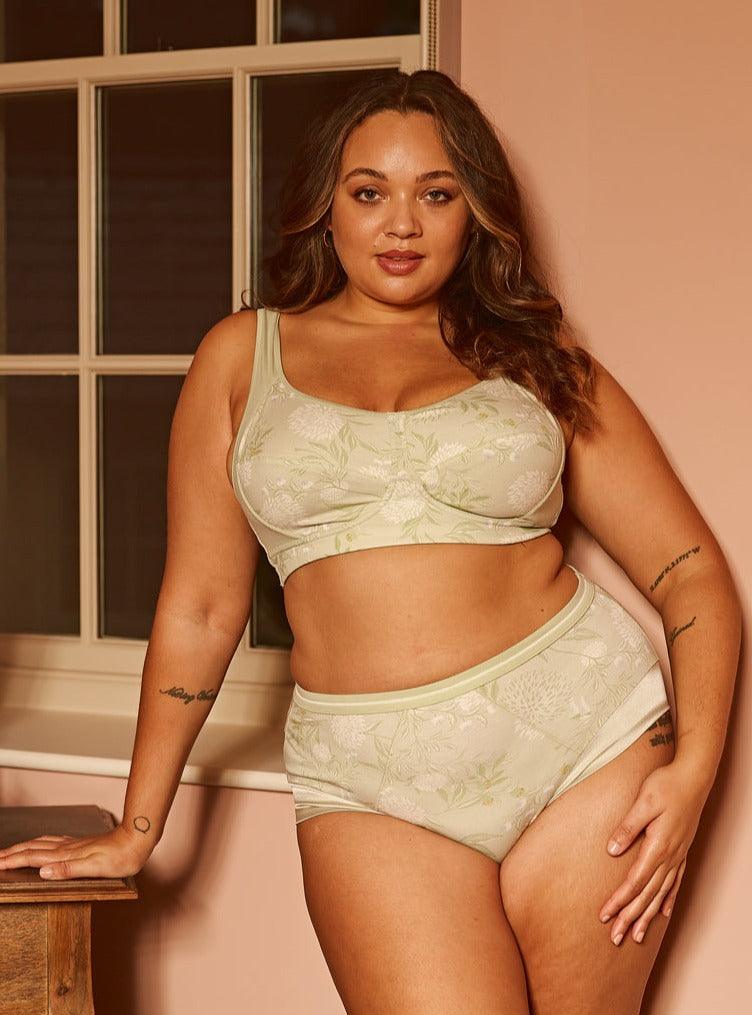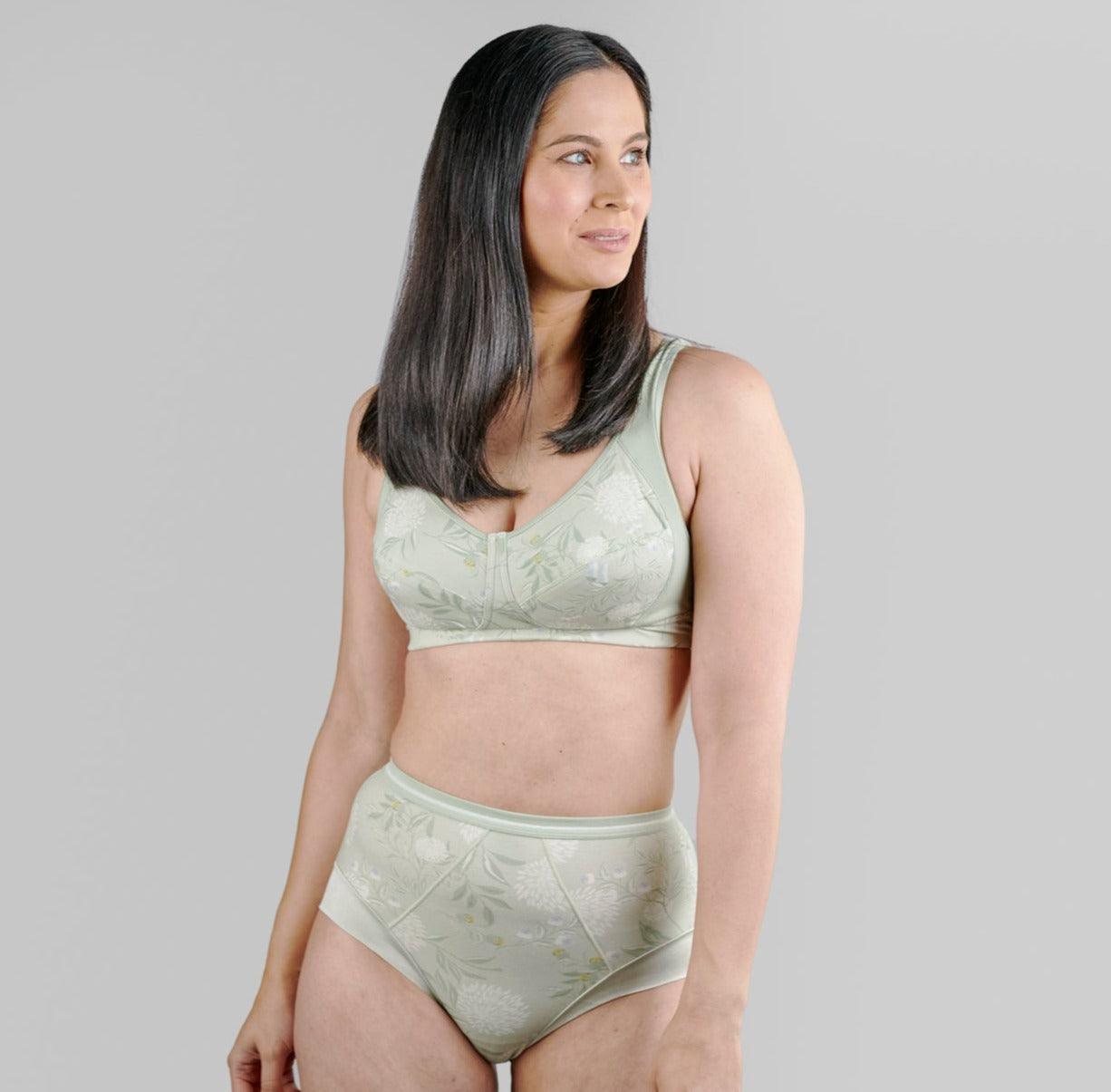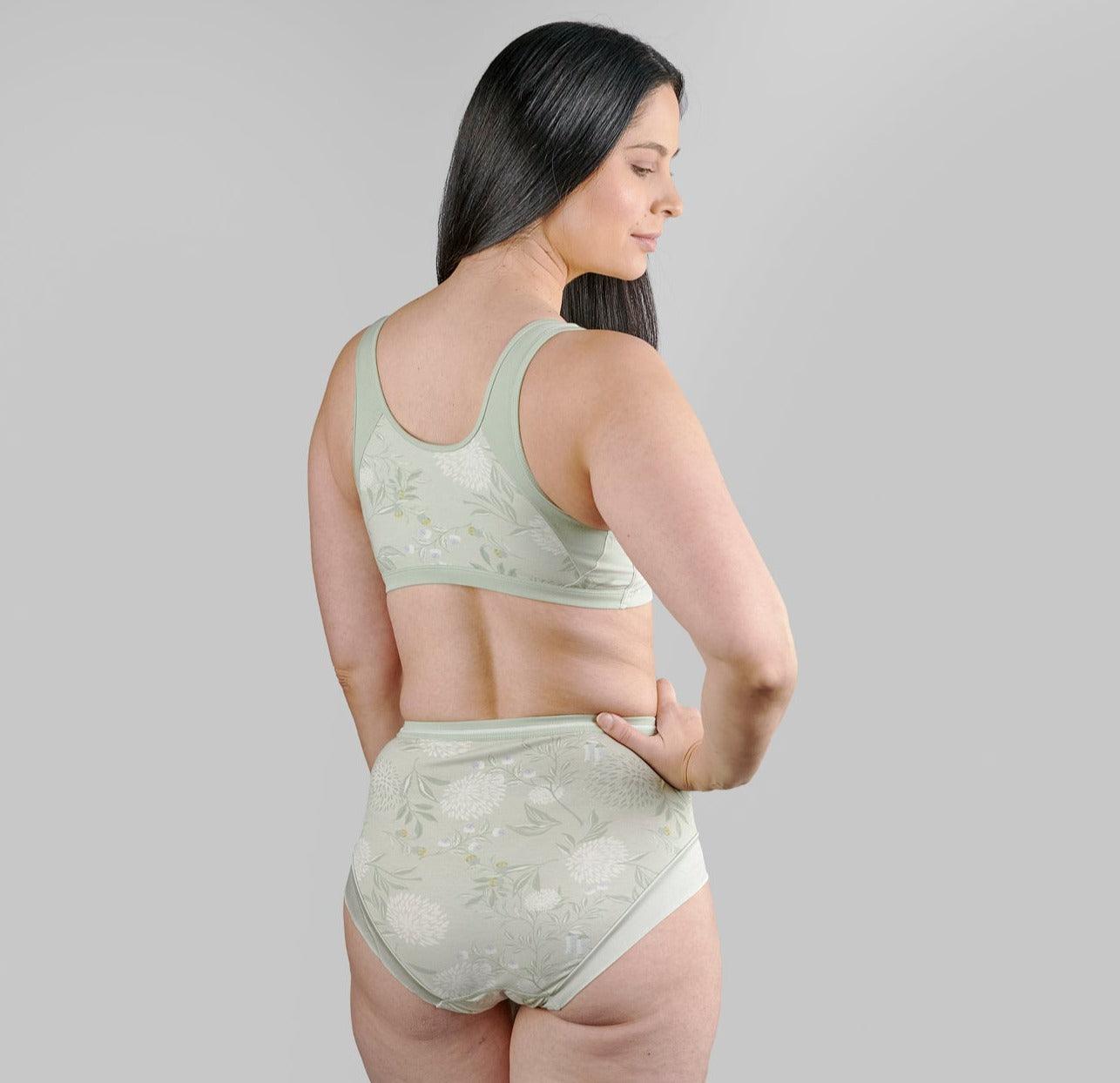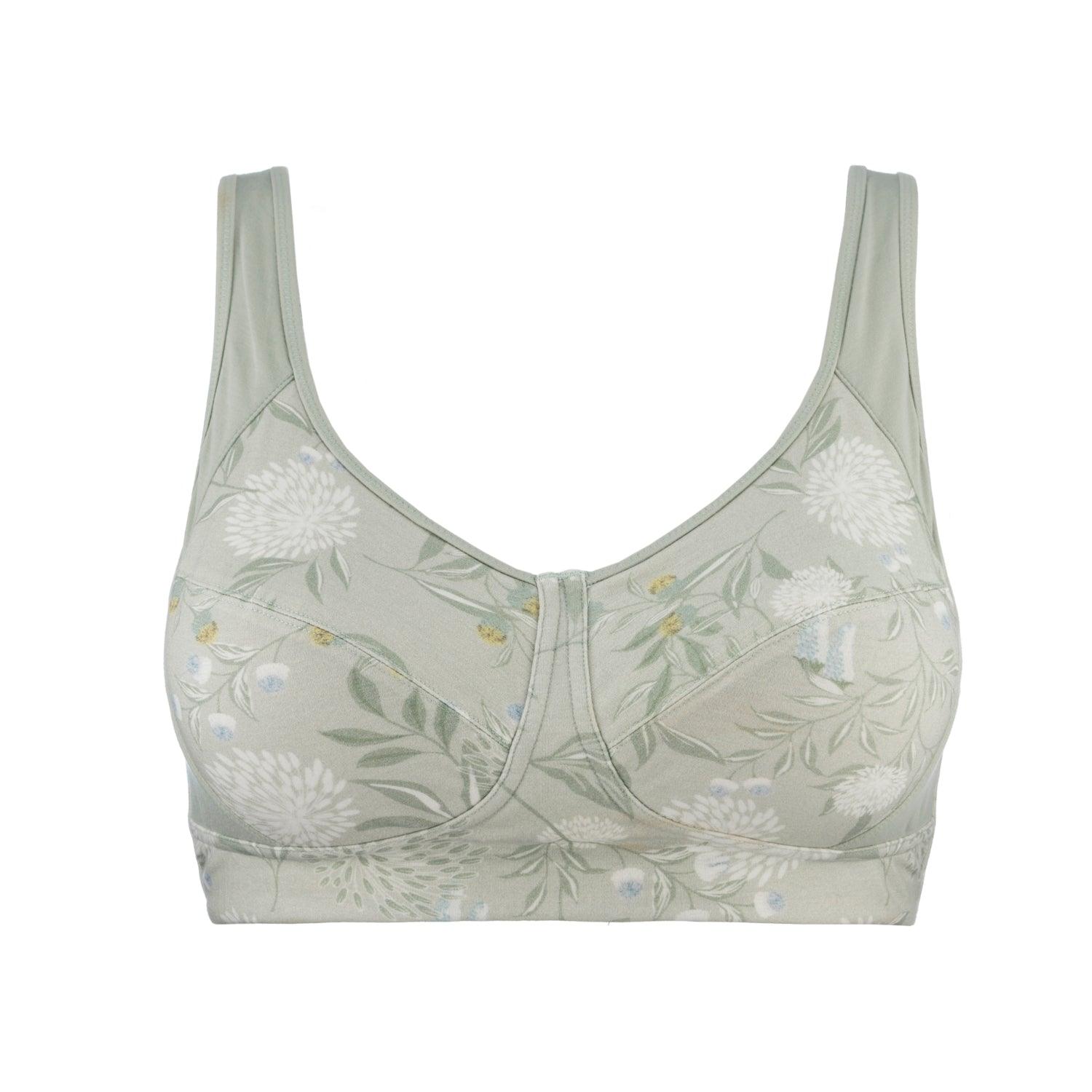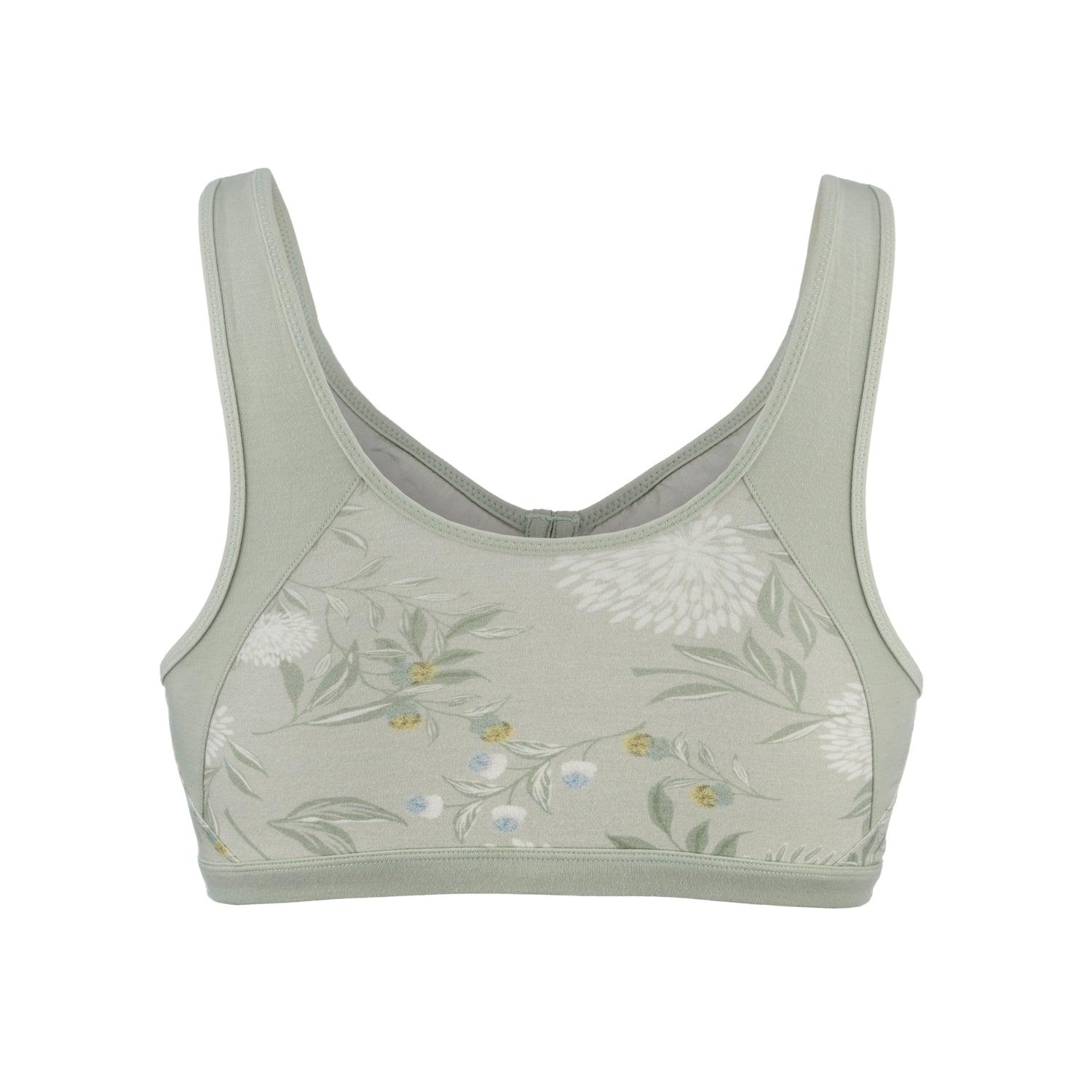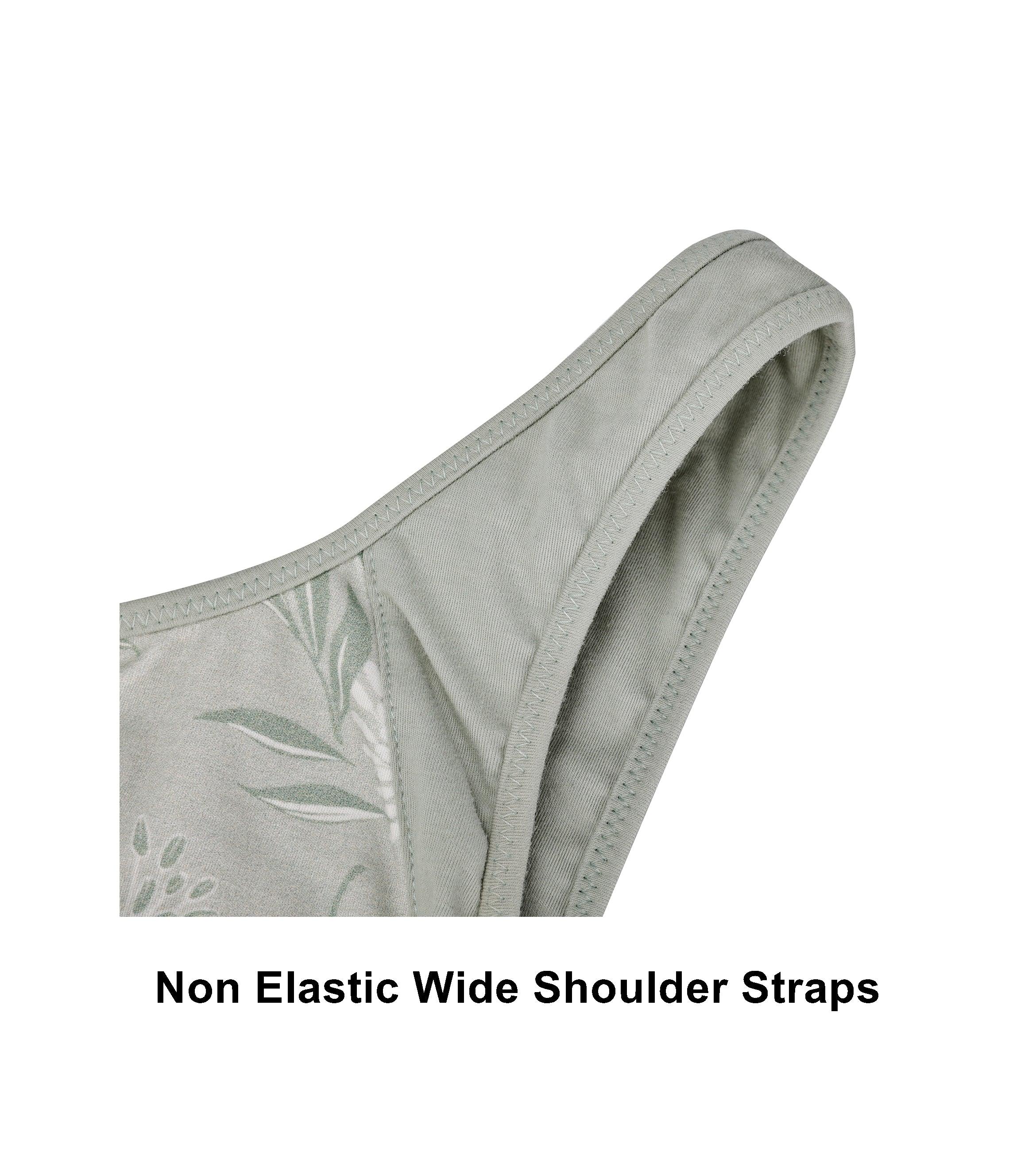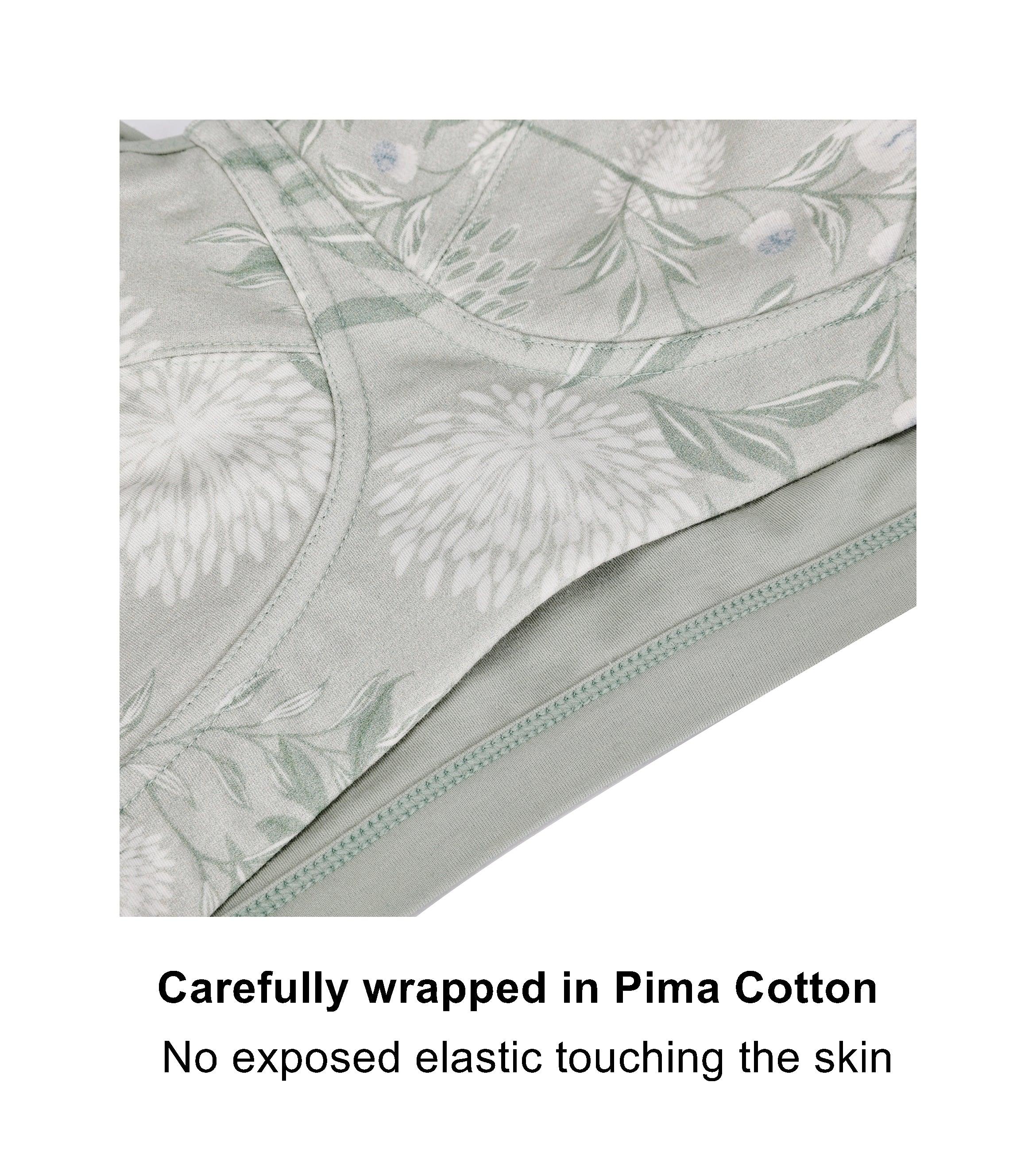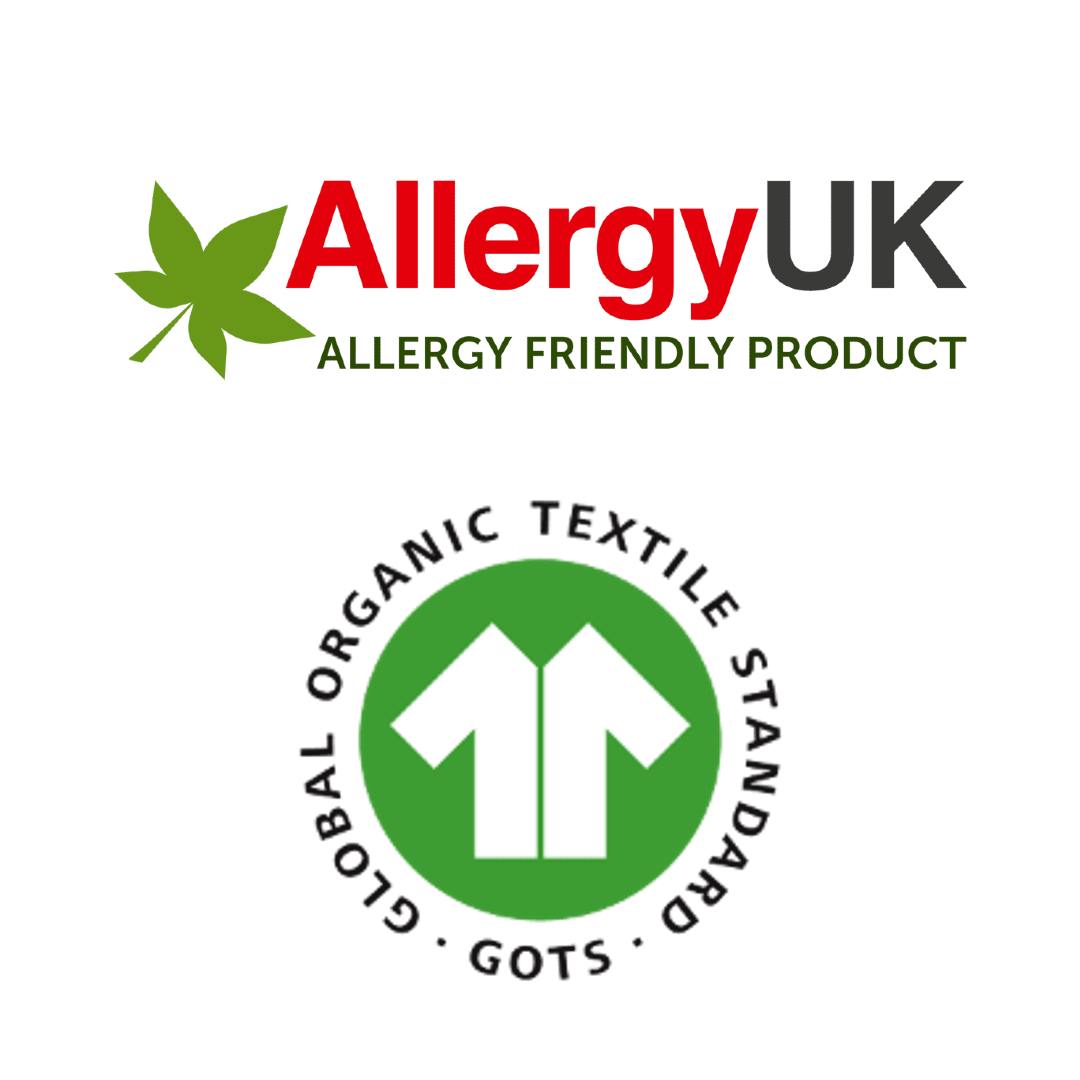 Valentina - Silk Back Support Full Cup Non Wire Organic Cotton Bra
Material:
Cup / Crotch:

 

100% Pure Silk
Body Fabric:

 

Silk-Cotton Blend (78% Organic Pima Cotton, 22% Silk)
Features:
Cut from Pima Cotton and lined in silk, this bra promises maximum comfort and support.
Shaped three-part cups separate the breasts
Side sling for additional support and forward projection
Smoothing coverage under arms & back and wide straps for added support and comfort
Recommended by

 

Breast Surgeon
Wireless
Non-Padded
''Just fabulous for my age!

This is undoubtedly the best bra I have ever worn in my life. I would highly recommend it to anyone feeling uncomfortbale with their bras during menopause. This bra, made of silk and cotton, is an 'over the head' bra and once on, is so comfortable I forget it is on! It is so fine and soft it is bliss to the skin! ''

----Alison Moore
4. Anti Hot Flushes Nightdress
Tight-fitting underwear can trap heat and exacerbate hot flushes. Opting for loose-fitting underwear can help minimise the discomfort caused by hot flushes and allow air to circulate freely around the body. Another good example, in this case, is the 100% Pure Silk Camisole Top In White from JulieMay. It fits loosely and is perfect for avoiding the dreaded night sweats during menopause. The luxuriously silky feel of this nightwear makes it the perfect choice for hot flashes and night sweats during menopause.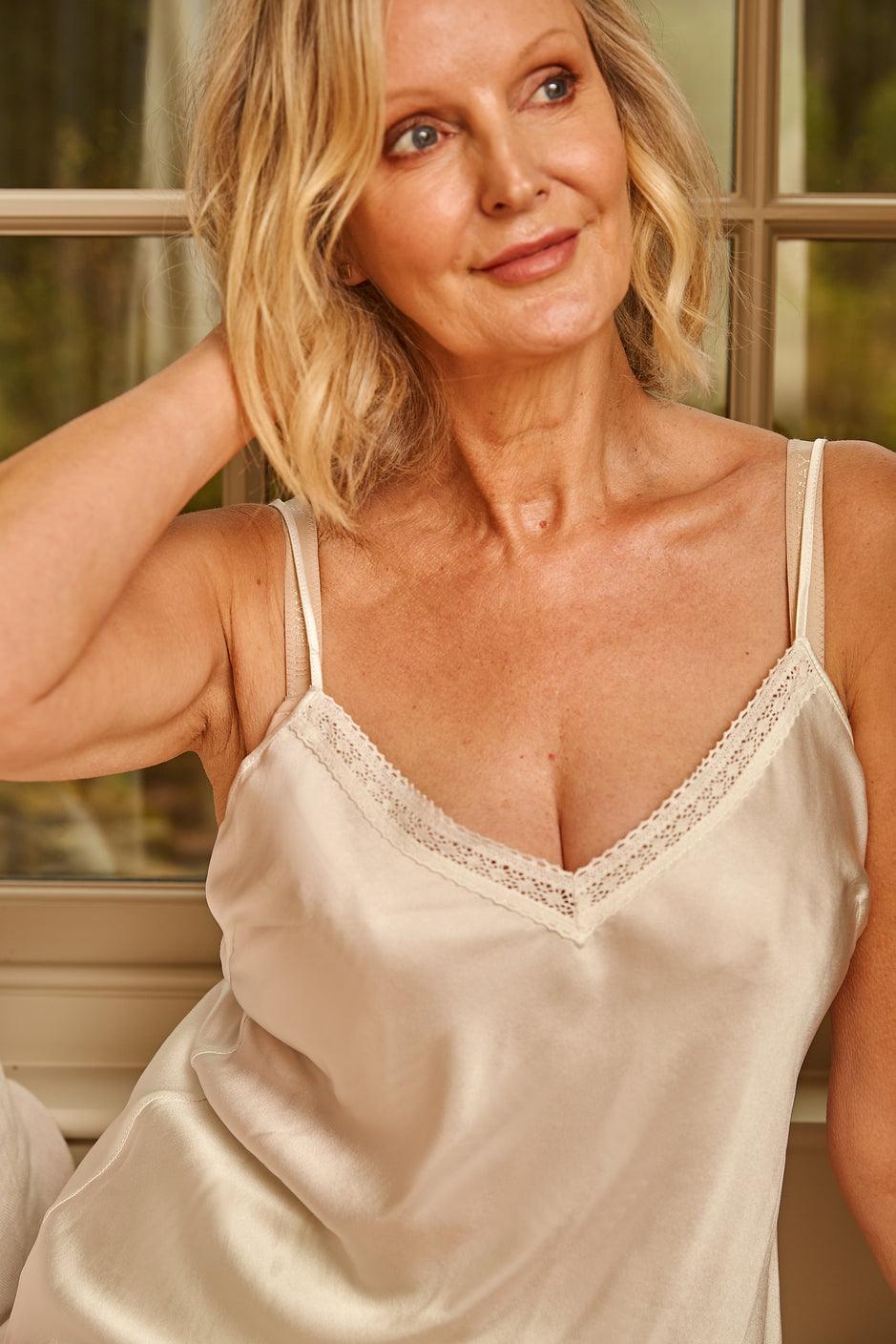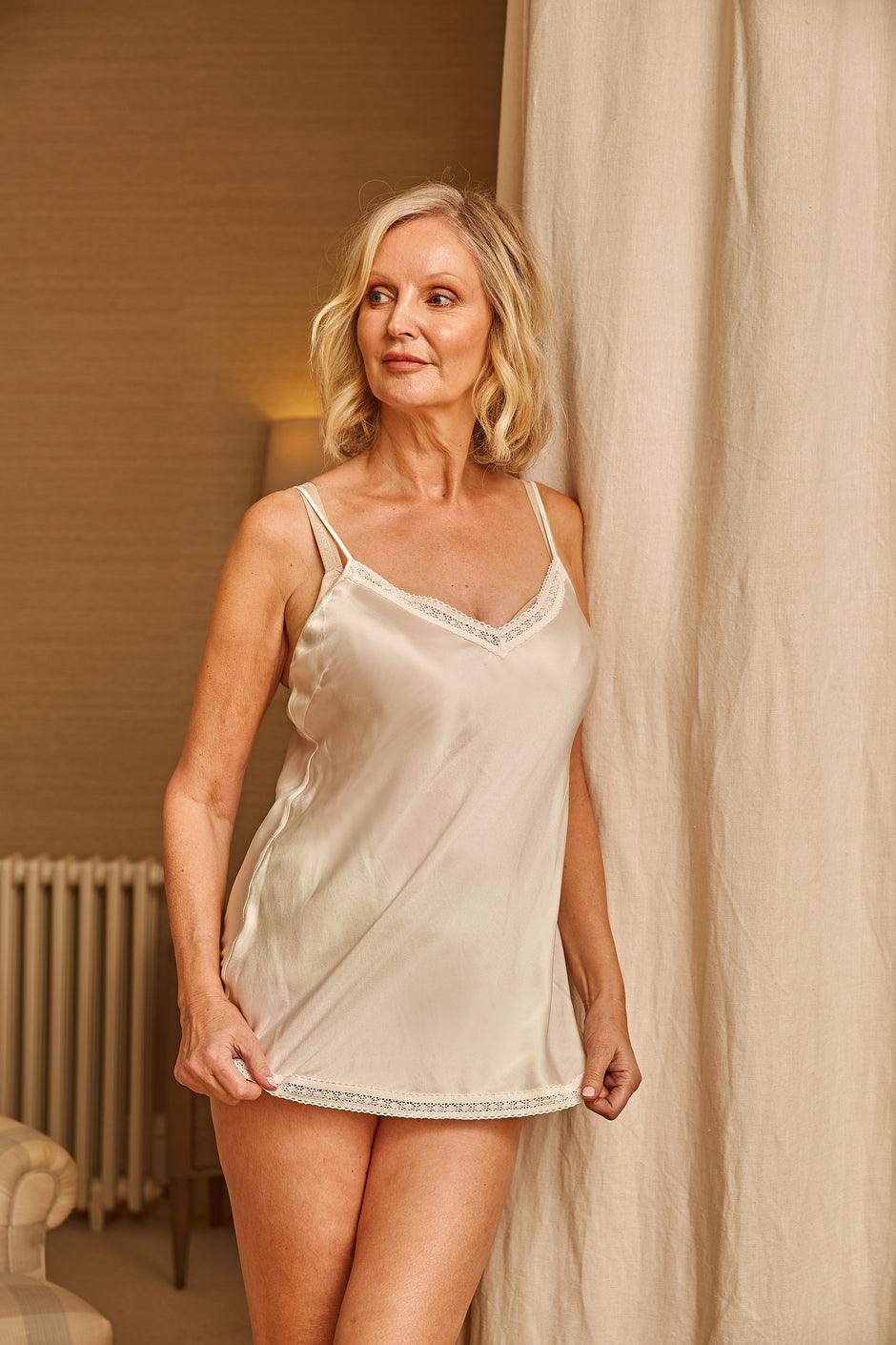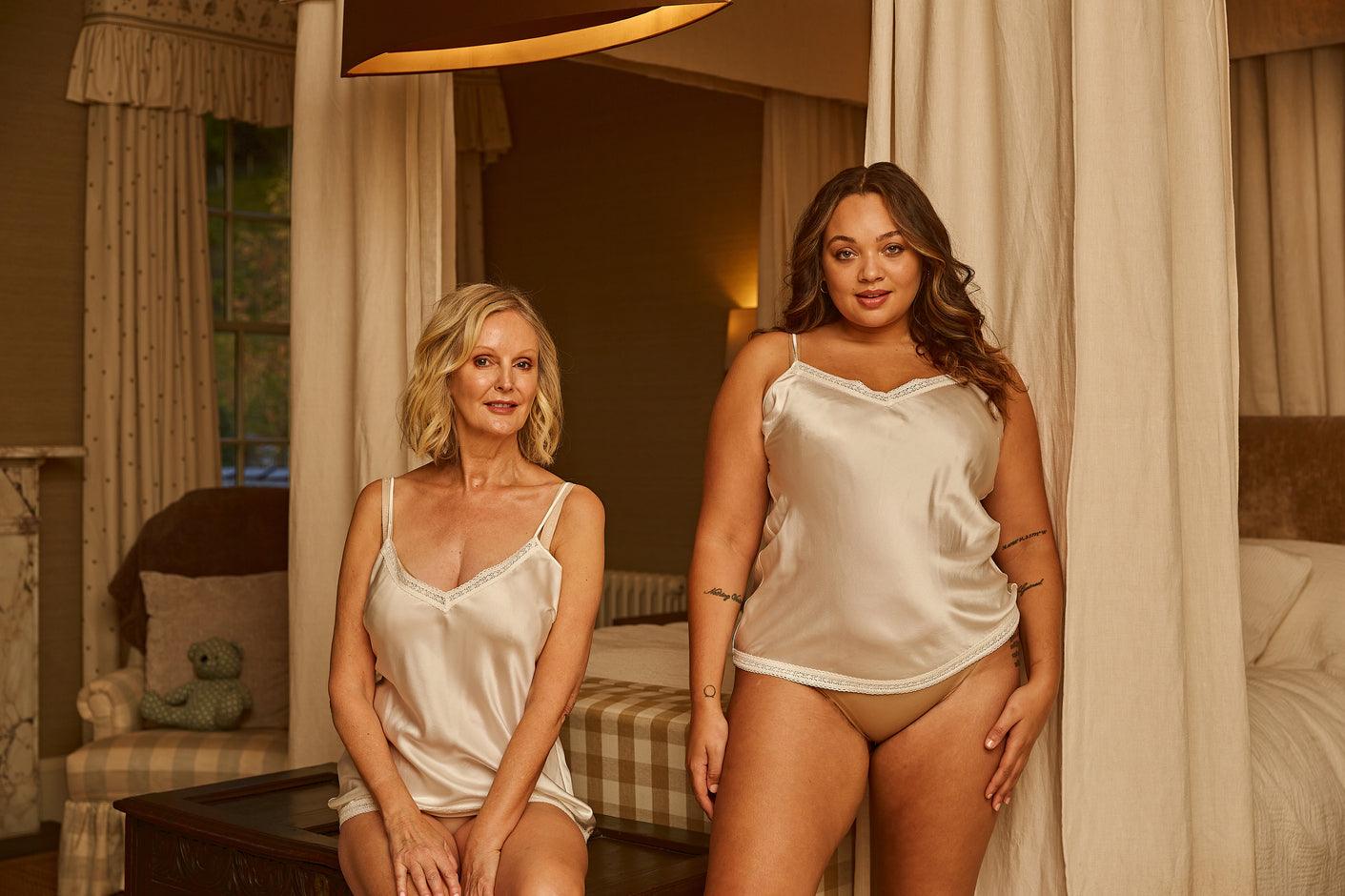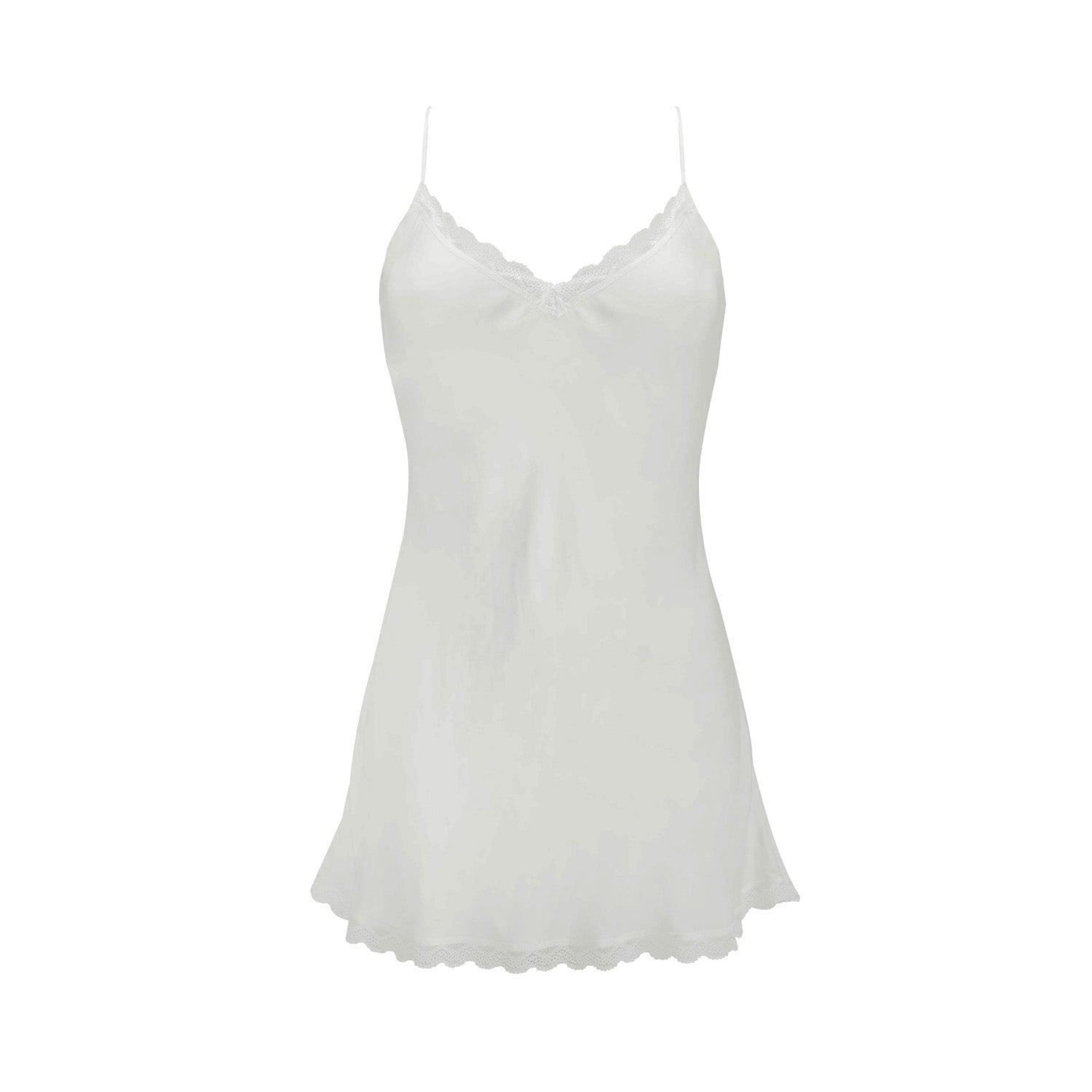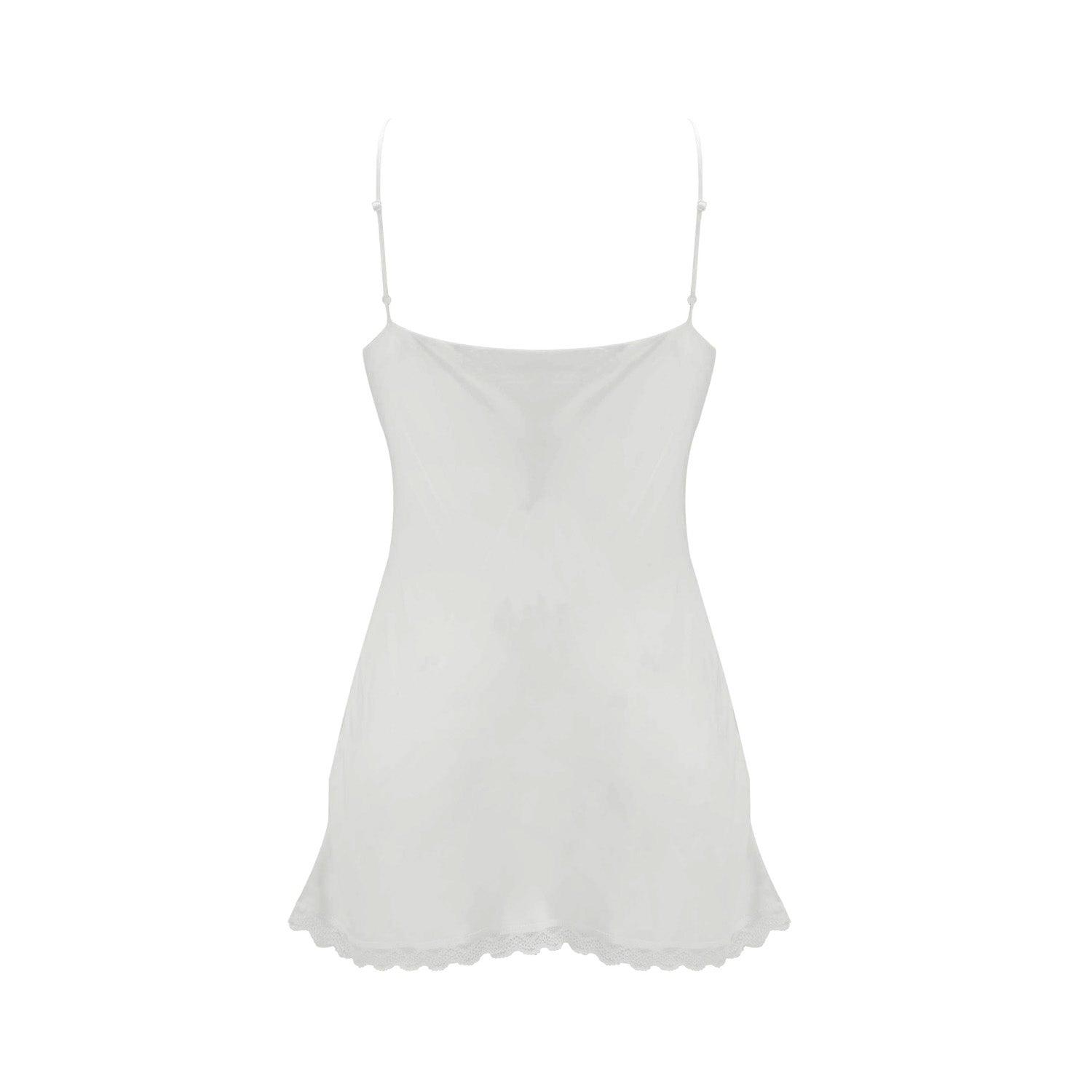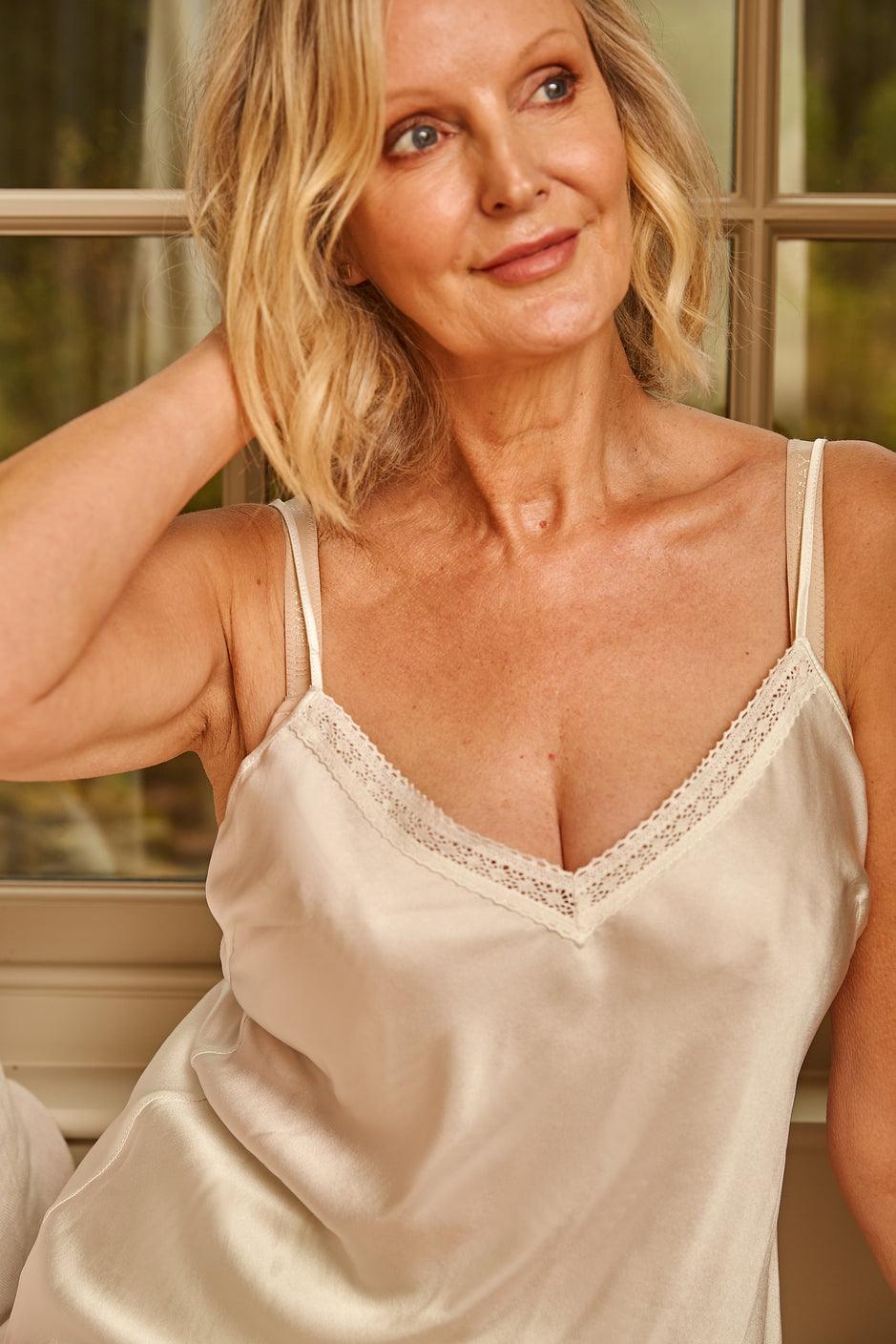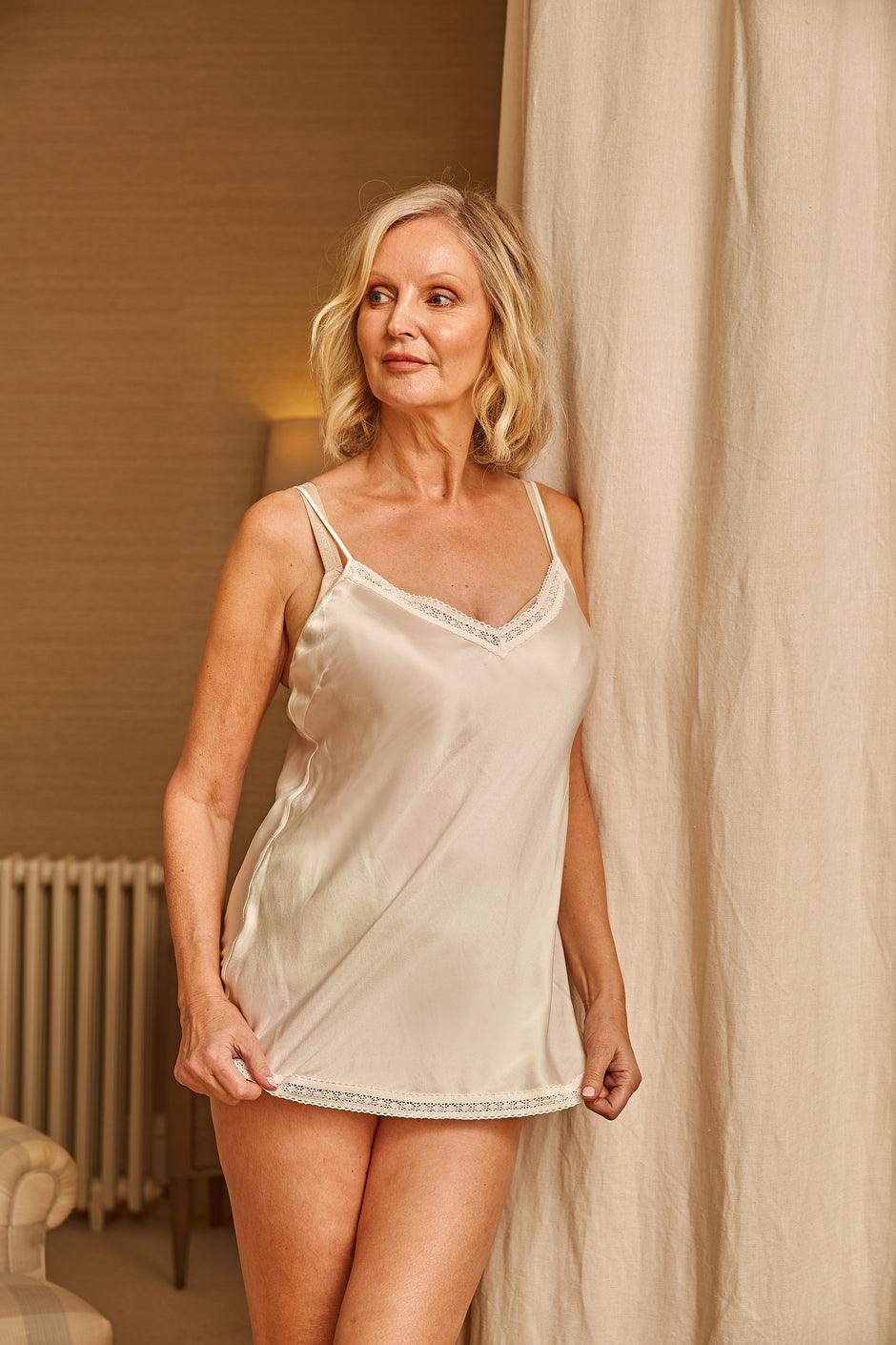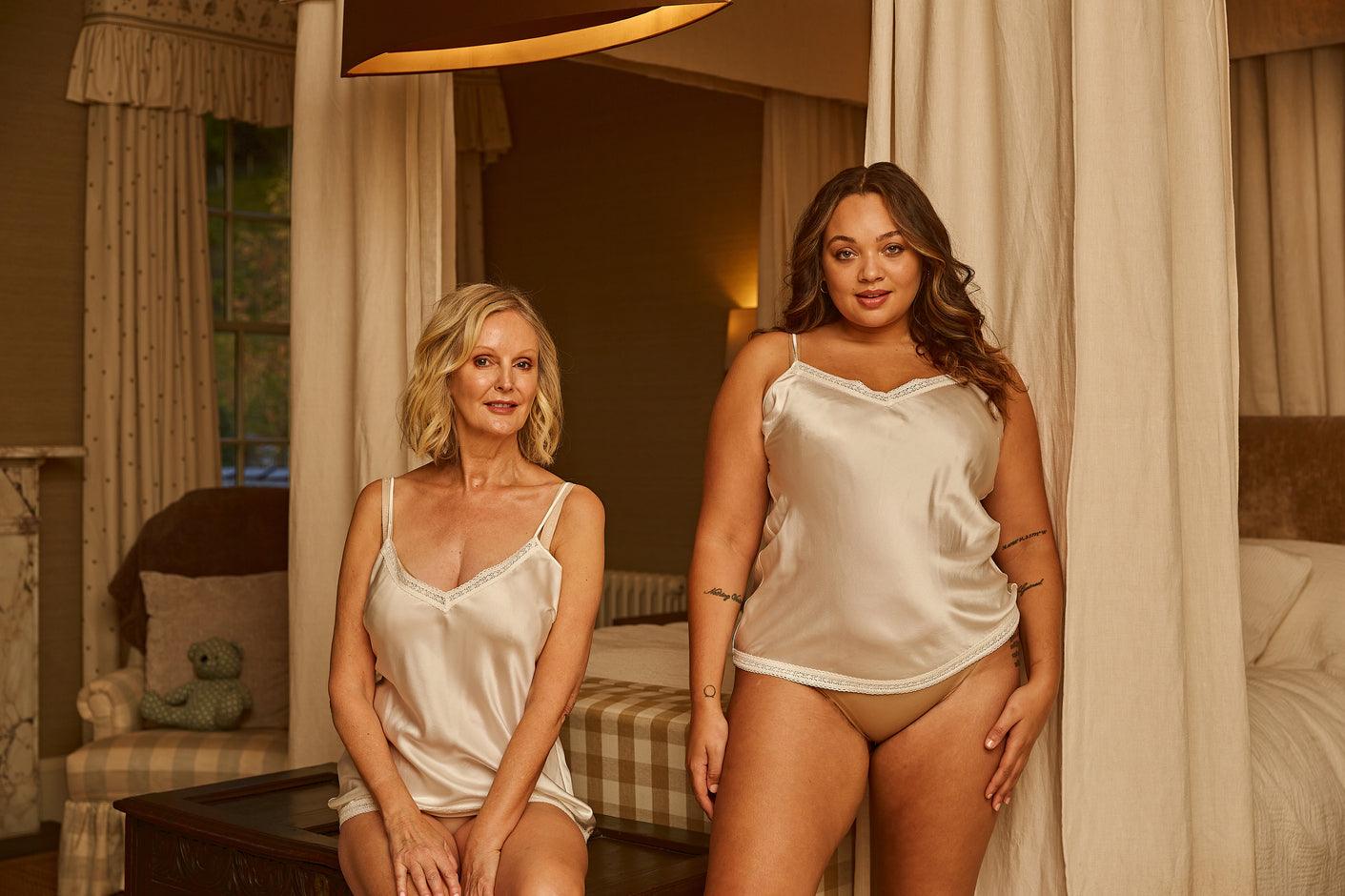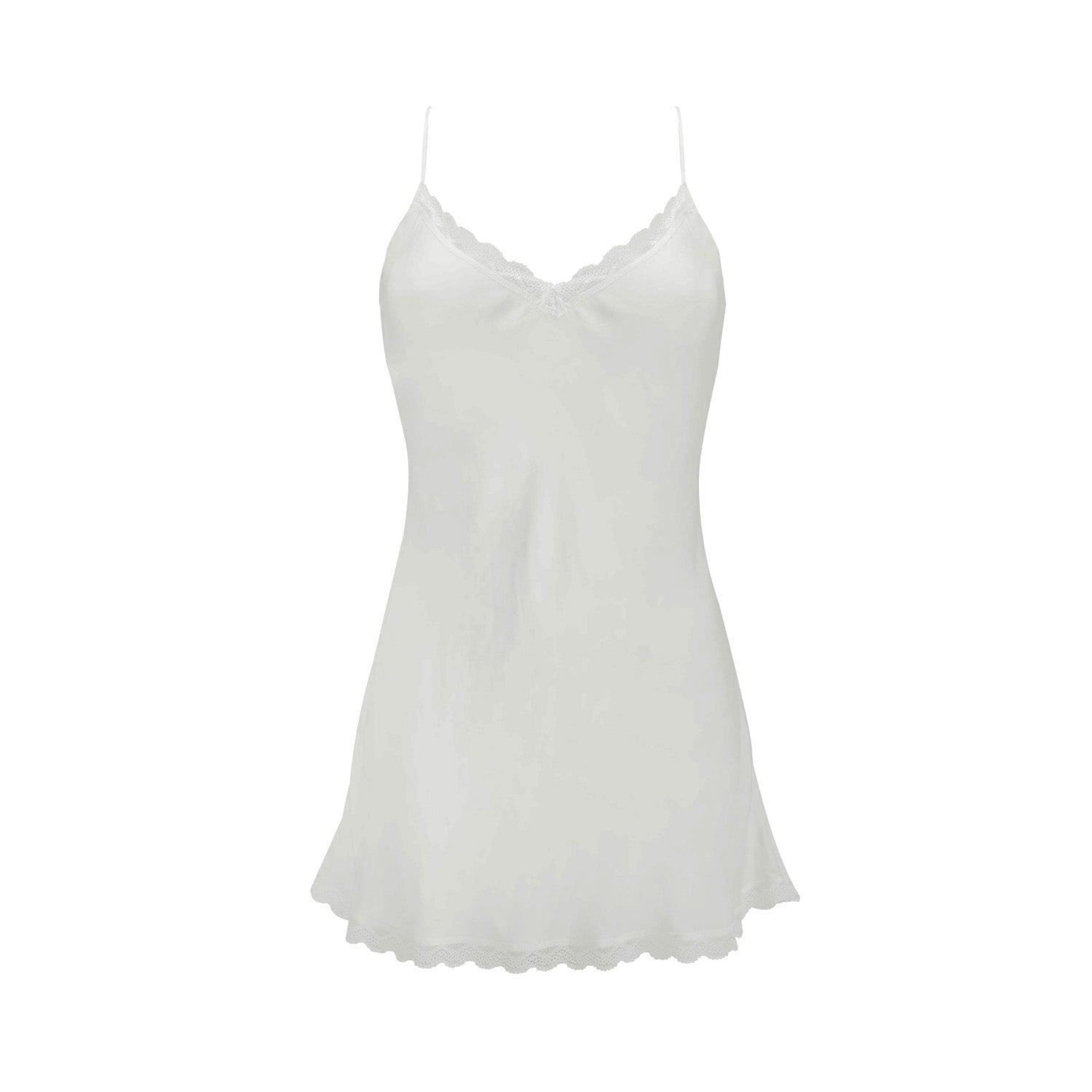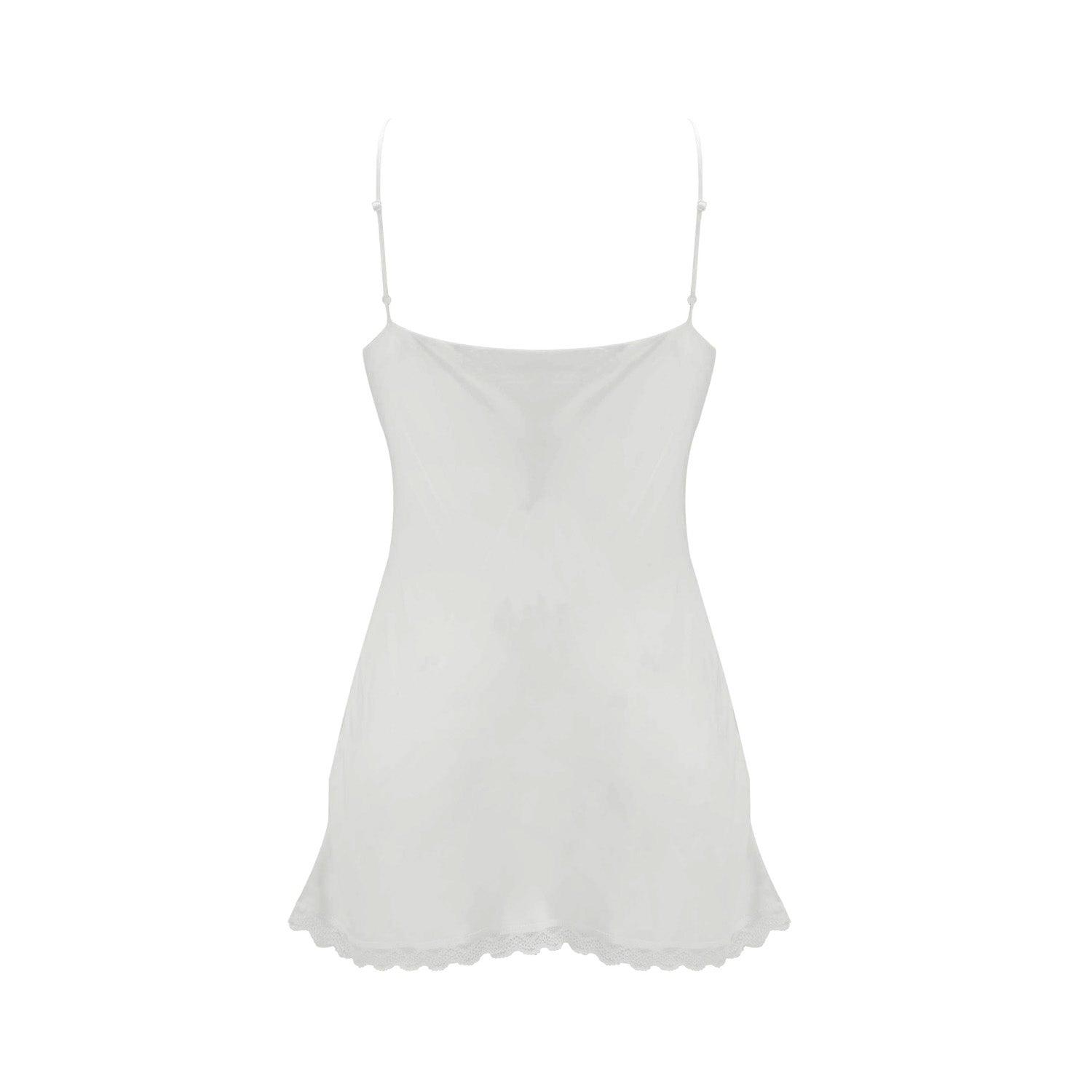 100% Pure Silk Camisole Top in White
Material:
Features:
Luxuriously lined in pure silk, this sumptuously soft cami is designed to give an exquisite fit and incredible comfort.
Size:
Size 10/12 Bust: 33-37'', 85-95cm
Size 14/16 Bust: 37'' -42'', 90-100cm
''The Best Silky Camisole!

All of the edges and seams are soft and gentle against the skin. I found this was the item that gave me the biggest confidence boost. It really works with hot flushes! And the cami has the same comfortable straps, another tick. ''

----Laura
5. Anti-Chafe Full Waisted Briefs
Besides bras and tops, you may need some comfy drawers during your menopause to feel good. The anti-chafe full-waisted briefs are lightweight and use soft-touch fabric. They have an anti-bacterial coating of anti-flush pure silk inner layers designed with a pure silk leg cuff to avoid rubbing or chafing your inner legs.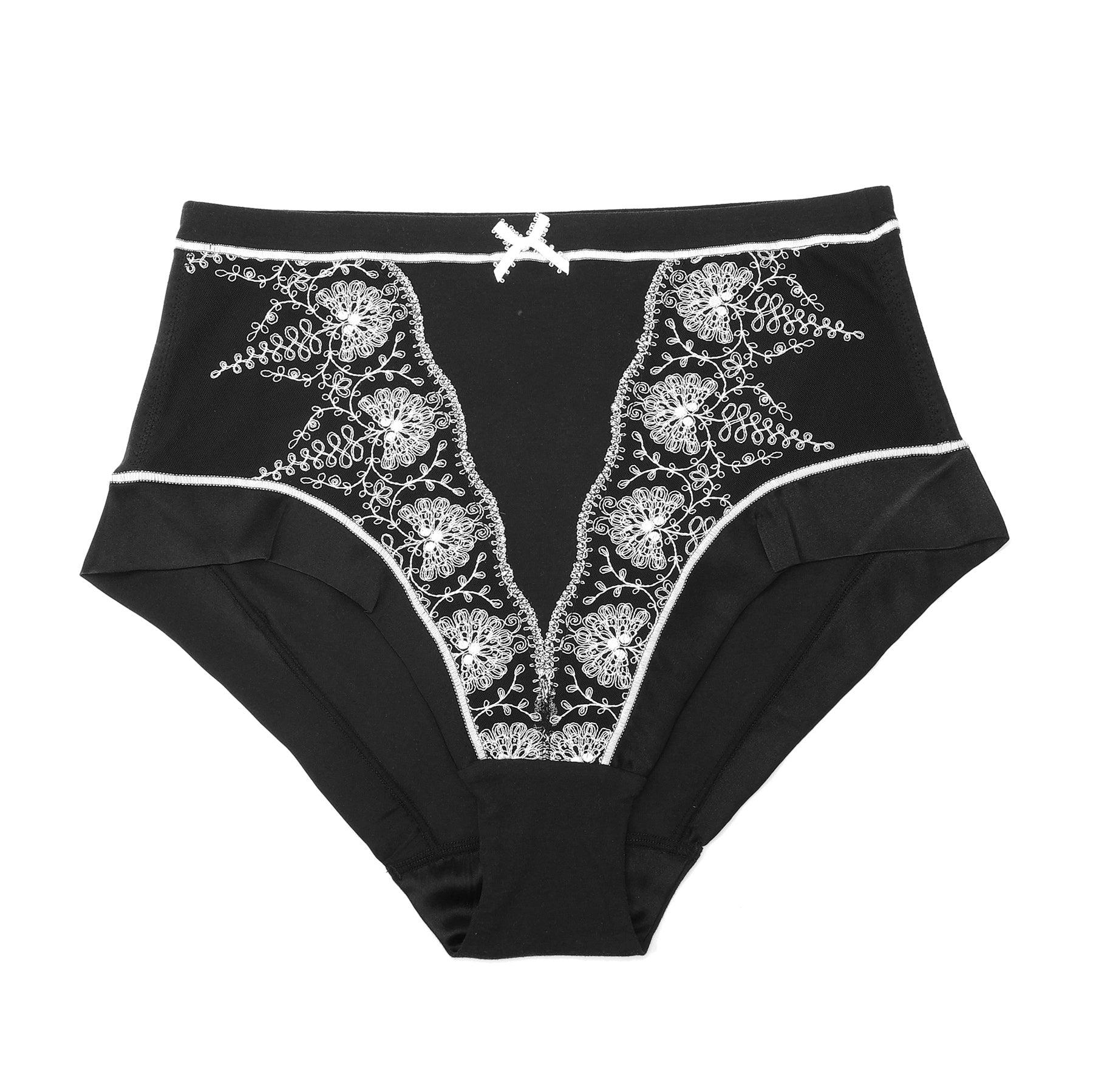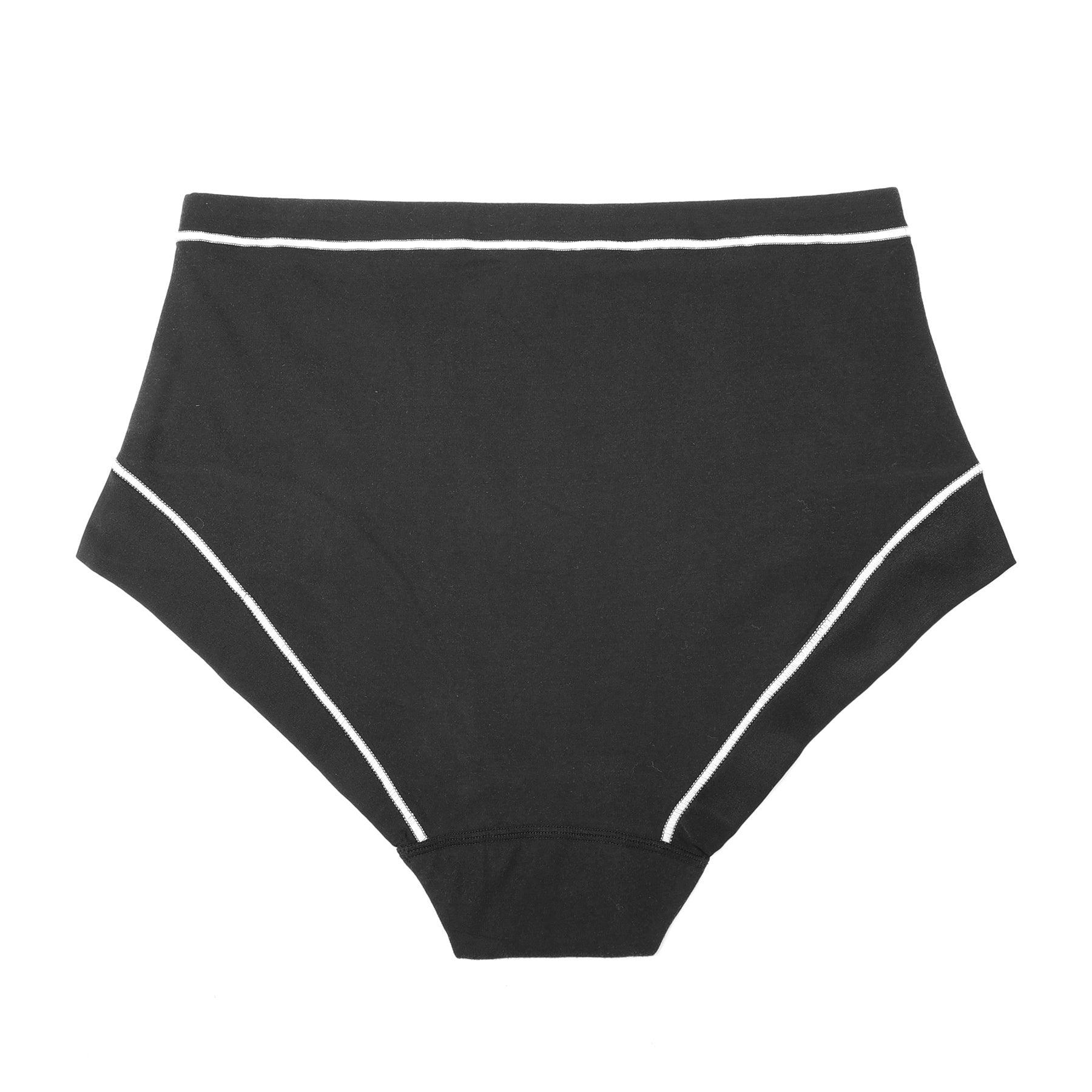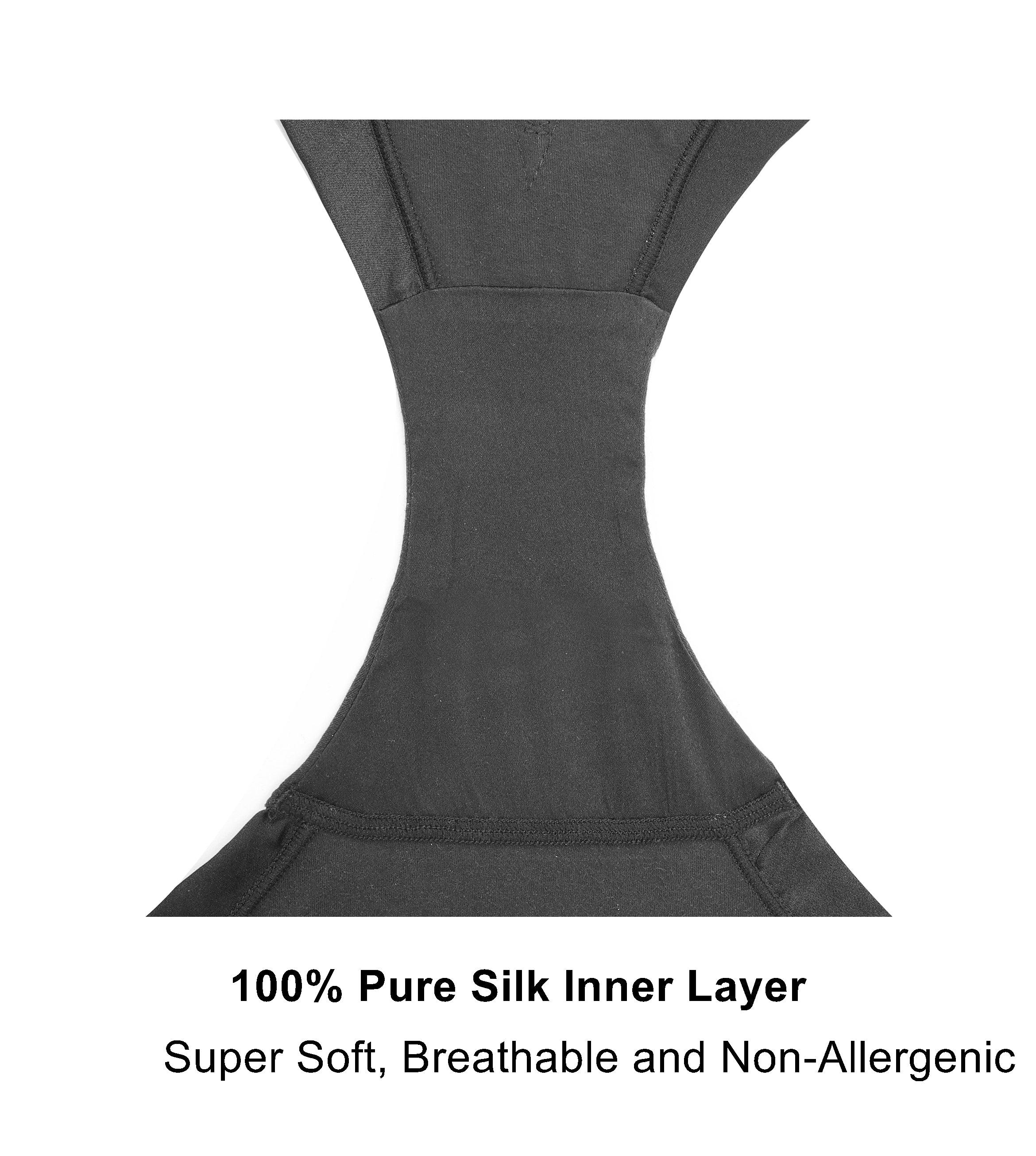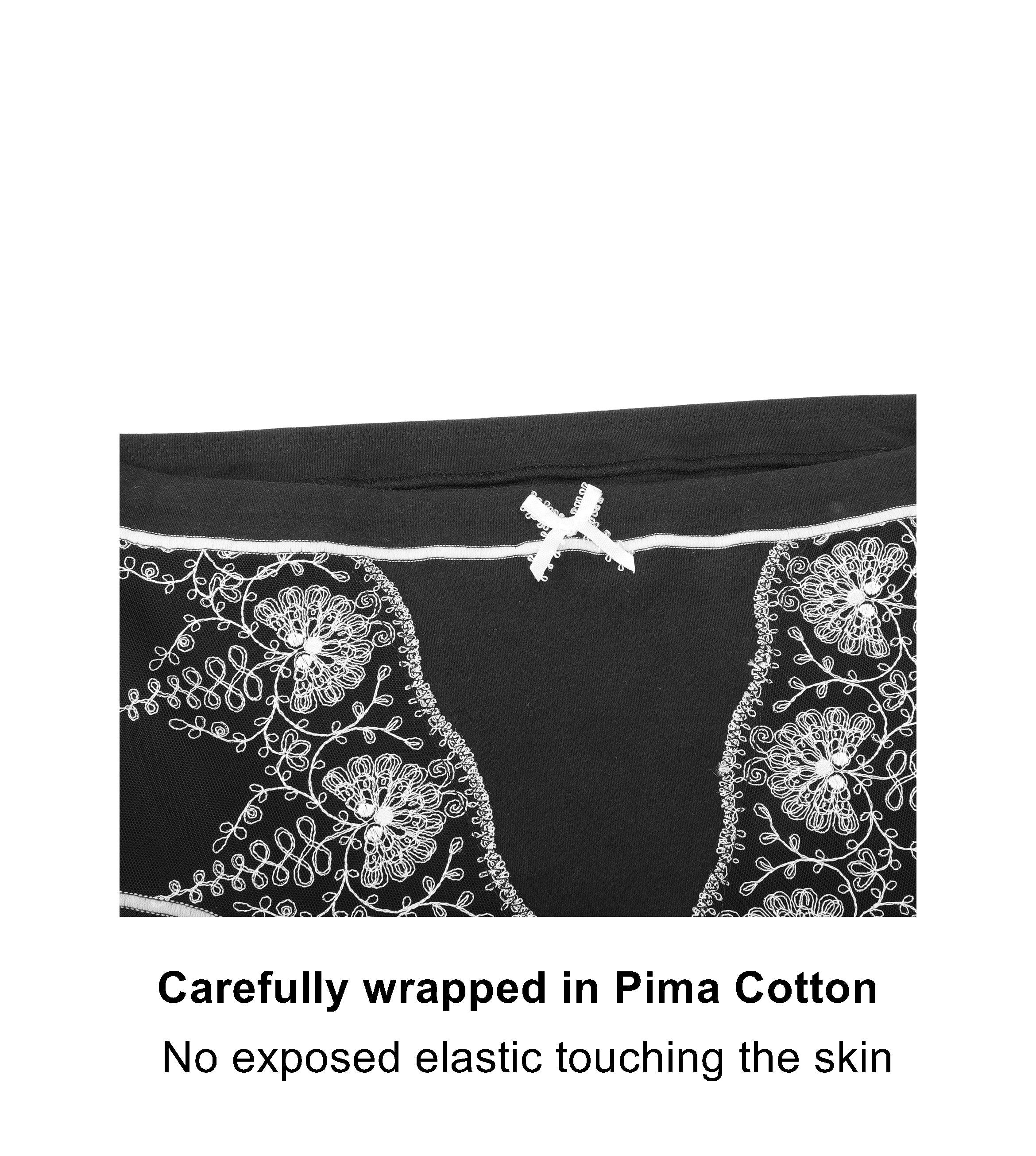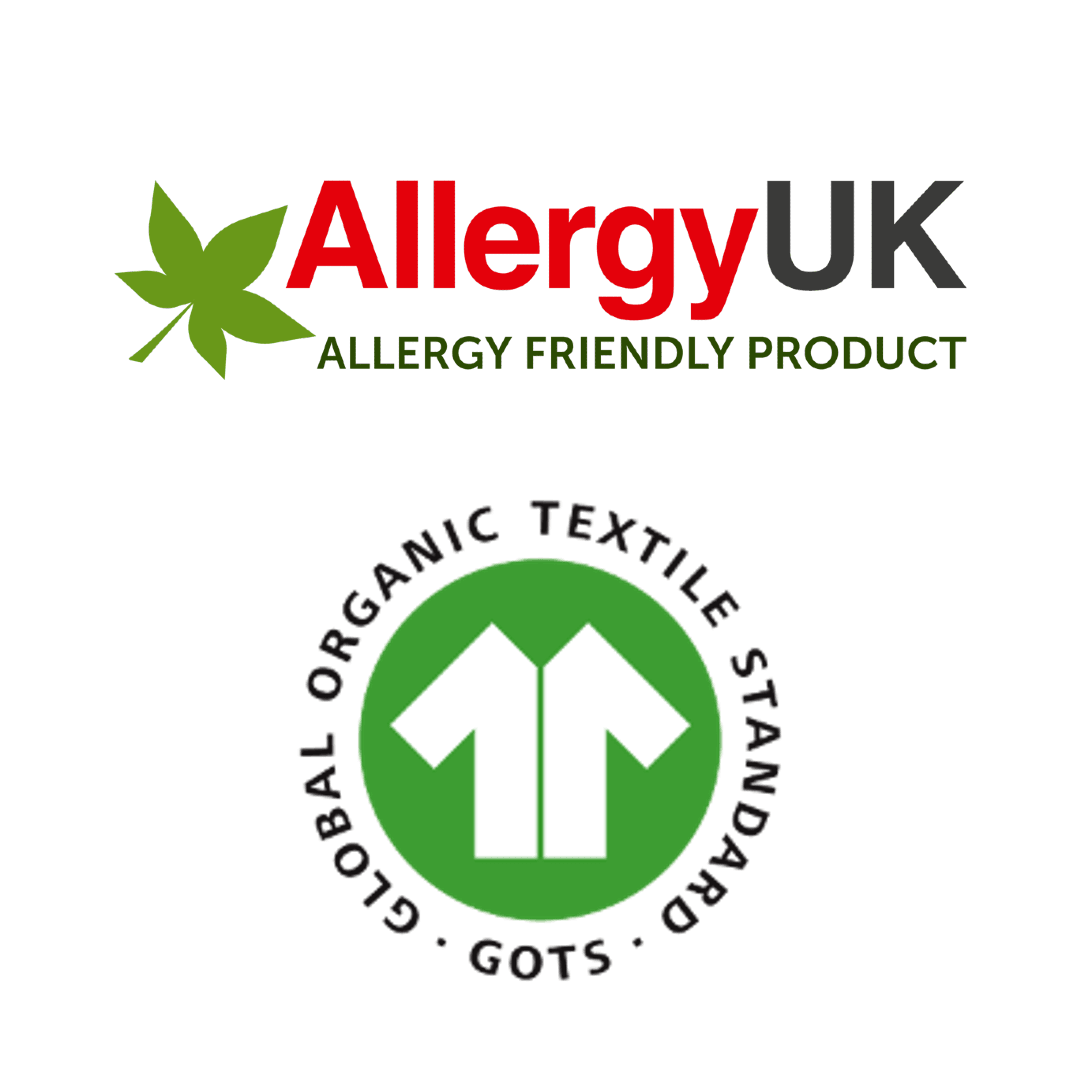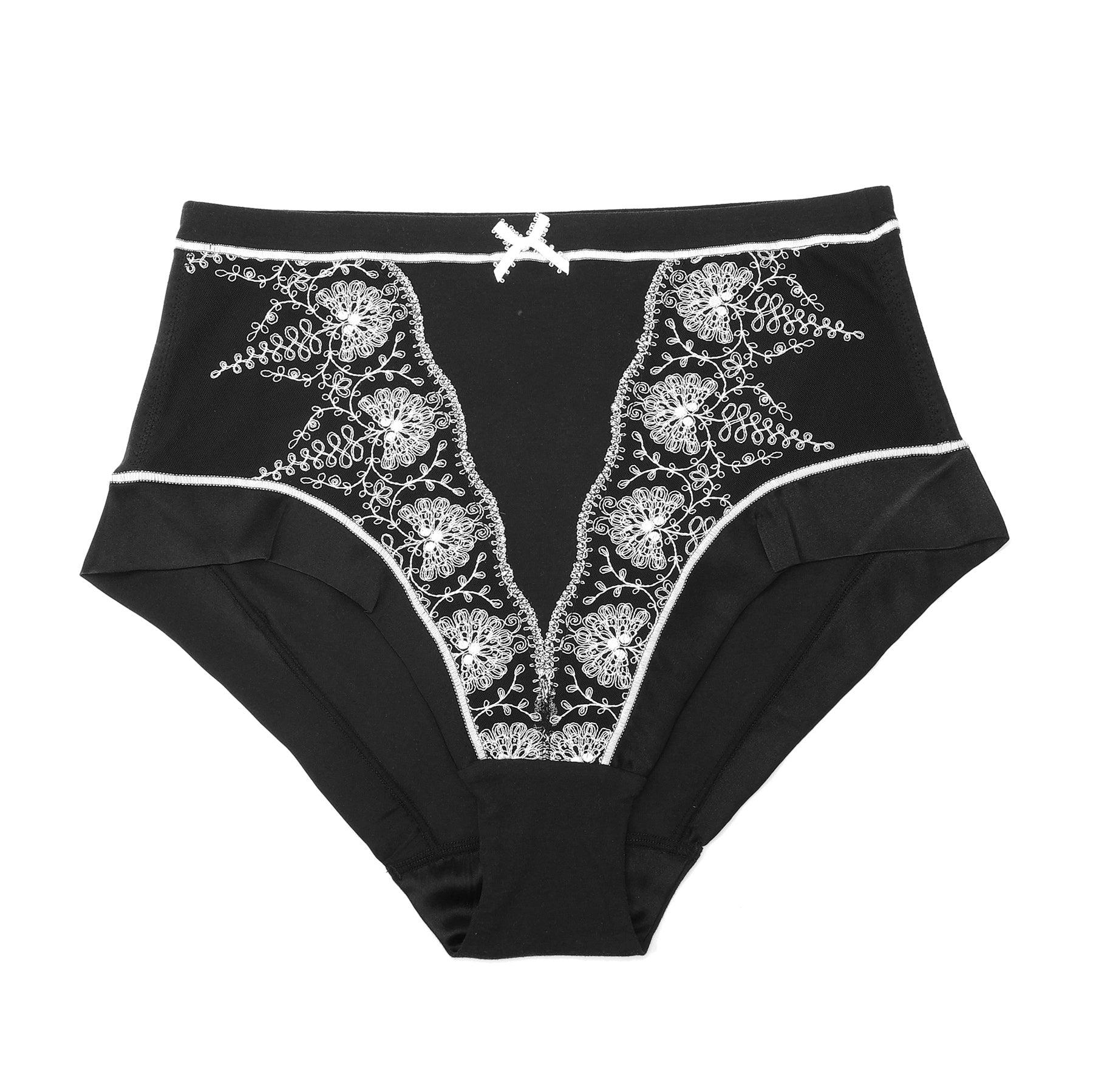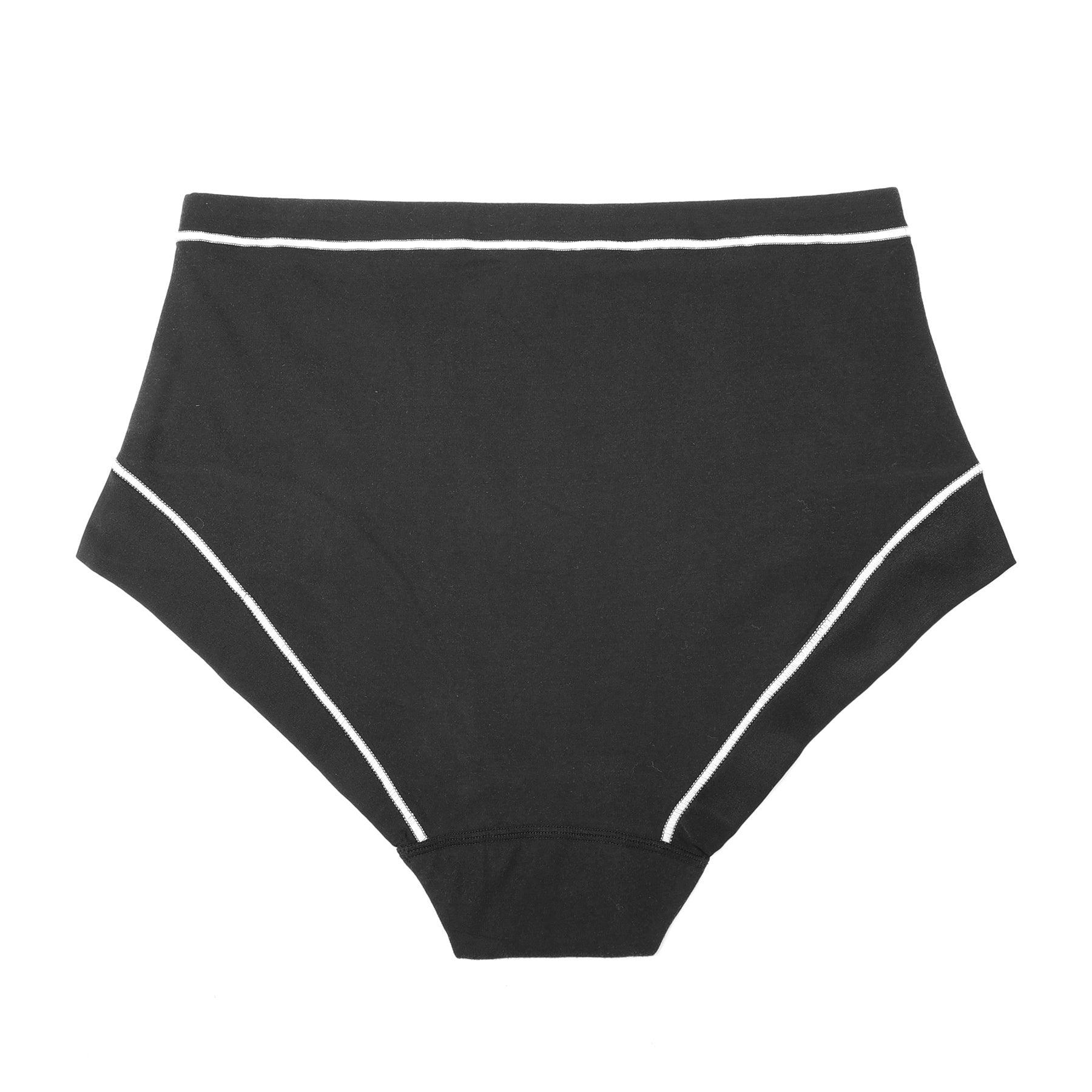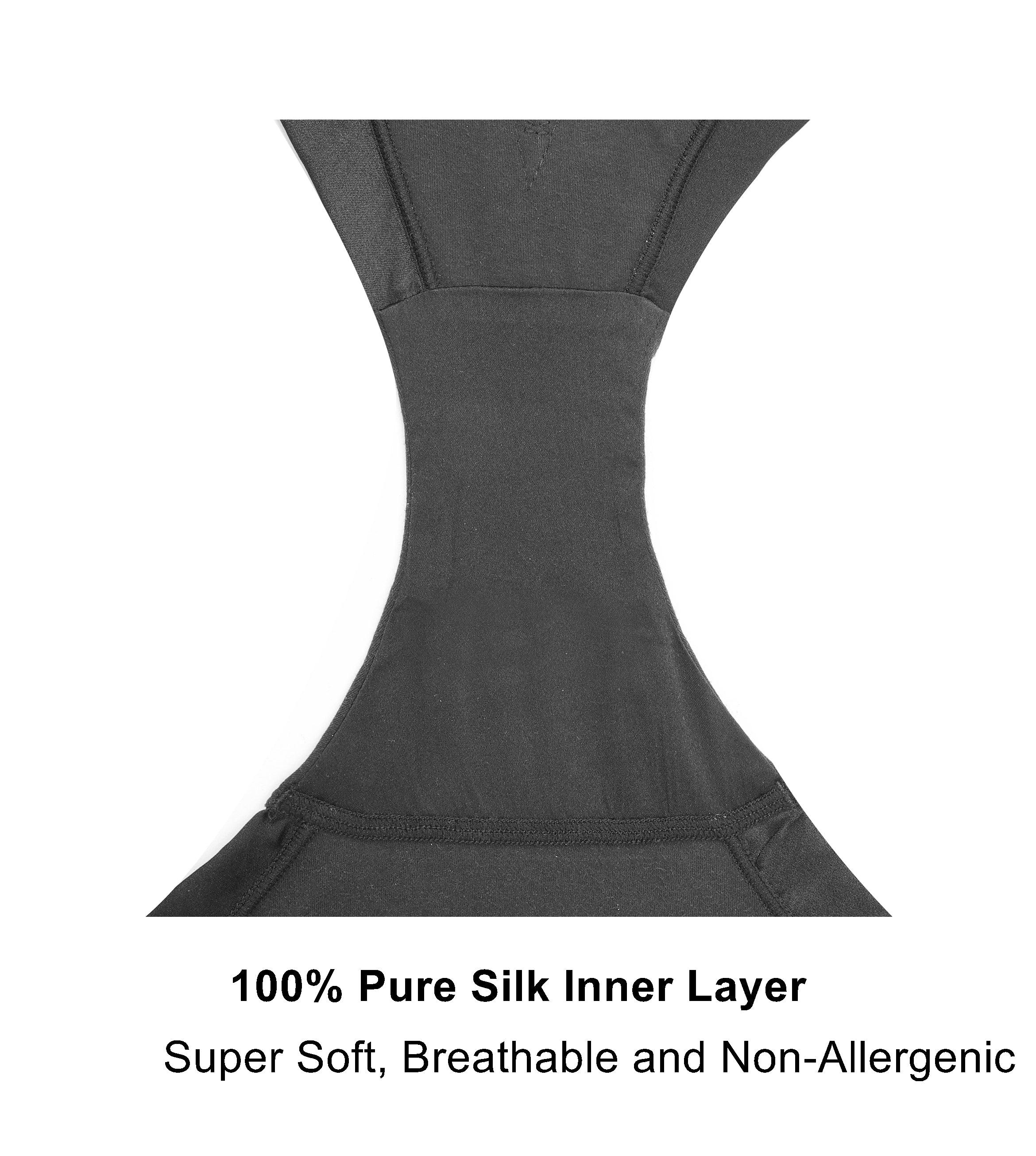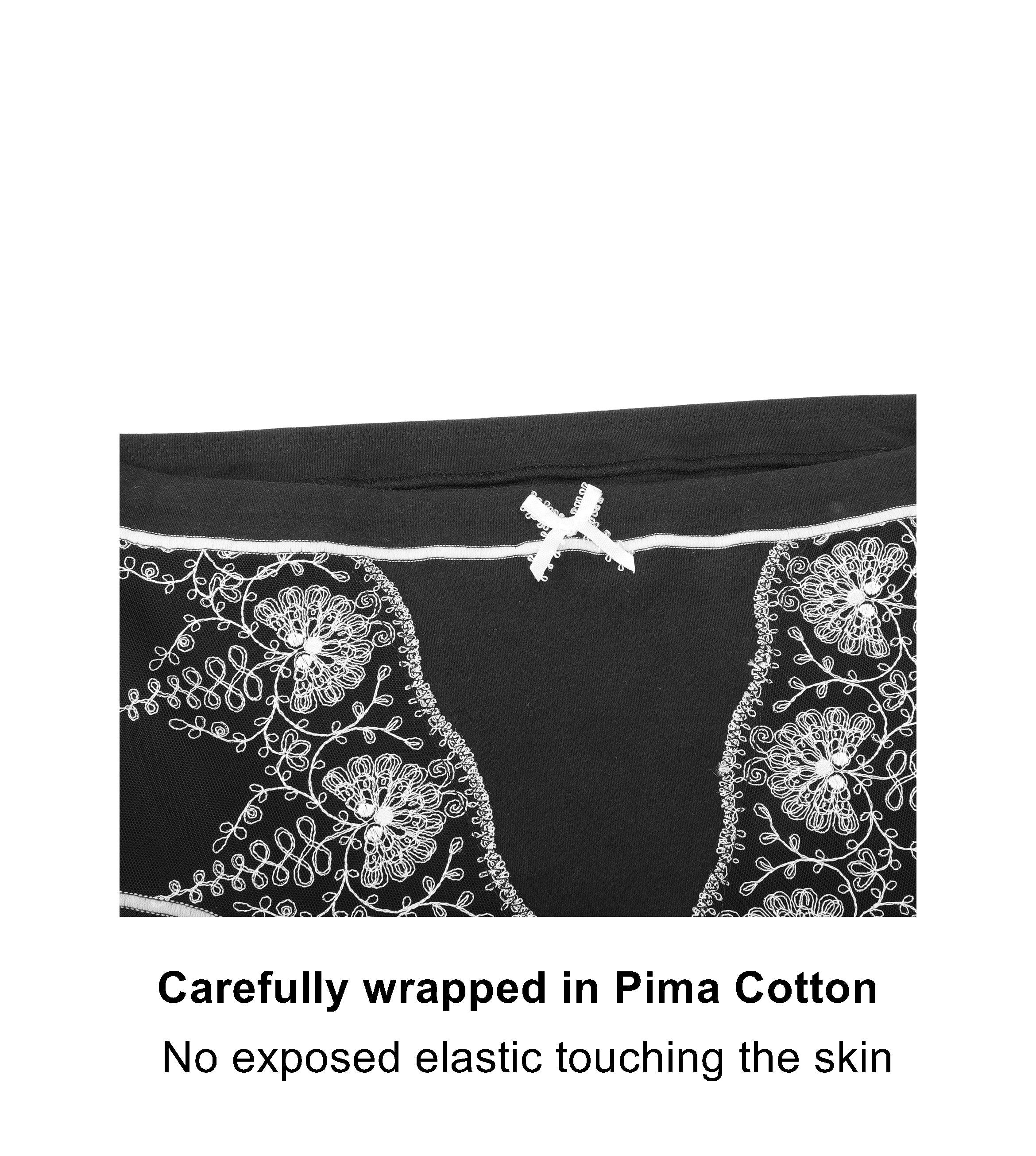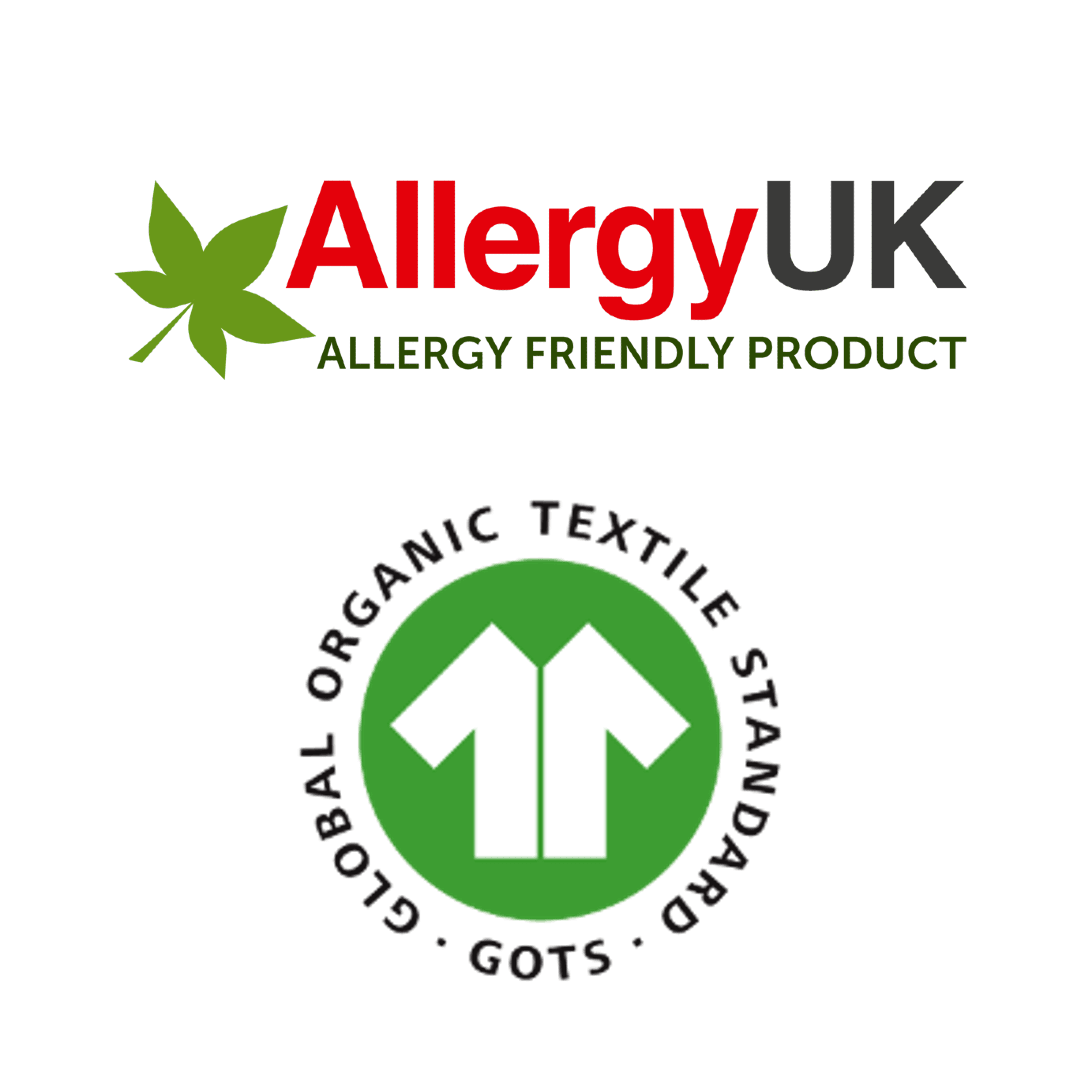 Snowdrop - Silk & Organic Cotton Full Brief in Black
Material:
Cup / Crotch:

 

100% Pure Silk
Body Fabric:

 

Silk-Cotton Blend (78% Organic Pima Cotton, 22% Silk)
Features:
If softness is your top priority, you'll love these full briefs

Made with soft, perfect-fit Pima Cotton this brief is a great option for people with sensitive skin concerns

High-waisted offering great coverage of your tummy and hips

Comfortable Pima Cotton leg bands won't dig or ride

Delicate embroidery gives a beautifully soft and exquisite look

Hygroscopic and Breathable silk gusset ensures all-day freshness

No elastics touching the skin
''WoW!!

These are really luxurious briefs and feel fantastic to wear.I am intending to gradually replace all my old ones with a full set of these- already have 2 pairs so on the way!!! ''

----Elizabeth.H
Take control of your comfort with anti-flush underwear
The symptoms of menopause could be quite uncomfortable, so coping with these symptoms can prove very challenging. However choosing high-quality underwear products can make dealing with these much less challenging.
Other lifestyle changes to help manage hot flushes
While the hormonal changes during menopause could be mostly responsible for the hot flushes we often experience as our body transitions during perimenopause, other lifestyle choices we make could also contribute to this. Some of the most common factors aside from menopause that can also induce hot flushes include;
Staying hydrated to keep the body cool

Reducing stress through meditation or yoga

Avoiding triggers such as spicy foods and alcohol, and

Regular exercise
We've highlighted several factors to consider when choosing menopause underwear, such as going for breathable fabrics, choosing loose-fitting lingerie, and avoiding synthetic fibres, among other things. By considering these factors when selecting underwear, women undergoing symptoms of menopause will find it less challenging to stay calm and comfortable during hot flushes and manage their symptoms more effectively. The featured products are some of the best you'll want to get to keep hot flashes during menopause under control.

The secret of Juliemay products lies in the genius combo of breathable organic Pima cotton and inner linings made from 100% pure silk. These underwear products also do away with metals like nickels, synthetics, latex, and some of the harsh chemicals and dyes used in conventional underwear that often cause allergy issues for women with sensitive skin. It never gets better than this when it comes to keeping cool and staying comfortable in your own skin!
More Dermatologist Certified Menopause Underwear: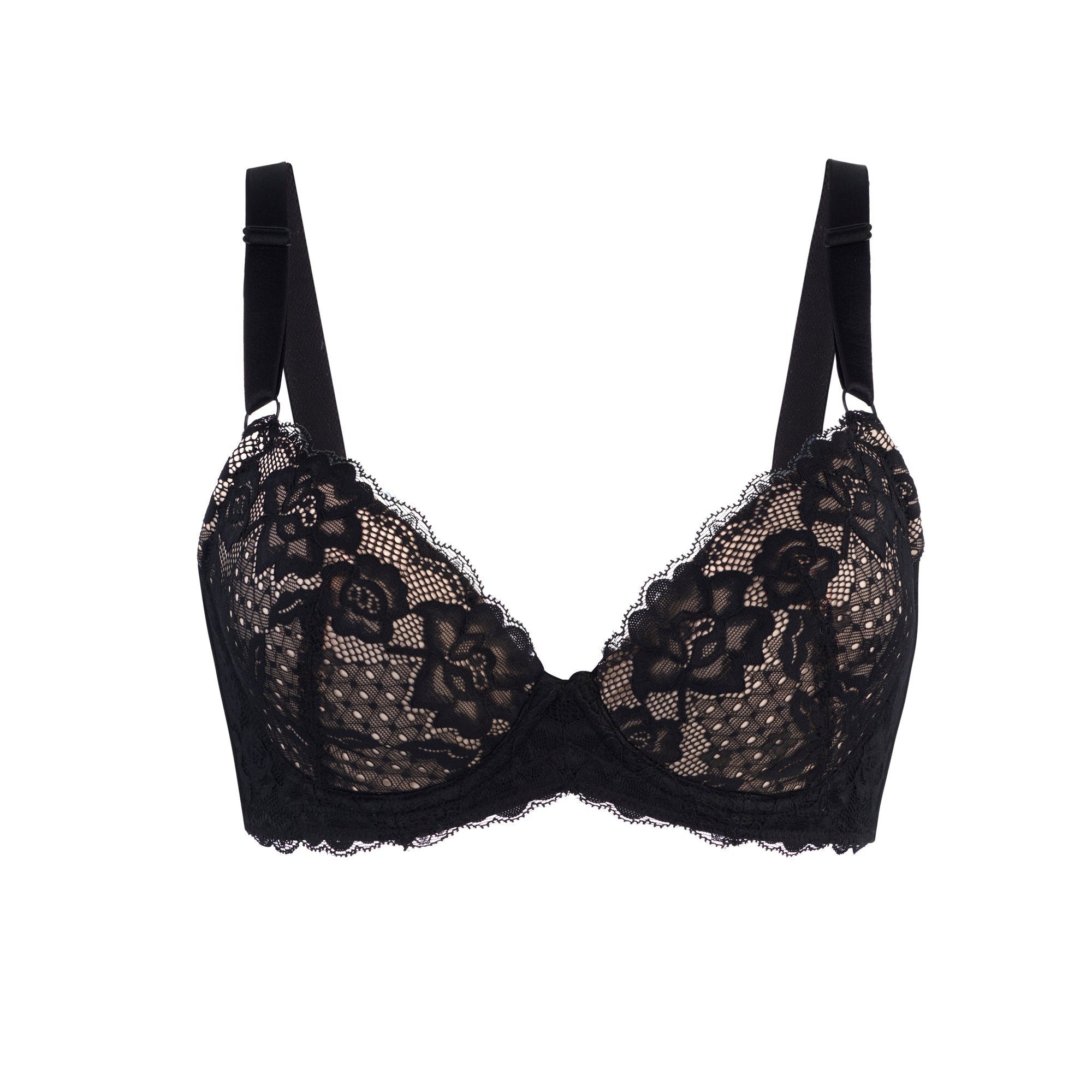 Comfort Bra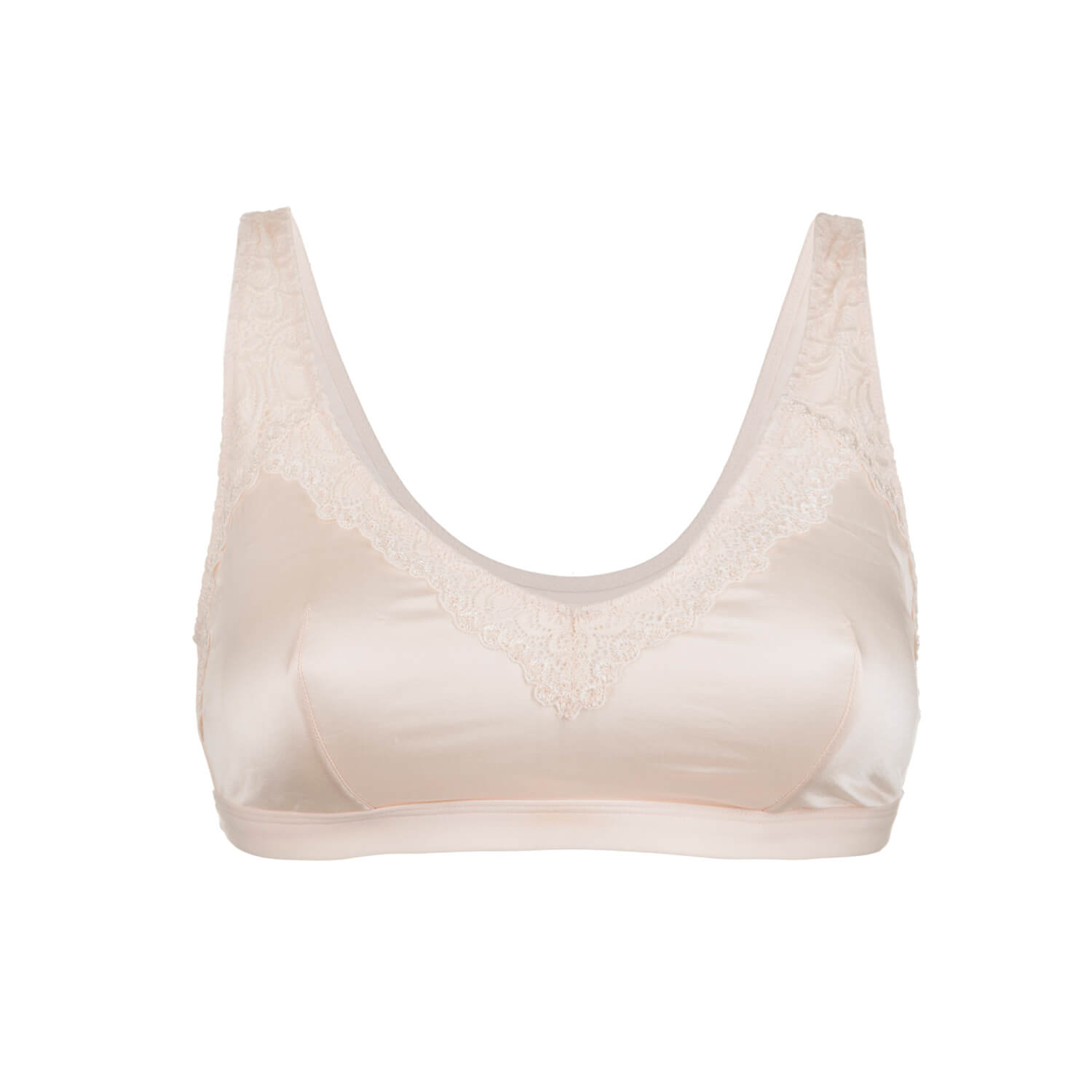 Back Support / Sports Bra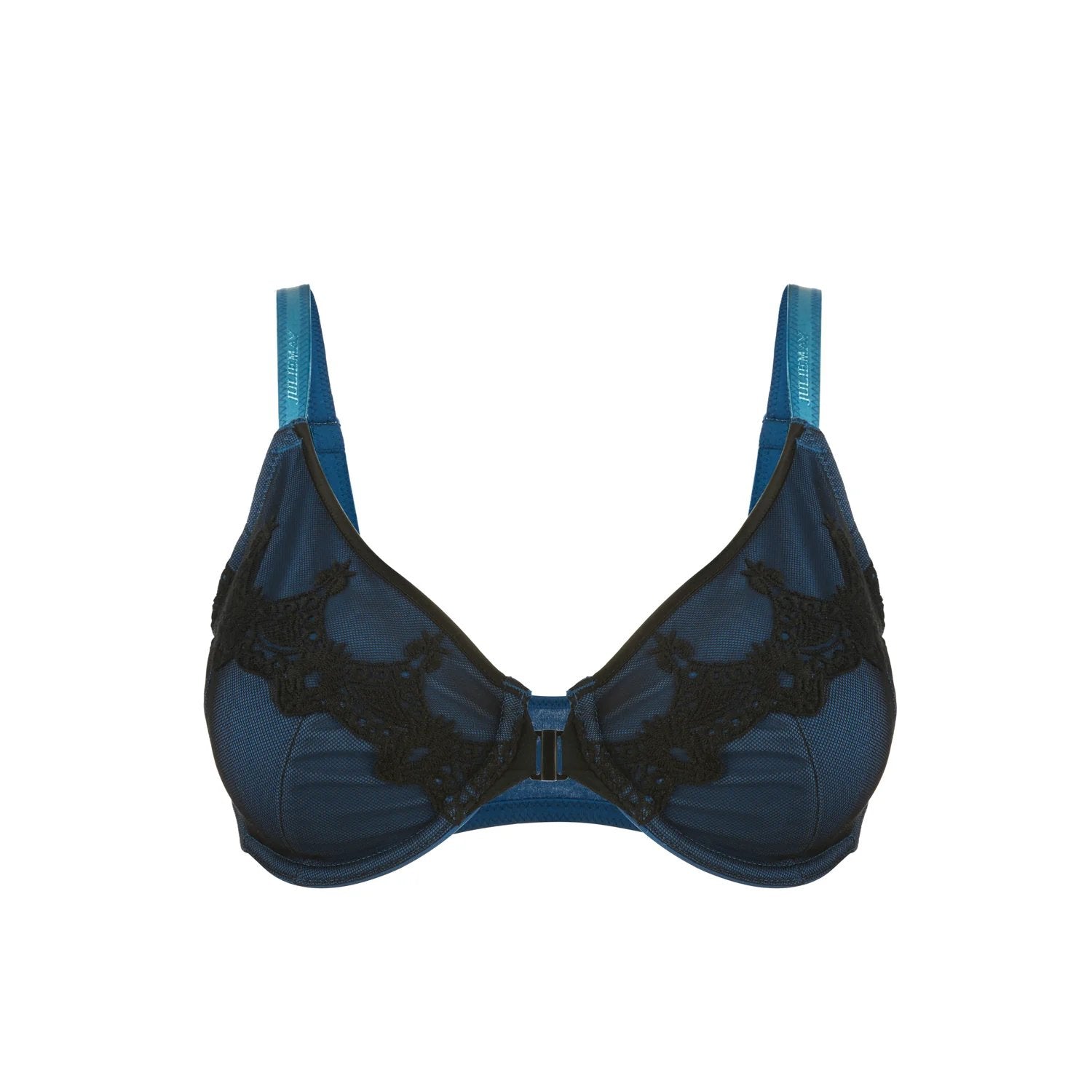 Front Fastening Organic Cotton Bra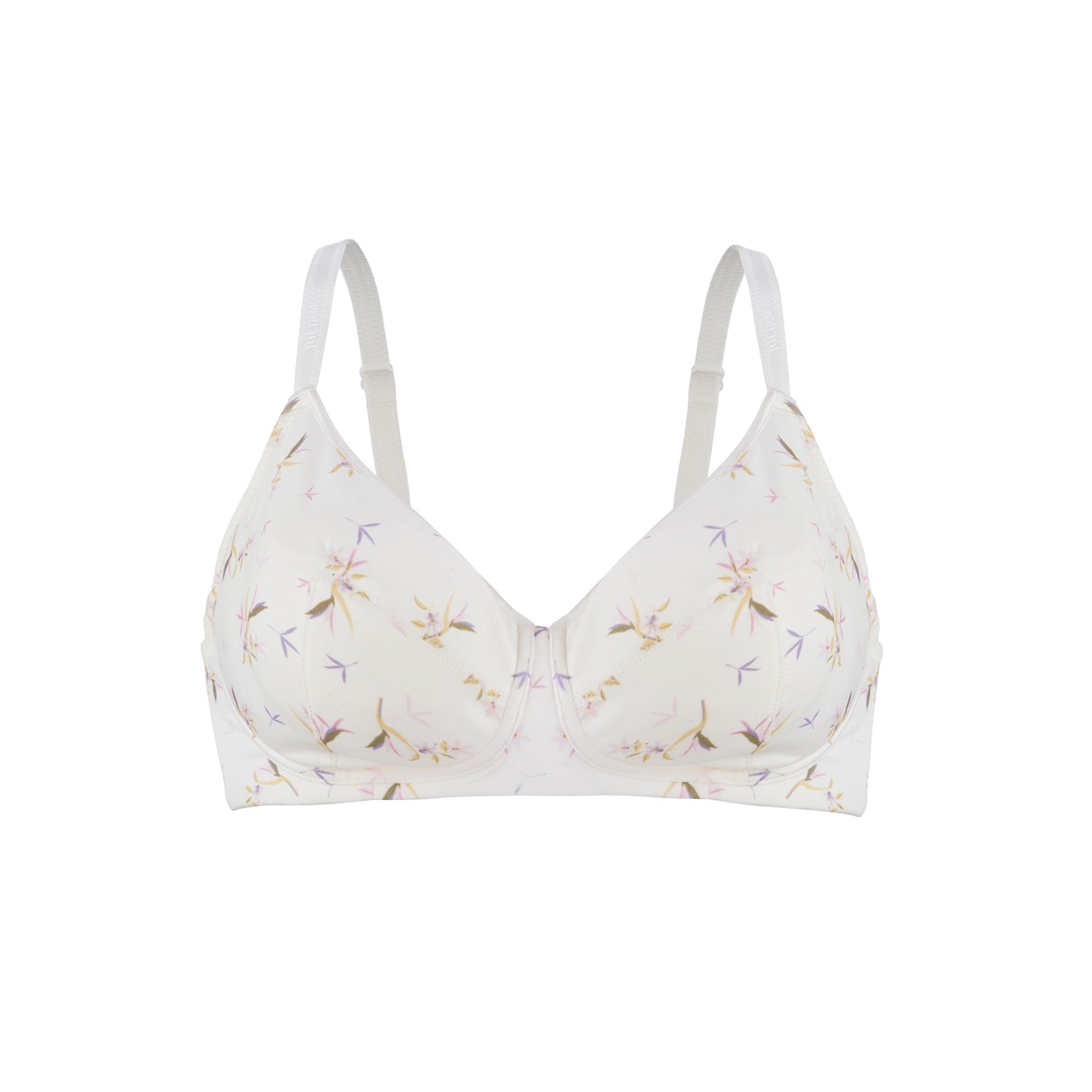 Non Wired